By Lora O'Brien
Christmas is a joyous time, but with it comes so much stress – there's the rushing around the department stores, hoping your goddaughter doesn't already have a Frozen-themed tiara. Then you need to remember to send our cards to your boyfriend's parents. And if you're making Christmas dinner, you may fret about what to cook for your vegan relatives.
If you're going meat-free this festive season, you'll surely be hoping for something worthy of the word 'feast' on the table. Guess what? I've got some great news: I've scoured the net to find the tastiest, most exciting vegan Christmas dinner recipes on the planet. So whether you're hosting, taking along a side dish, or nudging your gran in the direction of a full-on vegan friendly dinner this year, this list should provide plenty of inspiration for vegan feasts for years to come.
1. Vegetable Wellington
Christmas usually means a large turkey taking centre stage with lots of trimmings around the edges. Being vegan can sometimes feel like you'll never eat anything besides a nut loaf at Christmas again, so we think you'll love this vegetable Wellington. It's packed full of vegetables, pulses and protein rich cashew nuts. And the best part? This can replace your turkey as the main attraction whilst hosting this holiday season. We'd bet even those who aren't vegan will be begging for a slice.
Get the recipe here.
2. Bread & 'Sausage' Stuffing
Sometimes, the stuffing is more enticing than the bird. But if you're vegan, you won't want something that was cooked inside a corpse. And obviously, sausage is out of the question. This recipe is still 100% vegan and absolutely delicious. If you can't eat gluten there's also an alternative to make this gluten-free, so it's a real winner. It's packed with festive flavours such as nutmeg, cranberries, sage and so much more. With the combo of bread and vegan sausages, it takes this stuffing from a side dish to one you can even serve up as a main dish!
Get the recipe here.
3. Seitan Roulade (Stuffed with Walnuts, Cranberries & Mushrooms)
Not sure how to pronounce this one? Our editor says it's say-TAN roo-LAD. It sure looks as fancy as it sounds, whilst remaining 100% vegan friendly. It's essentially rosemary infused stuffing wrapped with wheat gluten around it and baked in the oven. This will have your home smelling delicious, and it can be a dish you proudly serve up to fellow vegans or family members looking to try something other than dry turkey (eww).
Get the recipe here.
4. Sumac Tofu Steaks
This is a fabulous meat replacement because the thick tofu 'steak like' appearance will also give you a hearty, meaty texture that serves as a filling main dish, whilst keeping it vegan this Christmas. The sumac really brings this dish to life giving the steaks their gorgeous colour.
Get the recipe here.
5. Tofurkey 
Not only is the name of this pure genius, but this is the perfect recipe if you miss your turkey Christmas dinner. It's very meat-like in it's appearance, but it has no meat whatsoever. It's basically tofu stuffed with veggies!
Get the recipe here.
6. Cranberry & Pistachio Nut Roast
Thank you, Jamie Oliver for creating a nut roast that not only looks presentable but also looks darn tasty. Nut loaf has such a stigma, thanks to nasty 'instant' nut loaf mixes from the hippy 60s. But watch faces light up with excitement when they see this on your Christmas menu. More like a savoury upside down cake than your standard nut loaf, this recipe has a mushroom risotto base with a sticky cranberry topping, making it oh so Christmassy and a pretty dish on the table, too.
Get the recipe here.
7. Vegan Pie with a Cashew Cream Filling
Another great recipe to serve up this Christmas. They're very simple to make and taste incredible. Inside is a layer of roasted puréed carrot, creamy leek, asparagus and puy lentils combined in a soft cashew sauce. Are you salivating? Because we sure are.
Get the recipe here.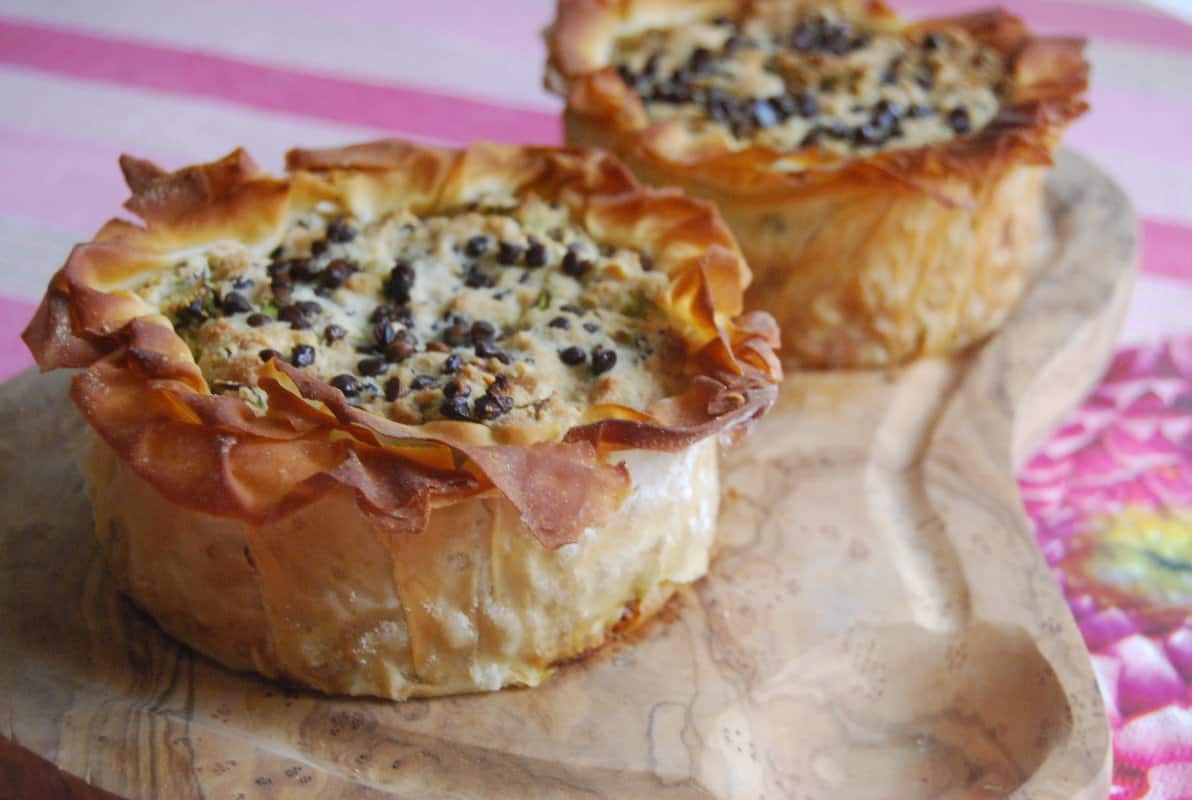 8. Twice Baked Butternut Squash with Cashew Cheese
If you've never tasted the deliciousness that is twice baked potatoes (seriously, SO good) then just know that this recipe is very similar. You cook them, remove the insides and then mash it up with vegan butter or cheese and then bake it again. Seriously, it's vegan food at its finest. This twice baked butternut is dressed up with all flavours reminding us it's Christmas; think walnuts, cranberries, cinnamon and nutmeg. It'll be a real winner this Christmas, and will definitely add some colour to your table.
Get the recipe here.
9. Sweet Potato Casserole with Nut Crumble 
This may not sound like something you'd usually cook up on Christmas but trust us, it will be a real hit. It's warming, it's filling and more than anything it contains essential fats from the coconut oil making this a real contender for keeping healthy during this festive season.
Get the recipe here.
10. Vegan Shepherd's Pie with Parsnip & Potato Mash
Christmas food is all about good, hearty food shared with those you love closely. So a vegan shepherd's pie is the ultimate recipe to whip up and place on the table. Packed full of pulses and vegetables, this pie is traditional British food at its best. And who can resist the crispy potato topping? This won't last until the end of the meal, we guarantee it.
Get the recipe here.
11. Herbed Cauliflower Gratin 
Cauliflower is only recently getting the recognition it deserves. Once known at just a bit of sad boiled veg with little flavour, it's now at the centre of so many wonderful recipes, and this herbed gratin is so exception. Not only is this recipe designed to feed a table of guests, it's also extremely tasty and a fab addition to have on your dinner table this year.
Get the recipe here.
12. Veggie Tofu Pot-Pie
This pie takes the art of pies to a whole new level. Seriously. The crust is made with sweet potato, pumpkin seed and biscuit whilst the inside is bursting with carrots, purple onions, sweet potato and so many more flavours! Sure, it's not the most dietetic dish, but it's Christmas, darnit!
Get the recipe here.
13. Brussel Sprout, Sweet Potato & Tomato Salad
Another great recipe for keeping it healthy this Christmas. Whether you cook this up for a light side during your Christmas dinner or whip it up on Boxing Day with leftover brussels, this warm salad is delicious and nutritious. We know there's a lot of sprout haters out there, but if you don't like them you've probably been cooking them wrong. Madeleine Shaw shares her secret to making brussels taste delicious: ensure they're not only cooked through properly, but seasoned well, too. They should be nice and soft, not like the rock hard bullets of displeasure we've all suffered through over past Christmas dinners.
Get the recipe here.
14. Christmas Leftover Wraps 
Come Boxing Day, most of our kitchens have enough food leftover to keep us going for a whole week. So why not jazz up your dinner in style with these easy to make wraps created by Natasha Corrett? You can make them the night before and treat people to a twist on a cold lunch the next day. Stuff them full of whatever takes your fancy. Vegan stuffing, maple syrup'd parsnips, lots of green veggies . . . they're so versatile, no one will be able to resist one.
Get the recipe here.
15. Caramelized Onion & Kale
Christmas is all about indulgence, but why not do it as healthily as possible? Especially when food can taste this good. This warm caramelized onion and kale is the perfect dipping food to feed your guests. Serve it up with crudités, some gluten-free crackers or blue corn chips (like in the photo) and you have yourself an easy yet very, very satisfying dish.
Get the recipe here.
16. Salt & Pepper Tofu Triangles 
Bring a bit of geometry to the table with these delicious salt and pepper tofu triangles? With the option of making them slightly cheesy with the addition of nutritional yeast, these will be a real winner on your table this year, or as a side dish when family come to visit. Plus, if you have any left over (but we're pretty confident you won't) then you can also throw them into your leftover Christmas wraps the next day.
Get the recipe here.
17. Stuffed Sweet Potato 
Another twice baked recipe, this time with sweet potato, rosemary and sautéed  balsamic onions. This recipe does call for cheese, but it's perfectly easy to replicate for a vegan by finding vegan cheeses from brands such as Tofutti. Serve a plate of these up on your table and not only are they going to bring a pop of colour, they're delicious, too! Definitely a snazzier take on the roast potato.
Get the recipe here.
 
18. Maple Roast Parsnips with Pear & Sage
Why not spruce up those parsnips this Christmas and turn a side dish into something altogether a little more exciting? These sweet and sticky parsnips are just brimming with a variation of flavours that not only compliment one another but will taste amazing. It takes mere minutes to prepare, which gives you time to have a sneaky glass of wine. Or two.
Get the recipe here.
19. Honey & Mustard Brussel Sprout Slaw
This recipe is a whole new take on the traditional brussel sprout recipe. We get it; brussel sprouts are the marmite of the veggie world. You either love them or you hate them. But we think this recipe is a real game changer. Brussel sprout coleslaw? Who knew? We we're amazed when we stumbled upon this one. But it's such a great idea to serve up either with your dinner as a side dish, or the next day when we all tend to tuck into cold dishes of food. We bet even those who are brussel-foes will love this one.
Get the recipe here.
20. Oven Roasted Carrots
These oven roasted carrots take barely any time at all to make and are way tastier than the plate of overboiled carrots you usually find on a Christmas dinner table. Think 'carrot chips'. Who wouldn't love that?
Get the recipe here.
21. Baby Root Salad
Another recipe to add a little life to those bland vegetables this holiday season. When you're vegan or vegetarian, vegetables make up a huge portion of your plate so it's vital to vary recipes so you don't feel like you're not eating the same old thing again and again and again. This dish has your brussels, some beetroot and onion and it's all tossed into some walnut oil bringing another punch of flavour to your dish. Not only that, it's pretty bright and colourful. Perfect for your table.
Get the recipe here.
22. Cauliflower, Chestnut and Onion Tart
Martha Stewart is the brain behind this treat for the tastebuds. A blue cheese bechamel makes this tart deliciously rich, so you need only a small piece. Vegans can substitute a cashew cheese sauce for the bechamel – we've tried it, and it works! It's a good starter or side dish for a holiday meal, but it works just as well for lunch or a light dinner with a green salad.
Get the recipe here.
23. Mixed Mushroom Gravy
How could we even mention 'Christmas dinners' and not present a vegan friendly gravy? What kind of Christmas would it be if there wasn't a jug of gravy waiting at the sidelines? This mixed mushroom gravy has a chunky texture as opposed to the velvety one we're used to, but it is earthy, tasty and purely vegan.
Get the recipe here.
24. Vegan Gravy
If you're more a stickler for tradition then who else could we turn to for a fab recipe than world famous foodie Jamie Oliver. He's the king of Christmas, having come up with many Christmas recipes over the years that have had our mouths watering, and this vegan gravy is no exception. It's relatively easy to make and it's got that gorgeous, velvety smooth texture which will have even the fussiest of relatives happy this Christmas.
Get the recipe here.
25. Christmas Pudding
It just wouldn't be a proper dinner without a traditional Christmas Pudding, but these are normally made with lashings of butter and quite a few eggs. Not so this recipe from the Mouthwatering Vegan! There are plenty of fruits, nuts and spices in this pud, but not a single animal product. Super boozy too!
Get the recipe here.
Main image: myroundtheworld01.com