These upcycling ideas for nightstands turn unwanted goods into something truly useful
By Chere Di Boscio
Sure, you're bedroom is eco-friendly. You've got sustainable bed sheets. You use long-life light bulbs. You've bought a mattress that's free of nasty chemical flame retardants. But what about your bedside table?
Ah, the poor nightstand. It's often overlooked in bedroom decor. As suggested above, most people think of the perfect bed and bedding first, then maybe the headboard, rug, the wardrobe. Heck, just about everything gets priority over the nightstand.
And that's a shame, for a lot of reasons.
First of all, nightstands are useful – they're home to your sleeping mask, book, earplugs and whatever else you need in the bedroom. Also, they really accent a room beautifully, lending some symmetry and balance your bedroom when they're placed just right, on either side of the bed.
And finally, they're easy to make yourself! Simply upcycle some old objects into something beautifully new. All it takes is a bit of creativity, as these upcycling ideas for nightstands clearly show.
Ready to be inspired? Read on!
Image credit below here.
17 Awesome Upcycling Ideas for Nightstands
1. Salvage Beauty
It's always so sad to see wood thrown into landfill. There are so many things wood scraps could be used for – even firewood if all fails – so it's nothing but wasteful to toss it out.
And you know what else? It's actually really pretty, and this is one of those upcycling ideas for nightstands that shows why. A simple rectangular shape shows off the unique aspects of each piece of wood, and all you really need is a saw, sandpaper, a hammer and some nails to make your own. Alternatively, you can buy this  shabby chic wonder pre-made here.
2. The One That Rocks
Rock chick at heart? This is one of the best upcycling ideas for nightstands for you! And it couldn't be easier to make: find an old drum. Take the legs or other parts of the kit off with a screwdriver. If you want to paint the base, cover metallic parts up with tape or a thick layer of Vaseline and spray away. Or paint all of the metal parts too. It's up to you…
This the original pic and more right here.
3. The One That's Rubbish
You've got to hand it to the French for thinking out of the box – or in this case, the bin. All this is happens to be a cute little wire waste paper basket, spray painted and turned upside-down! Gorgeous, right? Just make sure you find a bin that's the same height as your bed. Et voila! Definitely one of the easiest upcycling ideas for nightstands to do.
See this idea and more here.
4. Vintage Suitcase Sophistication
Vintage suitcases sure do have a lot of charm, evoking images of Audrey Hepburn packing up for Brazil in Breakfast at Tiffany's and such, but they're not really comfortable to use as intended. I mean, no wheels?! So better to put them to use as a gorgeous night table! Not only does this look amazing, but you can store stuff inside, too. Bonus!
Get a tutorial on how to make yours here.
5. Bring the Office Home
In the age of the internet, it just doesn't make any sense to have filing cabinets anymore. But it's a pity, because those old-fashioned steel ones are quite pretty! So why not transform them into a night table? Plenty of room for magazines, ear plugs, sleeping masks, books, and whatever else you need beside the bed. Plus, you can add an old office chair base to make this mobile!
See more about this idea here.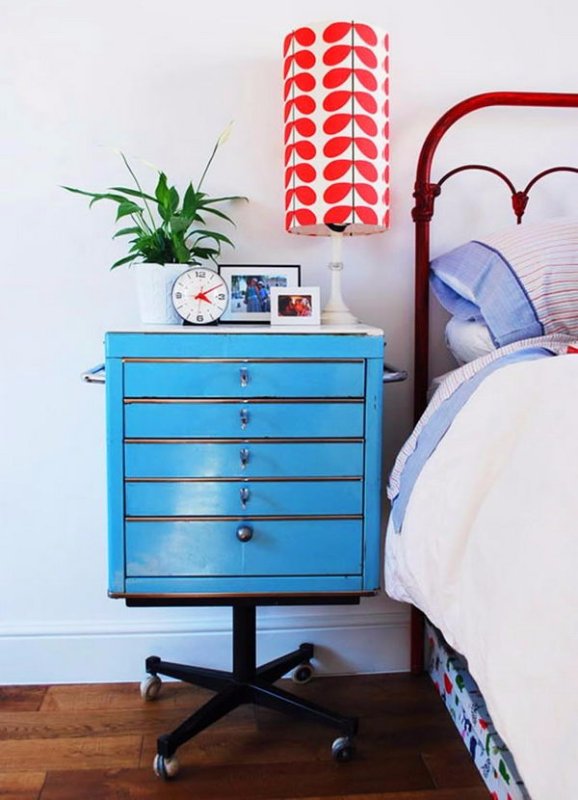 6. Mon Cher Chair
A French shabby chic chair makes an excellent bedside table. What to look for to make this work? It should have a minimal back, preferably wire; a lovely, rustic finish, and it should be fairly high, coming up to bed height.
Can't find one that's suitable? You can  find old farmhouse chairs  here.
7. One with the 'X Factor'
If you  were to glance at the top of this nightstand, you may want to call it 'rustic', but the sexy X -shaped legs add a very sleek and modern touch.  The grand finish exemplifies purity and elevates the rustic piece of the ground, creating the illusion of suspension whilst making this a sturdy, heavy-bearing piece of furniture.
Check out this design at My Daily Randomness
8. A Crate Idea
Two wooden boxes can make a great nightstand,  and you don't need to be a genius with a hammer to make it happen!  
You can choose to finish this piece as you please, but keep in mind that the warmth and coziness fades away a bit if the texture is buried further into paint, don't you think?
These crates are sturdy enough to hold just about anything – books, plants, you name it!
Pic from Learning Creating Living
9. Easy Ladder
This one has as many shelves as you have stuff! It's super easy to do and can go as high as you need it to. All you need to do is extend the width of the steps if you need to by nailing a few small boards lengthwise to narrow steps. It's one of the best upcycling ideas for nightstands for those who love rustic decor.
Get an old ladder and see more ideas like this here.
10. Bookish Beauty
This is one of the upcycling ideas for nightstands I have actually done myself. But with magazines as well as books. All you need to do is stack them horizontally to make an even pile, cover the top with a draped scarf or other gorgeous textile, and you're done. You can also stack the books vertically, but you'll need a belt or rope wrapped around them to prevent them from spilling out. Frankly, we'd go horizontal.
Tip: magazines look best when it's the same title (Vogue works well!) in two stacks, with the spines facing out.
Get more ideas like this here.
11. Floating Wonder
This is one of the simplest upcycling ideas for nightstands! A floating shelf  emphasizes a feeling of space and levity. This one is just big enough to  to hold the basics, like a clock, book and phone. You don't need heavy chains fixed to the ceiling to make this work.
 Make this airy DIY nightstand design with instructions from Monsters Circus.
12. Romantic Pallets
This simple table not only makes a great nightstand, but it's pretty enough to be an  end table in the living room, too. Who knew scraps and pallets could look so elegant!
Stop by We Lived Happily Ever After for the tutorial on how to make this one yourself.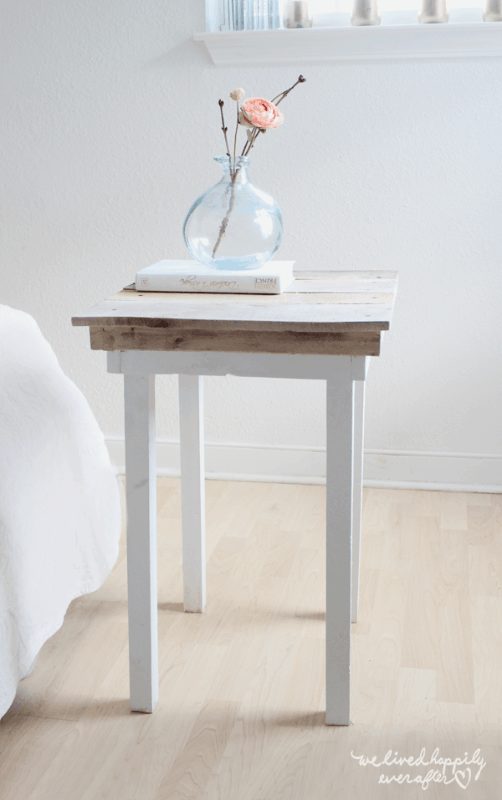 13. Cinder-Ella Blocks
See what we did there? Heh heh! Cinder blocks can become a nightstand for you in a matter of minutes with ease. An industrial lamp could be a great addition in the scenery, as would a bit of easy-to-care-for greenery. Think: cacti or succulents.
Of all the great upcycling ideas for nightstands, this is probably the cheapest, too. I mean, you can usually just find these lying around on building sites!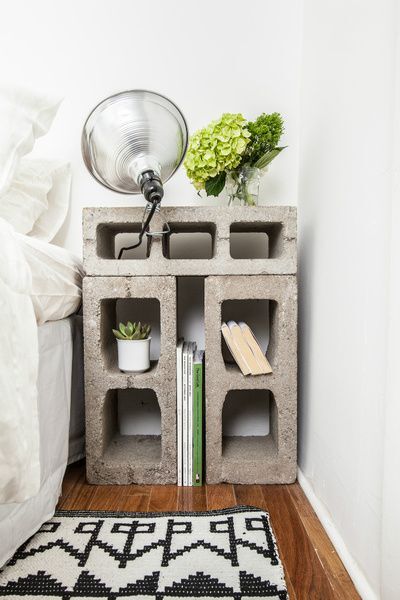 14. The Shutter Table
An old shutter plus a rescued shelf  come together to create a night table that are easily painted to match whatever shade your headboard may be. It's got a great, shabby chic vibe that wouldn't be out of place in a beach house.
We got these shutter table upcycling ideas for nightstands from the Ragged Wren.
15. One Table Into Two
Found the perfect shabby chic night table…but only one, when you need two? No problem! Just saw it in half and fix it to the wall with brackets. Voila! You've got yourself two wonderful, space saving nightstands! And since this is one table that makes two nightstands, it's of the best upcycling ideas for nightstands for those on a budget, too.
We got this idea from here.
16. One Desk = Two Nightstands
Sure, it looks like the perfect nightstand. It looks like it was bought this way. Maybe it was even an antique night table. But nooo! This little cute was actually once a desk! Yep, that's right. And the best part? The desk produced two of these little tables.
Dying to see how this was done? Want to know how you can do it yourself? Learn how to do it here.
17. Bar Stool Table
Maybe you used to have a little bar in your kitchen, and you renovated it and don't know what to do with the stools. Or maybe you found an old bar stool in the rubbish outside your local pub. Put it to good use by upcycling it into a night table! It's just the right size for all your bedtime essentials, and it's one of the easiest upcycling ideas for nightstands to achieve.
Image credit here.
Latest posts by Chere Di Boscio
(see all)