Does the co ed catwalk at Christopher Raeburn indicate a paradigm shift in the fashion industry?
By Diane Small
Whilst Paris is renowned for being the city of classic chic and Milan is famous for its luxury Italian tailoring and fabrics, London has always been far more experimental in terms of fashion. The English capital practically invented fashion trends, from bell bottom jeans and miniskirts to Teddy Boy suits and punk style and beyond, but now, it's at the forefront of another enormous trend: the co-ed runway.
We saw this in strength at Christopher Raeburn this season, for example. Some are hailing this as a major statement about gender neutral clothing; a blurring of the line between what we're now considering to be male or female. But the truth is that this strategic shift by designers has more to do with the straight-up business of fashion.
With 'buy the runway' strategies already in place, some fashion houses like Burberry are prepared to sell their catwalk creations to those right there in the audience – sit on the FROW today, and you can practically have that Burberry jacket you fell in love with on the runway tomorrow. But by offering such speedy access to their designs, fashion houses need to work harder to create collections, and that means new strategies.
One of those is consolidating labels. For example, Burberry is  merging its three lines (Brit, London and Prorsum) to create one label. But for many designers, one key strategy to production costs and time is to cut shows down from an average of four shows to just two a year.
With top Brit designers like Vivienne Westwood already gender-mixing, London's fashion week may be a trailblazer in this respect, but you can bet that designers abroad will also be following the trend. For example, Paul Smith will present his men's and women's collections in Paris on January 22, and Kenzo, part of the LVMH group, will unite its men's and women's collections from now on, too. It first tested the waters last June, and was pleased with the result.
Does the co ed catwalk at Christopher Raeburn spell change?
Hywel Davies, the fashion programme director at London's Central Saint Martins design school makes it clear that the "co-ed" trend isn't at all a statement about 'gender neutrality' or anything at all socio-political; rather, "the industry looking how to best present their vision and putting mens and women shows together makes commerce sense. Why pay for two shows when you can communicate your message in one?" he told AFP.
"I think it is a positive thing that the fashion industry is constantly chaining and looking at new ways of communicating its ideas. Change is good. It would be great if more fashion brands considered other ways of presentation instead of just catwalk shows," Davies added. Creating one show for both men's and women's collections is much more practical in terms of saving money on production and design  expenses, too.
Christopher Raeburn is one designer who was keen to implement the "co-ed" format for his FW 17 collection, which featured certified organic fabrics and upcycled military gear remade into stylishly practical outerwear for both men and women. Favourite pieces included huge patchwork wool scarves in flouro-yellow and greys, reconstructed fleeces and oversized sweaters with multiple knits and textures.
Always sustainably minded, Raeburn has recently announced a  collaboration with Save The Duck – an outerwear brand that shuns down and other animal products. Called Recycle, the line features Save The Duck's down-free PLUMTECH padding and recycled fabrics, again utilising original military pieces deconstructed and reconstructed into new shapes and styles.
Saving time and money with co-ed runways, and saving ducks? We're totally down with that.
All images: Reuters. Main image: Vivienne Westwood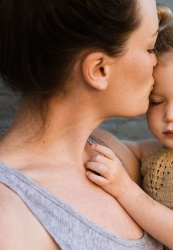 Latest posts by Diane Small
(see all)