By Diane Small
Candice Cuoco always loved to create beautiful things. She says she always 'wanted to make everything look and feel so much more than what it was." Maybe because she feels more than most people do.
The sensitive woman worked at a few mundane jobs for awhile and became depressed. Something was missing from her life. But from that darkness came a realisation: she needed to be creative to be happy, and nothing else was going to fill that feeling of emptiness.
She entered Project Runway's TV competition, and though she came out fourth, she did win  the  Best Emerging Designer in 2013 in her current base of San Francisco and was nominated for Designer of the Year in 2014. "I love San Francisco and the launching pad it has given my career," says the designer.  She feels this diverse city allows for a lot of freedom of expression, which is essential to her process. She states: "As a designer I enjoy alternate reality. Creating a place to step into that alters the ego at any given time by exaggerating geometric shapes that still flatter the human figure's silhouette. Giving each piece I create and touch, a story, a sense of meaning."
According to Candice, women "feel and interpret everything deeply. Women are emotional creatures and to pay close attention to the meaning behind why I create is my strength. Giving meaning to every piece and letting it stand for what I believe in. Always women with strength. When you step outside your front door, what you are wearing and how you present yourself is your message to the world and I want to be a part of that message."
Recently, Cuoco has sent a message saying that cruelty-free vegan leather can be just as glamorous as the real thing, and has created a collection that is for  "the Woman who knows exactly what she wants and knows exactly where she is going. Not for the faint at heart." What we love about this collection is the juxtaposition of fierce with flirty; the '50 Shades' worthy collars, gloves and skin tight pencil skirts contrasted by fun peplums and floaty chiffons. It's a combination that allows fashion to be  the catalyst for the woman ready to conquer her world.
See more about Candice Cuoco  here.
Want to shop affordable vegan leather looks? Click here.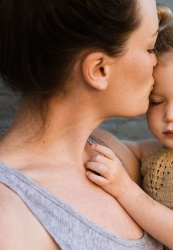 Latest posts by Diane Small
(see all)