We love when art reflects art! Check out these examples of ethical fashion inspired by architecture, below
By Diane Small
Architecture has the power to inspire. The way it plays with light can shift moods; the way it uses space can direct movement. And sometimes, its aesthetic can provoke creation, as is the case for a few ethical fashion brands we love.
Kowtow, Fabryan, Iris Van Herpen and United Nude have all been creating fashion inspired by architecture for several years. Taking their cues from very different styles of architecture, each of these brands has created collections based on the distinctive styles of very different, iconic architectural talents. These include Tadao Ando, Zaha Hadid and Gaudi.
Coco Chanel famously said: "fashion is architecture: it's a matter of proportions." And we'd agree! Minimalistic cuts, complex constructions or riots of colour and organic forms: which do you prefer?
Ethical Fashion Inspired By Architecture
1. Fabryan: Gaudi on Silk
The colourful, irregularly shaped windows, organic shapes and explosively coloured mosaics of Gaudi's La Sagrada Familia in Barcelona were the direct inspiration for Fabryan's line of beautiful scarves.
These stunning accessories are a great example of fashion inspired by architecture. They're crafted from organic silk yarn that comes from mulberry trees that are free from any pesticides. The silk is then digitally printed using non-toxic eco friendly inks, to recreate the hypnotic effect Senior Gaudi's architecture has on all who visit it.
The brand  combines high-end fashion with social development to embody a luxury brand with ethical values. Suppliers are chosen with care, and  they source locally whenever possible, using only the very best fabrics.
The collection includes squares and rectangles of all sizes. They can be worn as everything from sarongs and turbans to traditional neck scarves.
2. Kowtow: Japanese Inspiration
Kowtow creates minimalistic fashion inspired by architecture. The New Zealand based brand's twelfth collection, 'The Silent Space,' draws inspiration from the work of Japanese architect Tadao Ando.
Ando's architectural style is characterised by large open areas emphasising nothingness. Minimalist concrete interiors and empty space are used to represent the beauty of simplicity.
'Tadao Ando's themes resonate strongly within me. His minimalist design aesthetic and creating spaces purely for a calming effect has a non-commercial sense which I admire', says Gosia Piatek, the brand's Director/Designer. 'Ando's themes of meditation, peacefulness and Zen is something I strive for in my day-to-day life. Working on the collection for one year with Tadao as our muse resonated strongly throughout the entire workroom, and hopefully bought us some calm to the madness of the fashion world.'
The Kowtow design team has created another signature graphic all-over print for the summer collection. Inspired by Tadao Ando's creative use of natural light, Kowtow has created the 'Reflection Print', a bold interpretation of light casting shadows, ever changing nature and reflections of buildings in moving water, which are recurring elements in Ando's work.
Key colours are soft summery bone, lemon and light grey. These are contrasted with bursts of bright coral and classic crisp summer white, while chalk blue is a summer version of the more traditional dark Kowtow colour palette.
Credit for second image below: gokodama.com
3. Stella Jean: Interior Inspiration
The ethical Italian-Haitian designer is another talent who creates fashion inspired by architecture. She is often inspired by her roots, including the vibrant colours of Haiti and the refinement of Italian interior design and architecture.
Of the buildings in Haiti, she has said: "I'm particularly inspired by these amazing structures, which are not only architecturally significant but bear in mind the Caribbean climate and its living conditions." But you can also see a nod to Italian style through her attention to detail and craftsmanship in her work.
Second image credit below: loveproperty.com
4. United Nude: Shoe Construction
Shoe design is often highlighted for its innovation. And recently, some shoe brands have paired up with some of the world's leading architects to create collections. For example, architect Rem D. Koolhaas teamed up with British shoemaker Galahad Clark to create a line of architectural shoes for their brand United Nude.
United Nude is a brand that's rather obsessed with fashion inspired by architecture. The label has often partnered with major architects such as the late Zaha Hadid and designers like Iris Van Herpen to create limited edition collections. The shape and engineering of these shoes often mirror that of iconic buildings, as you can see in the comparison below.
Their zero-waste, 3D designs are also revolutionary in the sense that their production processes are far less wasteful and polluting than say, leather shoe production.
Second photo below: Y Nakanishi
5. Iris Van Herpen: Structural Beauty
Iris Van Herpen is yet another designer who creates fashion inspired by architecture.
Over the course of her career, she has built relationships with engineers, artists and architects. Together, they've collaborated to dream up fantastical fashion pieces that defy easy definition.
For example, in 2015, for her Magnetic Motion collection, she collaborated with architect Niccolo Casas and 3D Systems to print a transparent 'ice' dress. I couldn't help but think of the sculptural Ice Hotels every time I saw that garment. And I wonder if her sleeves in this collection below weren't inspired by the Guggenheim's spiral stairway? I wouldn't be surprised!
In any case, there's no doubt that by fusing her zero-waste 3D fashion creations with architectural inspiration, Iris Van Herpen constantly pushes the boundaries of fashion design.
Fashion inspired by architecture is more common than you think. We love how diverse such inspiration can be; it's a diversity reflected in the differences between these five very different ethical fashion brands.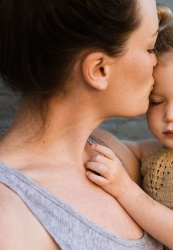 Latest posts by Diane Small
(see all)