By Diane Small
There can be little doubt that  Iris van Herpen is somewhat obsessed with man's place in nature: her work has covered such issues as robotics, alien lifeforms, biomorphism and for her Fall/Winter 2015-16 ready-to-wear collection, terraforming–that is, the modification of the biosphere of another planet to resemble the Earth's.
presented in Paris on March 10th, 2015 at the Palais de Tokyo, Iris van Herpen explored ideas of terraforming -modifying the biosphere of another planet to resemble that of Earth.
The collection, presented last March in Paris,  explores the possibility of new geographies and how humans could fit into them. The desire–and possibly the need– to reconfigure space finds expression in light performative materials, which interact with the movement of the body, biomimetic structures and saturated spectral colours. The central geometry is the circle: the spherical shape of planetary bodies and the symbol of a boundless 'hackable' infinity unfolds before us in a constant flow of mandala-like forms.
For this collection,  Van Herpen developed an extremely light, translucent stainless steel weave, hand burnished to imprint a   sheen of nebula-like colors, whose infinite variations make each garment unique.   Three-dimensionality is always an imperative with Van Herpen, and she continued her research into this with the creation of a zero-waste, 3D hand woven textiles, co-created with designer Aleksandra Gaca.
Van Herpen also collaborated with the Canadian professor of architecture Philip Beesley on the creation of digitally fabricated dresses made from a black garden of fractal like geometries, and he  shoes for the collection were made in collaboration with the Japanese shoe designer Noritaka Tatehana. These were crafted from 3D printed translucent crystal clusters.
The black and white pictures for the Magnetic Motion collection were shot by Mathieu Cesar  and modelled by  Iekeliene Stange. Colour pictures courtesy Iris Van Herpen. For more information, please click here.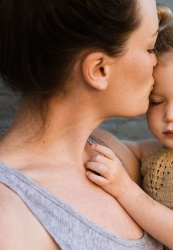 Latest posts by Diane Small
(see all)