Got a skin condition? We found the best natural creams for eczema and psoriasis
By Diane Small
Could it be a result of a junk food diet? Or maybe the proliferation of chemicals in our water, cosmetics and cleaning products? No one knows why, but it seems certain that eczema, psoriasis and dermatitis are all on the rise.
While these are somewhat different dermatological issues, they all have elements in common, like dry, leathery or flaky patches of skin that sometimes flake, ooze, bleed or crust over. All three are  thought to be related to allergies and hay fever, with a genetic component thrown in too.
Consuming dairy products tends to make these condition worse, as do chemicals in soaps, skincare products and household cleaners–in some cases, such as dermatitis, they may even be the cause. Overall though, if you suffer from one of these, your skin is probably producing less fats and oils than it should and irritants from chemicals enter the skin more easily.
Eczema in particular is sometimes associated with an unusually high level of certain bacteria on the skin: the  Staphylococcus aureus bacteria is found on over 90% of eczematous skin, but only 5% of normal skin. Thus, one key step is to make sure that you keep skin clean, but just be sure to use gentle cleansers that won't strip your skin of its natural oils.
As for dermatitis, be sure to avoid artificial fragrances and perfumes in your skincare products, as these are thought to be one of the most common causes of dermatitis. If you find you often have cracked skin on your fingers, this could be the result of anti-bacterial handwashes, harsh soaps, and conventional household cleaners. Wear gloves when you clean the house, and switch to natural cleaning products and SLS-free hand washes.
Psoriasis is a bit more of a mystery–no one is sure what causes it, but there does seem to be a strong genetic link, Not that it's much consolation, but there are plenty of people suffering from this: famous sufferers include Kim Kardashian and ANTM winner CarrieDee English.
Use the Power of Plants to Stop the Itch
Scratching itchy skin activates the immune system in the affected area as it causes the release of chemical trigger substances which initiate other immune reactions. Hence the 'itch-scratch cycle'. The conventional answer to this problem is steroid creams which suppress the immune system, or antihistamines.
But stopping itching and inflammation with topically applied natural herbs such as chickweed and chamomile is kinder to the body and may offer a more long term solution. In fact, high concentrations of  chamomile have  been shown to be at least as effective at reducing inflammation as mild hydrocortisone (steroid), but without the negative side effects.
Other herbs such as calendula and aloe vera have proven powerful skin-healing capabilities. A damaged aloe vera leaf seals over quickly with a film and a rubber-like protective coating to prevent the loss of water. In a short time, the wound heals completely, and the same  enzymes that enable this process have a similar effect in humans. Aloe vera helps foster the growth or healthy new tissue and has been shown to penetrate to the water-retaining second layer of skin, helping to eradicate dead cells which not only rejuvenates the skin but also fights infection.
All  Natural Remedies
Emollients are extremely important to rehydrate dry, irritated and sensitive skin.  By penetrating between the skin cells, a good emollient helps to substitute for the lack of the skin's own lipids, reducing dryness, moisture loss, and access by infection-causing organisms. These can be completely natural, and you can even find some in your kitchen!
Coconut oil is gentle and acts exactly like the fats and oils your skin is missing. Use it all over, as frequently as you like.
Preparing the right kind of bath can offer great relief to itchy, red skin. Try adding 1cup of oatmeal to a bath. If that's too messy, add 1c of Epsom salts, Baking soda or Himalayan salt to a bath instead.
Natural honey is  anti-microbial, anti-inflammatory, helps speed up the healing process of broken skin, and it's a humectant (draws water to the skin), but of course, this can be a bit messy and sticky if applied directly. You may want to simply buy some organic honey based skin creams instead.
The Best Natural Creams for Eczema & Other Conditions
While it's super to use stuff in your kitchen to relieve your symptoms, it can sometimes be a pain to prepare your own concoctions. These are some of the gentlest, most natural products we've found.
Based on Shea Butter, this ultra rich formula is perfect for all skin conditions from eczema and psoriasis to sunburns. Every ingredient has been carefully chosen for its healing and soothing qualities, from Vitamin E and jojoba oil to lemongrass oil (for the scent).
Available: USA Price: $80
Most products for skincare problems are aimed at soothing, not cleaning, but we all need to wash our skin somehow! This natural skincare range contains skin-soothing essential oils derived from plant extracts specifically designed to treat various atopic skin conditions.
The Gimme Soothing Anti-irritating cleanser aims to allow those with broken, irritated skin to wash it as gently as possible. It targets persistent itching and redness by using chamomile for its soothing and anti-inflammatory powers.
Available: UK, but delivers globally Price: Around $20
Bria Organics makes a trio of Bath Oil, Body Oil, and a general Balm, which is gentle enough for use on the eyelids, ears, and lips – even for babies! Organic borage oil is brilliant for treating eczema due to its high GLA (Gamma-linolenic acid) concentration, an essential fatty acid for healthy skin and lacking in eczema sufferers. No wonder the reviews of this product always rave about how it 'cured' the reviewer's eczema in a matter of days!
Available: UK, but delivers internationally Price: Around $20
Providing intense hydration for very dry skin, Odylique's Ultra Rich Balm is also one of the best skin creams for eczema. Its gentle formula soothes the skin and supports its natural barrier function by helping protect it from the drying effects of heat, cold and wind, without blocking pores. This 100% natural, 100% organic balm also as an excellent intensive treatment for dry hair ends and cracked heels. Great for skiing, after sun, or to protect ultra-sensitive skin from chlorinated pools.
Available: UK, but delivers globally Price: Around $25
Not only does this smell delicious thanks to the inclusion of sweet chamomile and lavender oils, but the rich hydrating qualities of olive, jojoba and Shea restore and calm itchy, broken or irritated skin. It has a slightly Vaseline-ish texture, but of course contains zero petroleum products and is perfect for even the most  sensitive skin conditions. No wonder it won the Danish Beauty Award a few years ago!
Available: EU only Price: Around $40
Comprised of 100% natural ingredients with many of these being organic (95%, in fact), this is one of True Organic's best sellers, not only because it soothes dry, flaky and irritated skin conditions like dermatitis, psoriasis and eczema, but also because it's perfect as a lip balm, hand cream or even a hair pomade. Ingredients are super simple: castor oil, beeswax, olive oil, Shea butter, Vitamin E and blueberry seed oil. That's it!
Available: Worldwide Price: $19
Of all the best natural creams for eczema and other skin conditions, this one is as simple and as natural as it gets: pure, organic Aloe Vera gel that's soothing enough for burn victims. Put it on any part of your skin that's itchy, red or irritated for instant relief, disinfection and hydration.
Available: Worldwide Price: Around $10
As mentioned above, an emollient cream is a must for those whose skin is flaking from conditions like dermatitis and Weleda Skin Food is one of the most soothing, hydrating, natural products around. Its light lemon scent, thick, gooey texture and fast penetration into the skin have made it a favourite with not only skin condition sufferers, but anyone who wishes to hydrate their dry skin with a truly effective cream whose effects last all day long.
Available: Worldwide Price: Around $15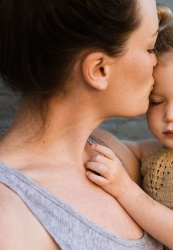 Latest posts by Diane Small
(see all)