They may be a guilty pleasure for some, but science says cute animal videos are good for you! Here's why
By Diane Small
Who doesn't love looking at cute animal videos? Tumbling kittens, unusual animal pals, trotting baby elephants…they all melt the heart and make you smile.
But did you know they can actually boost your health? Yep, that's right! Recent research at the University of Leeds has proven cute animal videos are good for you, for a bunch of reasons.
The researchers were focused on seeing whether watching adorbs animals could reduce stress levels. And guess what? Just ahead of World Animal day on the 4th of October, they discovered that simply watching videos of cute animals for a few minutes can do just that.
Why cute animal videos are good for you – the science
The study involved 15 students from the University of Leeds who were preparing to sit an exam later that day, as well as four academic support staff who had declared they were feeling stressed at work.
The participants were asked to view some images and watch videos of super-cute animals for a total of 30 minutes.
The research noted incredibly positive results across the board:
The average of group blood pressure fell from a pre-high state of hypertension to a healthier reading in line with 'normal' levels.
The anxiety levels within the group reduced by an average of 35%, with some individuals experiencing a fall of almost 50%.
The heart rates of some participants reduced by as much as 24% from 90bpm to 68bpm
Dr Andrea Utley, a researcher involved in the study, said:
"It was clear that students were anxious ahead of their exams, with heart rates and blood pressure for most participants mildly elevated before our session took place. Indeed, in some individuals, heart rate and blood pressure were even higher, indicating a higher level of stress for those participants.
"Throughout the course of the session, heart rates and blood pressure fell across all individuals to a level that would be considered healthy and indicative of limited stress or anxiety."
Anxiety levels were also found to drop during the session, with one participant becoming so relaxed they almost fell asleep. (Want to check if how science says cute animal videos are good for you is true? Watch this video below, and see if your mood lifts!)
The cutest animal in the world?
The University of Leeds also partnered with Tourism Western Australia to see if showing people images of the 'world's cutest animal', – the quokka, a native species of Western Australia – could reduce stress.
Researchers showed their subjects images of the quokka and other cuties to see whether these animals and others could have beneficial effects for our mental and physical health.
With the study proving highly effective at reducing stress in anxious participants, the University of Leeds has decided it will now offer students the chance to watch some relaxing animal content before they sit future exams. And of course, Western Australia will be using the study to help promote tourism to their region, too.
Elen Thomas, UK Market Manager for Tourism Western Australia, said:
"The study results are a fantastic reminder that we benefit massively from exploring and enjoying the natural world. The huge improvement seen in the mood and health of the participants is remarkable and a clear sign that wildlife experiences are important for our wellbeing.
"Western Australia offers visitors lots of incredible wildlife encounters from swimming with whale sharks at World Heritage Listed Ningaloo Reef to sunbathing with Kangaroos on Australia's whitest beach, Lucky Bay – there is an endless list of meaningful experiences with wildlife in their natural habitats. We hope to welcome UK visitors to Western Australia soon, in the meantime we hope Quokka TV provides a welcome mood boost."
Nothing new?
We here at Eluxe always knew that having a connection with animals is good for the body, mind and soul. It's pretty obvious to anyone with a pet that they make you damn happy. It's instinctively true, but it's also scientifically proven.
According to a survey conducted by the Waltham Petcare Science Institute, 85% of people said interaction with a companion animal helped reduce loneliness and 76% agreed human-animal interactions can help address social isolation. As more and more people are being forced to connect virtually with friends and family, they're also turning to their pets for comfort and companionship.
And that makes sense. In a study by HABRI in collaboration with Mars Petcare, 80% of pet owners said their pets make them feel less lonely, and 89% of people who got a pet for loneliness felt their pet has helped them feel less lonely.
The benefits of having a pet
But having a pet provides other benefits, too. For example:
Pets provide stress relief. Just as with watching cute animal videos, having a pet can reduce stress. Research has shown that owning a pet can decrease blood pressure and may help manage both anxiety and depression. No matter what life might throw at you, a pet can be by your side to help you through it.
Pets provide comfort in tough times. Pets can help soothe people during times of trial, especially as it relates to one's health. In 2020, Mars Petcare and 

Monroe Carell Jr.

 Children's Hospital at 

Vanderbilt

 teamed up to bring a full-time facility dog, Squid, to the hospital to provide comfort and support for patients, their families and hospital staff experiencing the impact of intense medical situations. Squid also helped to provide insights on how pets like him can improve the lives of patients and their families.
Pets can actually help with physical healing. Pet ownership can have positive healing benefits at all stages of an owner's life. Increasing research has been done to show the power of pets in providing health and healing benefits. In fact, one study showed veterans with PTSD symptoms experienced improved levels of physiological stress indicators and lower levels of perceived PTSD symptoms after walking with shelter dogs.
Let's give back!
The truth is, animals give us so much: comfort, stress relief, companionship, and unconditional love. And it doesn't even matter what animal we're talking about here. Most people will imagine it's only cats and dogs that are capable of these feats. But that's far from the truth. I can testify, as someone who grew up on a farm, that pigs, sheep, cows and even chickens are just as loving as any cat or dog. If you give them the chance, that is!
It's a shame on the human race that we normally exploit, maltreat and even abuse animals, instead of supporting and nurturing them. Given how much they give to us, isn't it time to change this?
If you would like to relax by watching the same video the participants saw, please click here. Full results from the study available here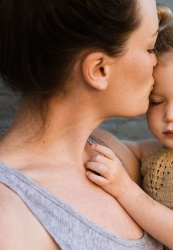 Latest posts by Diane Small
(see all)