One study These natural skin peels are super effective when it comes to rejuvenating your skin!
By Diane Small
For many, the idea of a skin peel evokes images of layers of skin rolling off your face like so much old wallpaper, or a raw, angry red face for days. And that can indeed happen, depending on the potency of the formula. But if you're after a gentler, more natural peel, there are loads of options. And they can do so much good for your face!
Like what, you may ask?
Well for starters, they'll get rid of dullness and congestion that simple face washing can't erase.
Secondly, over time, they can:
lighten and break up pigmentation spots
shrink pores
restore pH balance to the skin
allow skin to better absorb moisturizers and other products
acid peels also boost collagen levels and thicken skin.
Finally, if used regularly, they can soften fine lines and wrinkles.
The scientific benefits of peels
This isn't just conjecture! It's all 100% proved by science.
One study demonstrated that topical treatment twice a day for 3 months with 5% glycolic acid cream at pH 2.8 affected both surface skin and deeper epidermal changes, for example.
The same treatment, but with a 12% potency cream reached deeper and influenced both the epidermis and the even deeper dermis layer, and resulted in increased epidermal and dermal firmness and thickness. Both showed clinical improvement in skin smoothness and in the appearance of lines and wrinkles.
Yet another study showed that AHAs might thin the outer stratum corneum, but actually end up increasing the overall thickness of the epidermis. This thickening is accompanied by increased synthesis of collagen. It's pretty clear that natural skin peels may do more than just increase exfoliation and skin cell turnover.
Which acid to choose
All kinds of natural ingredients found in organic skin peels can provide a powerful peeling effect, which burns off dead cells on the surface of the face to reveal brighter skin beneath.
I spoke to Dr Gabriela Mercik, a London based aesthetic medicine practitioner, to get the lowdown on which ingredients to look out for. Here's what I learned:
Lactic acid
This is one of the gentlest peeling ingredients. Based on milk byproducts, it works really well on oily or combination skin.
Glycolic acid
Glycolic acid is a sugar cane based product that's a popular choice for smoothing out wrinkles. It comes in different strengths. Go for something under 10% at home. This will tingle a bit and leave a slight redness for around 24 hours, but nothing more. The higher up you go in terms of percentage, the harsher the peel is.
Salicylic acid
This is a serious peel that cleanses deeply, eradicating the dirt and bacteria that cause acne.
Alpha hydroxy acid
This is the umbrella term for all of the above; basically for any acid that comes from several possible food sources, including sugarcane and milk.
Enzyme peels
Enzyme peels offer a more gentle solution that can be incorporated into a regular skincare regimen.
"No matter which ingredients you prefer, all of these treatments can speed up natural chemical reactions in the skin that renew skin cells while exfoliating dead cells, diminishing scars, age spots, fine lines, and discolouration," says Dr Gabriela. "The most amazing thing about enzyme peels is that they don't damage or remove live tissue – they remove ONLY dead cells, so they're perfect for frequent use."
Want to know a bit more about what peels feel like and what they can do for you? Check out the list below of products I've personally tried and tested!
Why not also see what happened when Vlogger Nikki Philippi went to a dermatologist for a clinical Jessner peel:
Some Natural Skin Peels To Try At Home
When you're essentially burning off a layer of skin, you really, really don't want to have nasty chemicals in a product that are just going to enter your bloodstream deeper and faster, right? So ensure you only choose the most natural of peeling products, like these below. We've tried and tested each one!
French brand Caudalie's glycolic acid mask is a quick radiance-boosting solution for all skin types that are looking tired, dull and dry. It contains papaya enzymes to eliminate dead skin cells and the antioxidant viniferine to help reduce dark spots and pigmentation. This boasts 85.7% natural origin ingredients and is free from parabens, mineral oils and phthalates. It's very gentle, smells lovely, and can be used weekly.
Ouch factor: Zero
Strength: Mild. This is one of the gentlest natural skin peels I've tried.
One of the best natural skin peels for: Reducing the look of dark spots. Sensitive skins.
Price: $42
This is an at-home natural skin peeling product that is super easy to use, as the peeling pads are individually-wrapped and pre-saturated. Their anti-ageing and skin-brightening properties come through an advanced triple-acid formula that promises to minimise pores, fine lines and dark spots on the skin.
Use these pads once a week at home. Sweep them over the face and neck, and follow up with a moisturiser. Within four to six weeks, depending on how damaged your skin is, you should start to see noticeable improvements in your complexion.
Ouch factor: 2
Strength: Mild to Medium – leave on longer for more strength
One of the best natural skin peels for: Improving skin overall.
Price: $76
This is a strong exfoliation treatment infused with powerful ingredients designed to visibly reduce the appearance of wrinkles, discoloration, and pores while also providing nourishment to the skin. Glycolic Acid, Vitamin C and Hyaluronic Acid work together to reveal healthier skin immediately.
This is fairly potent, depending on how long you leave it on. It can also be used on decolletage and acne. In fact, it's great for oily skin, and can be used bimonthly.
Try using it at night, as it will leave you a bit red for a few hours.
Ouch factor: 4
Strength: Mild to Medium
One of the best natural skin peels for: Oily skins.
Price: From $20
This is a hardcore, 70% strength, professional grade glycolic skin peel that stimulates collagen production, reduces the appearance of wrinkles, fine lines, and hyperpigmentation. Increased cell regeneration exposes younger skin underneath. The longer you leave it on, the stronger it is.
But be warned: to get those benefits pretty quickly, you could experience redness and some skin peeling for around 5-7 days. Use only according to the directions given. This burned a bit going on, and I had a bit of redness and some serious flakiness between my eyebrows, under my lower lip and beside my nose for about a week.
Ouch factor: 7
Strength: Medium to Strong
One of the best natural skin peels for: Mature skins in need of an overhaul.
Price: From $17
This powerful exfoliant and plumping agent combines 10% pure USDA certified Glycolic Acid and Hyaluronic Acid.
This acid combo will combat:
skin redness
skin congestion
dark spots
hyperpigmentation
fine lines and wrinkles
But don't stop using it just on your face! You can use it on your neck, of course. And you should use all facial products there, anyway. But you can also apply this to your hands, if they're showing signs of ageing. You can even use it as a spot treatment for in-grown hairs or to prevent skin breakouts on face, back or other problem areas.
Ouch factor: Zero
Strength: Gentle – perfect for all skin types.
One of the best natural skin peels for: Moving beyond the face.
Price: $80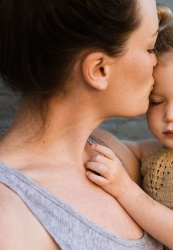 Latest posts by Diane Small
(see all)