These coffee based beauty products are affordable, and effective. I should know – I've tried most of them!
By Chiara Spagnoli Gabardi
Ah, coffee! For many of us, it's a miracle in a cup, capable of improving our mood, clearing our minds and lifting our energy. A shot of espresso before a workout boosts your performance and helps burn fat. And did you know it's also amazing for your skin?
Yep, the tasty bean has many abilities – mainly thanks to the same chemical that gives us our morning kick: caffeine.
When applied topically, caffeine constricts the blood vessels and reduces swelling, including depuffing that problem area under the eyes. And of course, raw coffee grounds are super useful. In fact, according to Organic Authority, coffee grounds should never be thrown out, because gently rubbing them on your skin can remove dead skin cells and brighten your complexion. Even better: make a paste of the grounds with olive oil, for extra moisturising. Add some sea salt to the mix, and the same grounds can act as a  diuretic, and can even banish cellulite when applied topically.
More Benefits Of The Brew
But coffee's not just good for your mood and your skin – it can make dark hair a deeper, shinier shade when you use it as a rinse. And what's even better: according to the Daily Makeover, caffeine stimulates the hair follicle's ability to produce more hair. This is yet another of the coffee based beauty products you can simply make at home: pour cooled java on your scalp before showering, and massage it in. Use six months to see results.
Let's just sum up the amazingness of coffee's effects on your beauty routine! In short, coffee can:
help burn fat
reduce redness
reduce puffiness
exfoliate skin
deliver antioxidants to the skin
banish cellulite
help stop hair loss
deepen brunette hair colours
That's one hard working bean!
As I mentioned, it's easy to get the benefits of coffee at home by making your own concoctions. But if you prefer to buy products that are nicely packaged and that contain benefits beyond simple java, we've found some coffee based beauty products that will keep your skin and hair steaming hot!
Perk Up! 10 Caffeine Based Beauty Products
What can I say? This works. In fact, it's one of my favourite coffee based beauty products. You can actually feel it working. It tingles when applied to the skin, and you can also notice your skin tightening right after you put it on. No kidding! I've tried it myself.
The formula has caffeine at its base, which targets fat and activates micro-circulation to firm the skin, as well as Gotu Kola, which stimulates circulation and blood flow underneath the skin, which helps its suppleness and hydration.
This cream is such a hit, many clinics are actually using it in conjunction with – or even instead of – laser and radiofrequency treatments for cellulite.
Price: Around $40
Skin Organics by Ann Webb makes a Coffee Cherry Moisture Drench Cream to die for! This is a peptide cream that combines argireline (which many feel is a Botox alternative!) with shea butter and five plant oils. One of those oils comes from the coffee cherry, which is the natural berry from which we get coffee, and it is known for its ability to profoundly hydrate your skin.
This cream really penetrates down deep in the skin, and repairs damaged cells. I've tried and tested this one, and noticed immediately that it filled in very fine wrinkles. Apparently, that's down to the argireline, that peptide derived from natural proteins, which also gently helps to soften facial muscles to prevent wrinkles.
Price: $21.58
The caffeine eye cream by 100% Pure is one of the best selling coffee based beauty products ever – and with good reason! It is formulated with high performing antioxidants, naturally occurring vitamins and essential oils. But of course, there's also caffeine, which has proven benefits for soothing inflammation and reducing the puffy bags we all get sometimes under our eyes. I'm personally a huge fan of this product, and use it after I've had a particularly bad night's sleep.
Price: $29
This brand was born when Stephanie Additon was sipping an exquisite cup of artisan roasted coffee at her husband's coffee shop, Updike's Newtowne, in North Kingstown, in Rhode Island.
Maybe it was the caffeine hit, but she decided it was time to explore coffee's topical benefits in skincare. Today, Java Coffee Infused Skin Care products marry the rejuvenating properties of green coffee (one of nature's most powerful antioxidants), with a unique blend of organic essential oils (like argan, pumpkin, and rosemary) that are proven to nourish, repair and protect the skin. Plus, did I mention – they smell amazing?
Products range from body serums and scrubs to soaps and lip balms. Is there anything coffee beans can't do?
Prices: From $6
Forget nasty plastic microbeads! These Australian-made, all-natural coffee based beauty products take skincare back to basics. They target cellulite, stretch marks, psoriasis, eczema and other skin conditions to leave your skin feeling soft and supple.
Frank's special blend of original ingredients in their body exfoliators will scrub away dry, flaky skin and target pesky skin conditions – from cellulite to dullness – improving them with the power of nature.
Price: Around $20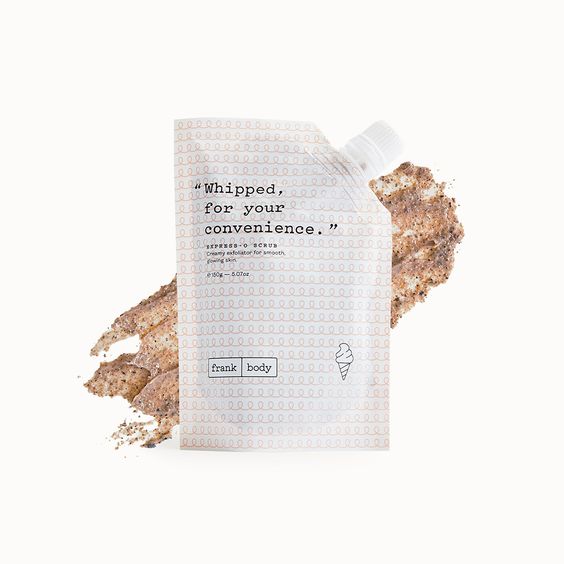 Do you tend to retain water? This cream can help!
Using the power of caffeine and green coffee plant extracts, it tones and firms skin to reduce the appearance of cellulite in your hips, stomach and anywhere else on your body. Its ingredients are formulated to boost the breakdown of fat cells and diminish excess water build up in cells, which can cause puffiness and cellulite.
Price: $62
If you love coffee for its dark, rich taste, you'll love this lip balm! It's also the cheapest of all the coffee based beauty products here. Yay!
Hurraw balm is made with a hefty pull of cold pressed coffee bean oil, which is added to their fresh pressed Californian almond oil to give your lips a soothing treat. To make it even more scrumptious, the brand adds raw chocolate to give the balm a mild mocha flavour. It's like having a mocha latte on your lips!
Price: Around $6
Designed to increase skin's firmness, this rich formula is infused with an exotic blend of African oils like Marula, Camellia, and Birrea Seed to help lock in hydration all over your body. But and of course, it also comes with a healthy dose of coffee seed oil to help firm your skin, too. No wonder it won Allure's Reader's Choice Award two years in a row!
Price: $60
There are loads of coffee based body scrubs on the market, but the grounds are usually too rough to use on your face. Until now!
This vegan-certified range of skincare is comprised of all-natural products that harness the power of botanicals – including coffee.
This facial scrub doesn't use coffee grounds to exfoliate; instead it depends on natural walnut shell powder for that. The powder gently sloughs away dead skin cells, and then concentrated coffee oil from the green coffee bean plant delivers a potent dose of antioxidants and fatty acids that help to nourish, hydrate and protect the delicate skin on your face.
Price: Around $20
Did you know that caffeine has been proven to help stimulate hair growth? So if you want longer, stronger hair, why not try this organic caffeine hair growth set? It includes a sulfate free shampoo, conditioner and a protein hair growth serum
The ingredients here were formulated to work in synergy to penetrate deep into the hair follicles for maximum benefits. There's clary sage, saw palmetto, rosemary and peppermint essential oils, as well as a good dose of caffeine, to stimulate the scalp. Biotin ensures what new hair does grow, will be strong and resistant over time.
Price: $89 for the whole set of three products
This organic coffee soap bar has a double shot: it's made from freshly brewed Colombian coffee and added ground coffee powder as an exfoliant. The unique combination of its rich fragrance and the skincare benefits of coffee will get your energised for the day, and get your skin glowing. Artisanal soap is always a good choice, since it is handcrafted the good old-fashioned way, using solely natural ingredients such as coconut oil, rice bran oil and freshly brewed Colombian coffee.  
Price: Around $7
Latest posts by Chiara Spagnoli Gabardi
(see all)