Feeling overwhelmed by the world these days? One of these meditation retreats could help restore your calm
By Chiara Spagnoli Gabardi
Living in a metropolis can be stimulating and engaging, but ever so fatiguing. We become easily addicted to running around non-stop, being sucked up in the flow of smartphone communications, work, commuting and cheap entertainment. As a consequence, we lose not only the primordial contact with Mother Nature, but even contact with our own minds.
Perhaps for this reason, meditation retreats are rising in popularity. Here, you have no choice but to forgo the phone, bid farewell to your social contacts and technology, all in the name of re-connecting with the one person who means the most–you.
Here, we've selected ten top meditation retreats that can help you restore your mind, body and spirit.
10 Great Meditation Retreats To Restore Your Mind
The 3-day silent meditation retreat at Lake Titicaca is a unique opportunity to spend conscious time with yourself. Here, you will practice meditation, yoga and other exercises in order to open and heal your heart and increase your awareness of your Self.
Meditation is done in ancient temples of the Island. This is one of the best silent retreats is for people who are interested in looking deep within and inviting more clarity and inspiration.
Accommodations are basic, and it can be a bit chilly. But this remote area of Peru is filled with mystery. It's even said there are civilisations that have lived under the lake, and some have claimed to have spotted UFOs!
What: Meditation in ancient, holy South American sites
Where: Lake Titicaca, Peru
You may actually break your silence at this retreat with a gasp! It's known to host several celebrities, including supermodel Gisele, who come here not only to clear their minds of the frantic worlds they work in, but also to heal and stay in shape. Yep, this women-only retreat is focused on fitness, via yoga and surfing, as well as silent meditation.
This resort recognises that the act of maintaining silence can be challenging for some, so encourage people to start out with 'baby steps', first enjoying silent activities like Tai Chi and hatha yoga, and then moving on to full 'quiet days'. Set on the shores of a glorious beach in Costa Rica, being silent will allow you to fully appreciate the crashing ocean waves, chirping birds and rustling palms.
What: Meditation and sport
Where: Santa Teresa, Costa Rica
You don't need to be Catholic to quench your cultural and spiritual thirst at this lovely retreat. But for those who follow the religion, the lovely Italian town of Assisi is an important place. That's because it's here where St Francis, the venerable saint and founder of the Franciscan movement in the early 1200s, once lived, prayed, and of course meditated in silence.
Besides God and spirituality, there's plenty to reflect on here. The Assisi Retreat Home & Hermitage within 25 acres of farmland surrounding the Umbrian countryside, bringing nature into the fore.  This resort will give you piece of mind and take comfort in the centuries-old farmhouse with four guest rooms, where each guest can have a private bedroom with en suite bathroom.
Retreats are conducted in English, and a kitchen space is provided to prepare your own meals. The programme offers six day five night meditation retreats for a period of one to three weeks.
This retreat was dubbed one of the Top Ten Silent Retreats by Travel & Leisure Magazine in 2008 and again by CNN in 2011, and it was even praised by Pope John Paul II, who visited in 2002.
If you adore the beautiful East, you'll love the Bali Silent Retreat, which is way more than a mere yoga and meditation centre. This is a comprehensive restoration and inspirational sanctuary for you to take-a-time-out from the demands of busy complicated lifestyles.
Yoga and meditation sessions occur daily in an open air octagon tent, surrounded by the green of nature and the asanas vary from Hatha to Ashtanga to Iyengar traditions and, of course restorative yoga. Labyrinth meditation, jungle and rice field walks will restore your senses when alternated with the variety of ceremonies, workshops, and  other activities.The retreat isn't 100% silent, as there are optional evening 'Chat & Chai' philosophy talks.
Everything here is sustainable: the centre includes solar electricity, water distilling, herb drying and it catches rainwater from the roof. Food is naturally organic, and you may enjoy the two daily vegetarian buffets that tribute Slow Food certified recipes, prepared by 'Garden to Table' chefs. Even your sleep will be eco-friendly, since all linens are 100% cotton and the furniture in the rooms is constructed of recycled timbers by indigenous architectures.
If you want to contribute to this eco-community, join their volunteer program and you'll live the experience of a lifetime.
If you want to weld Eastern and Western approaches, try The Gaia House Vision in the United Kingdom, which offers Insight Meditation retreats in the Buddhist tradition. The environment is one of silence, rural tranquillity, simplicity of lifestyle, sensitivity to the needs of others, and a commitment to ethical behaviour, compassion, loving-kindness and generosity. Through the year you may opt for weekend and week-long group retreats that are led by experienced Dharma teachers from around the world, following the Vipassana (Insight) movement.
The enchanting Gaia House is a historic listed building set deep in the peaceful countryside of South Devon, with views of the scenic wilds of  Dartmoor National Park, about half way between the cities of Exeter and Plymouth. The centre is sustainable, as all gloss painting at Gaia House has been done with environmentally-friendly water-based gloss paints. Additionally, all original baths were substituted with showers to reduce water usage and fuel consumption; compact fluorescent (CFL) light bulbs are used, and the the old Victorian septic tank was substituted with a Biorock Sewage Treatment Plant, which has a liquid output 6 times cleaner than UK environmental standards.
If you feel you really need to reconnected with your spirit with a sabbatical year, Gampo Abbey is the place to go to. This Western Buddhist monastery in the Shambhala tradition, located in Nova Scotia, Canada, was founded by Chogyam Trungpa Rinpoche in 1983.
Gampo Abbey is guided by the local abbot, the Venerable Khenchen Thrangu Rinpoche and principal teacher Acharya Pema Chodron. Their life-changing, One-Year Temporary Monastic Residency Program follows an in-depth curriculum based on the principles of the Tiger–friendliness, mindfulness, discernment, renunciation, selflessness, exertion, contentment, and confidence.   It also includes frequent practice of Shambhala Meditation and other teachings of Sakyong Mipham Rinpoche, as well as of the Druk Sakyong, Chogyam Trungpa Rinpoche. No place could be more sustainable than this, as it follows a primordial and monastic lifestyle, where the shrine rooms are elaborately decorated with Buddhas and pictures of leaders of their Tibetan section.
But if you aren't willing to invest an entire year of your life meditating nine to ten hours a day whilst sitting on Spartan floor rugs. And if the idea of shaving your head sends shivers down your spine, don't fret. You can also attend a one week cabin-based retreat, assisted by the recommended  spiritual teacher or meditation advisor, once the application you submit is accepted.
What: Tibetan Buddhist meditation
Where: Nova Scotia, Canada
This  private, two-mile-long island just off the Isle of Arran, on Scotland's west coast, may sound luxurious and exclusive, but in fact, it is home to a rather spartan Tibetan Buddhist centre, whose basic accommodation houses both serious Buddhist students and visitors who want to learn about the practice.
Naturally beautiful and lush with indigenous flora and fauna, Holy Isle hosts 65 guests in either single and double private rooms which have private washbasins but shared baths, or in some hostel-like, shared dorm rooms. All come with basic bed clothes, a dresser, and that's about it–meaning this is the perfect place for guests to focus on the spiritual and break away from the material.
The retreat offers talks, classes and seminars like "The ABCs of Meditation," led by visiting BBC actor-cum-Buddhist Alistair Appleton. Apart from meditation and learning about Buddhism, guests can walk along paths beside the rugged coastline and through the island's grassy hills, or help out in the gardens on the ground, which provide some of the natural food served to guests.
What: Tibetan Buddhist meditation
Where: Scotland
Just outside the frantic city of Mumbai lies a modern – even chic meditation campus. It boasts some surprising amenities, including a towering 'meditation auditorium', tennis courts, a nightclub, and even a mini-mall. Clearly, Osho is a retreat unlike any other; it has something of a 'pop psychology' hotel vibe about it which may appeal to those who are deeply embedded in life in the digital age.
Whilst minimally furnished, the rooms are indeed modern, comfortable and very stylish. Though guests are encouraged to be silent throughout the meditation sessions, other activities include power-breathing, vocalising, and even 'meditative dancing.' The philosophy here is based on the teachings of Osho, the eponymous founder of the retreat, who insisted that all guests wear maroon robes during meditation activities in order to add to the collective energy of the group.
Food is not included in the price of most packages, but is instead served at three restaurants on the campus–and what a campus it is! Set in thickly treed, lush greenery punctuated by perfect pools, the setting is more reminiscent of a 5 star hotel than a meditation retreat.
What: Meditation, breath work, ecstatic dance and much more
Where: Pune, India
Thailand is the perfect place to leave all your destructive behaviour behind, be this negative thoughts, telling lies or killing–even insects. Yes, that's right-at this Dhammakaya meditation centre, guests are asked to refrain from killing even mosquitos.
This could prove a challenge, as the centre is set in the lush tropical forests of northeastern Thailand, which are filled with buzzing, humming, hooting life. The property of the centre itself also features a variety of indoor and outdoor  meditation spaces, waterfall-splashed gardens, and an outdoor dining hall.
Indoors, you'll find bungalows that are constructed from local hardwood and furnished in basic Thai style. While the retreat welcomes men and women, this is no place for couples. The sexes are segregated into different compounds, and interaction is not encouraged. Instead, guests are instructed in Dhammakaya meditation, a form of Tibetan Buddhism that focuses on the core of the body as both an energy centre and a gateway to higher consciousness.
Where: Northeast Thailand forest
What: Gender segregated Dhammakaya meditation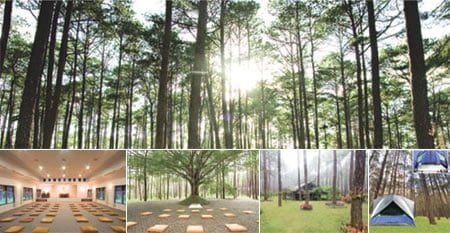 This is one of the best meditation retreats for anyone who really wants to be isolated and surrounded only by peaceful nature. Situated 400 km north of Delhi, India, it takes 10-11 hours to reach the retreat from Delhi, but by all accounts, it's worth it. Here, guests are given a pure, clean  space, facilitating reflection and refreshment of the soul as busy routines, noise and pollution are left behind.
The private, comfortable and serene accommodation is situated amidst a beautiful estate bordered by peaceful, dense oak forests. Surrounding the house are organic herb and vegetable gardens where everyone is welcome to come and help cultivate the plants, and harvest them for meals. Quiet sitting areas are scattered around the farm amidst fruit trees to encourage peaceful meditation.
Yogic practice, as well as meditation, are stressed here, especially Kriya Yoga. Apart from spiritual practices, cultural tours that include a Heritage tour, Photography tour, Yoga and Spirituality tour, a tour for Artists and Painters are offered.
Where: Delhi, India
What: Silent meditation, yoga, art
Latest posts by Chiara Spagnoli Gabardi
(see all)