You probably know about Florence and Pisa. But there is more to do and see in Italy! Here are 8 unmissable places to visit in Tuscany
By Diane Small
Little is left to be written about the most awe-inspiring Italian neighbourhood that embodies everything Italy is all about. How one chooses to experience the glory and incredible hypnotism of probably the lushest and most iconic Italian region, though, solely depends on their particular requirements, needs, desires, and, of course the duration of their getaway. Below is an illustrative guide with some top options, including car-free alternatives.
8 Places You Must Visit In Tuscany
1. Florence – Of course! 
Florence isn't just the world's capital of Medieval art. It's also the main hub for buses and trains all over Tuscany, providing an easy way to get around.
Some of the must-visit landmarks here include the Florence Duomo and its bell tower, baptistery, church, museum, and dome. To avoid the crowds, you can book a skip-the-line-access tour. A great idea! Also do the same for the Uffizi and Accademia galleries.
Ponte Vecchio dominates the scenery here. In the afternoon and late-evening hours, we suggest going with the locals for the passagiatta – in other words, people watching.
Foodies should consider joining a cooking class to learn the secrets of making local specialties. Or, opt for a food and wine tour to sample some of the most delicious local wines.
Where to stay: We recommend staying at one of the many luxury hotels in the area, such as Rocco Forte Hotel Savoy and Portrait Firenze – Lungarno Collection. Occupying a key location in Florence, they both offer easy reach of all local attractions while pampering with top notch service and beautiful views. Alternatively, you could look at B&B options, such as Terazza Sul Duomo and enjoy Duomo and Florence views from your comfy room and the terrace of the upscale hotel. Or you can live like a queen at Castello Di Vicarello.
2. Siena – For dreamy weekend adventures
Home to jaw-dropping Baroque, Renaissance, and Gothic architecture, Siena also has more! It enchants with its significant historical attractions, too. And, of course, its UNESCO-designated World Heritage Site historical centre.
While here, you can tour the infamous Piazza Duomo and the Siena Cathedral (Duomo di Siena), which houses works of Pisano, Michelangelo, and Donatello. No wonder it is regarded as one of the finest Romanesque-Gothic cathedrals in the country. It will also delight you with its baptistery, museum, library, and panoramic views.
For some serious fun in the early evening hours, you could spoil your taste buds with a hearty dinner with views of Italy's (probably) grandest square, Piazza del Campo. Follow that up with a nightcap at Piazza del Mercato. Enjoy one of the many bars serving great craft beer there. You may also want to check out the open-air Renaissance Logge del Papa arcade. It was built to honour Pope Pius II.
Where to stay: There are several elegant resorts, boutique hotels, hostels, B&Bs, and Airbnbs to choose from. We suggest the stylish Hotel Certosa di Maggiano, Residenza d'Epoca Palazzo Borghesi, and Fonte Gaia experience – all within walking distance from key local attractions. Moving further away from the city itself, you will also find fantastic luxury villas sitting on the outskirts of Siena and its magnetic countryside, like Villa Volterra.
3. Pisa – A true milestone 
Welcoming millions of visitors annually, Pisa will steal your heart. It features unique beauty, centuries-old history, and the iconic Piazza dei Miracoli. This was quite rightfully declared a UNESCO World Heritage Site. From walking along its Mediaeval walls and strolling the scenic streets of Piazza della Gondole to discovering its lively night scene around Piazza della Pera or Piazza delle Vettovaglie and from moving between the riversides and alleys that house architectural gems like the Palazzo Blu exhibitions and Santa Maria della Spina, your options are endless here.
Not to be missed are the 43 blind arches of the spellbinding Baptistery at Piazza dei Miracoli. Do take a moment to admire its amazing acoustics! Also check out the Tower, and the 11th-century Santa Maria Assunta Cathedral. This truly epitomises Romanesque architecture.
Nearby are also the fabulous Migliarino, San Rossore and Massaciuccoli Natural Park, great for bike rides and hiking trips. Don't miss Marina di Pisa, a beautiful small village and seaside resort.
During your stay here, you can also watch the infamous Palio di San Ranieri horse race, the Regatta of the Ancient Maritime Republics, and other historical events. And as always in Italy, there's great food! Treat your palate to meat or fish dishes and flavours from local cuisine. The Mucco Pisano steak, is famous, and is always paired with an appetising Chianti!
Where to stay: Although you have myriad different accommodation options in Pisa, we strongly suggest staying at a castle-like villa. We have found some pretty breathtaking ones, too! The Tuscany villas on Kinglike Concierge website might tick your boxes for exclusivity, authenticity, world-class amenities, luxury, and privacy.
4. Arezzo – A treasure trove of art and history
Nestled in eastern Tuscany, the captivating city of Arezzo boasts a rich cultural heritage and an impressive array of art. Known as the birthplace of renowned artists like Piero della Francesca and Giorgio Vasari, Arezzo offers a more off-the-beaten-path experience.
Start your exploration at the historic centre. Here, you'll find the stunning Piazza Grande, an architectural masterpiece surrounded by medieval buildings. Marvel at the grandeur of the Arezzo Cathedral, which houses remarkable works of art. These include the famous frescoes by Piero della Francesca.
Take a leisurely stroll through the narrow streets, discovering hidden gems like the Basilica of San Francesco, renowned for its remarkable frescoes depicting the Legend of the True Cross.
Art enthusiasts will be delighted by the chance to visit the Casa Museo Ivan Bruschi. This is a museum showcasing a vast collection of art and antiques. Don't miss the opportunity to explore the Vasari House, the former residence of Giorgio Vasari, a prominent artist and architect of the Renaissance era.
For a taste of local flavours, wander through the vibrant Mercato Sant'Antonio. This is a bustling local market where you can indulge in regional delicacies and sample traditional Tuscan products. In the evening, treat yourself to a memorable dining experience at one of the charming trattorias or osterias. Sample some authentic Tuscan cuisine paired with exquisite local wines.
Where to stay: Arezzo offers a range of accommodation options, from historic boutique hotels to charming bed and breakfasts. Consider staying at the enchanting Hotel Continentale, located in the heart of the city. Or, try the luxurious Antiche Mura Hotel, boasting elegant rooms and panoramic views of the historic centre.
5. Chianti – A picturesque countryside retreat
No visit to Tuscany would be complete without immersing yourself in the breathtaking beauty of the Chianti region. Known worldwide for its vineyards, rolling hills, and charming medieval villages, Chianti offers a serene escape from the bustling city life.
Embark on a scenic drive along the Chiantigiana road, meandering through vineyards and olive groves. Explore the picturesque villages of Greve, Radda, and Castellina in Chianti. Each has its own unique character and a wealth of wine tasting opportunities. Visit local wineries and indulge in tastings of the region's renowned Chianti Classico wines, accompanied by delicious Tuscan specialties.
Nature enthusiasts will appreciate the chance to hike or cycle through the stunning countryside. There, you can discover hidden trails and panoramic viewpoints. For a truly unforgettable experience, consider a hot air balloon ride, drifting above the vineyards and enjoying breathtaking views of the landscape.
Where to stay: Chianti offers a range of accommodations, from rustic farmhouses to elegant villas and boutique hotels. Consider staying at Castello di Verrazzano, a historic castle turned winer. It offers luxurious accommodations and sweeping views of the vineyards. Alternatively, you can choose the charming Borgo San Felice. This is a converted medieval castle with beautifully appointed rooms and a Michelin-starred restaurant.
6. Lucca – A charming Medieval gem
Situated in northern Tuscany, the walled city of Lucca exudes a unique charm. It boasts well-preserved medieval architecture, a peaceful atmosphere, and enchanting cobblestone streets. Exploring Lucca feels like stepping back in time, offering a glimpse into the region's rich history.
Take a leisurely stroll along the city walls, which offer a panoramic view of Lucca and its surroundings. Discover the magnificent Piazza dell'Anfiteatro, a circular square that was once a Roman amphitheatre. It is now home to vibrant cafes and shops. Visit the impressive Lucca Cathedral, with its beautiful façade and stunning interior.
Lucca is also known for its charming narrow streets, perfect for leisurely walks and exploration. Discover hidden gems like the Torre Guinigi, a tower topped with oak trees. It provides a unique perspective of the city. For a peaceful retreat, visit the serene Giardino Botanico, a beautiful botanical garden offering a tranquil oasis within the city.
Culinary delights await in Lucca's trattorias and osterias, where you can savour traditional Tuscan dishes and indulge in local specialties like tortelli lucchesi. Don't forget to try the renowned buccellato, a traditional cake made with raisins and aniseed.
Where to stay: Lucca offers a range of accommodation options, including boutique hotels, bed and breakfasts, and elegant villas. Try the luxurious Hotel Ilaria & Residenza dell'Alba, located in the heart of Lucca's historic centre. Or maybe the charming Albergo Celide? It offers comfortable rooms and a rooftop terrace with panoramic views of the city.
7. Val d'Orcia – A captivating countryside experience
For those seeking serene and picturesque escapes, the Val d'Orcia region is one of the best places to visit in Tuscany. This UNESCO World Heritage Site enchants visitors with its rolling hills, cypress-lined avenues, and charming hilltop villages.
Explore the postcard-perfect town of Pienza, renowned for its Renaissance architecture and delectable pecorino cheese. Wander through the narrow streets, admiring the beautiful Palazzo Piccolomini and the stunning Pienza Cathedral. Indulge in tastings of local cheese and fine wines produced in the region.
Take a scenic drive through the Val d'Orcia, stopping at the iconic cypress tree-lined roads and panoramic viewpoints. Visit the enchanting village of Montalcino, famous for its Brunello di Montalcino wine. Explore the Medieval fortress and enjoy wine tastings at the renowned wineries.
Nature lovers can venture into the countryside, hiking or cycling through the picturesque landscapes, dotted with vineyards and olive groves. Visit Val d'Orcia in September and discover the Hot Springs at Adler Thermae
Where to stay: Val d'Orcia offers a range of accommodations, from charming agriturismos (farm stays) to luxurious countryside villas. Consider staying at La Bandita Townhouse in Pienza, a boutique hotel offering stylish rooms and a rooftop terrace with panoramic views. Alternatively, opt for Castello di Velona Resort, Thermal Spa & Winery, a luxurious castle-turned-hotel that provides a truly indulgent experience with its spa facilities and vineyard views. 
8. The countryside in general – A natural getaway
Incredibly satisfying destinations are also the areas along the train routes in the Tuscan countryside, between Florence and major Tuscan cities like Arezzo, Lucca, and Pisa, as well as the route from Siena to Empoli.
Moreover, depending on where precisely in the Tuscan countryside you decide to stay, you could be less than an hour's drive from most of the must-see sights, such as the Chianti wine area, San Gimignano, Lucca, Pisa, Arezzo, Volterra, Siena, Val d'Orcia (Don't miss Adler Thermae as we suggested), Crete Senesi, and Florence.
Dotted with charming small villages and mediaeval towns, such as Prato, San Miniato, Pistoia, Certaldo, and Montecatini Terme, these regions also offer iconic accommodation to visitors in favour of agroturismo, pampering them with captivating farmhouses turned into luxury mansions, offering authentic experiences, a peaceful escape, and ravishing countryside views.
Final Thoughts
If you are close to Pisa or Florence, San Gimignano (and its 14 Mediaeval towers and impressive walls) is another of the superb places to visit in Tuscany. (You will find there is also one of the best vegan hotels in the world there!)
It is one of the most appealing car-free Tuscan destinations as everything is within walking distance, from restaurants to local attractions. Equally captivating and car-free-perfect is Greve in Chianti that is connected with Florence by bus and enables easy reach to larger nearby towns. If you decide to stay here, though, you may want to consider the countryside to enjoy Tuscany's natural allures (and its soul-pleasing wines).
Now, if you are planning on a longer stay (more than 7 days), you could divide your time up between a base in the Val d'Orcia region and another one in the Chianti area. This will enable you to explore from the small towns south of Siena, such as Montalcino and Montepulciano, and the Apennines north of Pistoia to the Mugello to the north of Florence and cities like Cortona and Arezzo to the east of Siena.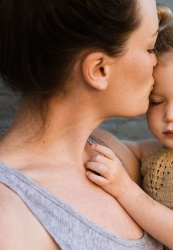 Latest posts by Diane Small
(see all)