Mara Hoffman transformed her popular fashion label to become greener – and vegan! Here's why
By Chere Di Boscio
New York based luxury fashion designer Mara Hoffman has long been known for her colourful swimwear and ready-to-wear collections. Her bold use of geometric patterns, primary colours and feminine details have made her a favourite with vacationers everywhere from the Hamptons and Portofino to Rio and Ibiza.
But something recently happened to Ms Hoffman that changed her life – and her work – forever.
She had long wanted to greenify her brand, but kept putting it off – until she gave birth to a son. After that, she just knew she had to take the leap to sustainability. As she told Vogue:
"…it was like, 'Wait. This goes far beyond me.' Here I am as a manufacturer and I'm making things [every season], but my son and his generation are the ones who will have to deal with all this stuff. We've been making things too rapidly, and there's too much of it. There's this daunting feeling that you can't change [an industry] that's been in motion for so long, but I couldn't keep showing up if we weren't going to make some changes."
We've heard how the profundity of bringing a new life into the world has changed powerful women's approach to work before. Specifically, I know for a fact that Kim D'Amato of PRITI NYC and Andrea Sands of Laguna Herbals, amongst other women, were motivated to make their brands greener and cleaner so that their children's generation would have a healthier future.
But it wasn't just the birth of her son that raised her consciousness towards being greener and vegan. Mara Hoffman has long brought social politics to her work. She's a major feminist, supports the arts, and champions positivity for all body sizes.
So shifting into sustainable fashion after having a baby seemed like a natural next move.
The Transformation Of The Brand
Gradually, she began to source low-waste and recycled fabrics. She knew selling clothing made from such materials would impact far less on the planet. The planet her son has to grow up on for decades to come.
But being a mom also increased Mara's compassion for all living things on Earth. She was never into fur or leather, but she did use silk in some of her designs. She loved the feeling of it, and struggled to replace it. Until she found Tencel, that is.
The supple, smooth fabric was the perfect replacement for silk. And its use allowed Mara Hoffman to become a fully vegan brand. But after discovering the benefits of Tencel, her curiosity was peaked, and she sought out other fabrics that were better for the planet.
She managed to replace regular cotton jersey fabric with a new material called Refibra. This is made from cotton scrap remainders from woodcutting operations. And to save the huge amount of water 100% cotton denim demands, she's chosen a hemp and organic-cotton blend. This gives her jeans a worn, vintage look, and it means that the wearer's skin won't be absorbing the toxins that plague regular cotton.
But it wasn't enough for Mara Hoffman to make her collections vegan and eco-friendly. She wanted to make them socially responsible, too. That's why she decided to work with Nest, a non-profit that works to support the livelihoods of a network of artisans around the world. The Kering Foundation, Maiyet, The Elder Statesman, and Nicholas K are also members of Nest. All source their delicate, handmade embroidery, beading and sewing from the group.
"I think people forget that sustainability includes human impact. Nest helped open our eyes to the fact that even beyond the regulated four-walled factory, there are millions of people in the fashion industry's supply chain who work from home [or in a small workshop] and deserve our support," says Hoffman.
An Inspiration To Others
It's not easy to transform a regular luxury fashion brand into a vegan and sustainable one. But Mara Hoffman's dedication to making gradual, positive changes is a great example to others.
She has shown how any brand can always take control to create more sustainable designs, no matter how complex their production chain may be.
I once had a conversation with Vivienne Westwood about why her labels weren't more sustainable. She's truly the queen of greenwashing; she claims her brand is sustainable because she promotes 'slow fashion'.  And she explained that her supply chains were multiple, well established, and would be far too difficult to change.
Sorry, but that's just not good enough. As Mara Hoffman shows, a strong will and strong ethics can make anything happen!
Shop her collections here.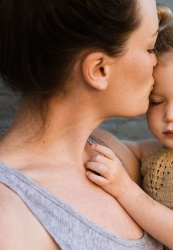 Latest posts by Diane Small
(see all)