Created ethically in the land of Aphrodite, Joanna Cave Jewellery evokes the goddess in us all!
By Diane Small
In a vast world, most of us have been largely influenced by the microcosm of our childhoods, and Joanna Cave is no different. Raised on a stunning, remote Aegean island, the creatures of the sea, Greek history and nature are recurring themes in her work.  
She demonstrated an artistic flair from a young age, and chose to study a foundation course at Central St Martin's before moving onto a degree in Jewellery Design at Middlesex University, UK. After securing an internship with fashion jeweller Scott Wilson, she was able to truly hone her craft before returning to Athens.
Back in Greece, surrounded by mountains, sea and sun, she became increasingly concerned for the environment. As a result of meditations in nature, she began to investigate how she could make her work more sustainable.
Ethical Solutions
The answer to this eco-based question was to use  recycled silver and ethically sourced pearls. The beauty and sustainability of her subsequent jewellery creations allowed her to become a regular exhibitor at London Fashion Week's eco-branch, 'Estethica.' But the designer also frequently shows her work in Paris, and her unique pieces are on display at  the 'Joanna Cave' room she designed in the Fashion House Hotel in Athens. This prestigious space showcases not only her jewellery, but her versatility and signature aesthetic, perfectly captured in the custom-made furniture and wallpaper.  
Whether it was through Estethica, Paris or Greek showrooms, model Amber Valletta cottoned on to the brand, and has become a huge fan. She chose Joanna's jewellery as part of her selection for the Master and Muse Collection on Yoox, which features some of the biggest names in eco-fashion, on one of the largest e-retail sites in the world.
On this platform, ethical jewellery lovers will find Cave's creatively shaped and crafted gold pendants, bold earrings, delicate chains, and stackable rings. Of course, they are also available on the jeweller's own website, too. There is no doubt that now, Joanna Cave's visions of eco-chic jewellery have gone from far beyond Greece, and  have travelled around the globe.
We love the themes the designer uses in her ethical jewellery, too. These include: birds in flight, swaying flowers, filigree butterflies and abstract designs that suggest other forms found in nature. We particularly love her beautiful headpieces.
Although you may think these were inspired by Greek goddesses, the creation of her tiaras and hairpieces actually took their cue from the way Indian women adorn their tresses. But nonetheless, whoever wears Joanna Cave ethical jewellery will be crowned with an elegant grace.
For more information on Joanna Cave jewellery, please click here.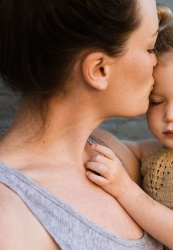 Latest posts by Diane Small
(see all)