Much has been written about blood diamonds. But how ethical are healing crystals?
By Katy Caric
Here at Eluxe, we've written extensively around why all diamonds – except lab-created ones – are dirty diamonds in some way. And it seems the public knows this too well, as diamond sales are falling steadily.
But what about other gems? In fact, what about stones that are specifically sold as being 'spiritually' or 'vibrationally' charged with good energies? Yep, I'm talking about healing crystals. 
How Ethical Are Healing Crystals?
Whether used as a meditation aid, to realign your chakras or for physical and psychic connection and protection, healing crystals have become a huge trend, but the sad truth is that their footprint on this earth is just as bad as any other mined gemstone.
This is mainly due to the fact that crystals are found in the earth using the same large-scale strip mining techniques that are used for gold, coal, and copper, and this incredibly polluting industry is responsible for deforestation, soil erosion, groundwater contamination, habitat destruction and air pollution – and let's not forget that the mining industry is infamous for its use of child labour and inhumane, unethical working conditions.
You'd think that sellers of crystals that are meant to be full of good vibes and healing qualities would boast ethical and traceable production processes, but a quick look at some of the top crystal stores like Energy Muse shows extremely cheap crystals for sale with absolutely NO sourcing information.
No Transparency
Since one of the most popular crystals, quartz, comes mainly from China, Turkey, and India, you can imagine that eco-friendly techniques are not used to mine them, and it's likely that working conditions are also far from ethical – yet few crystal sellers will admit to knowing this.
Indeed, The New Republic did an investigation into mining practices of crystal sellers and NONE of the big suppliers or sellers of healing crystals would talk about their practices. The magazine was able to trace the mines of some crystals though, and what they discovered was depressing. For example, blue chrysocolla, a healing crystal that gives 'supportive goddess energy,' comes mainly from the Tyrone Copper Mine, which is one of the largest copper mines in New Mexico, releasing around 2 billion gallons of acid and heavy metals into the water every year. So much for goddess energy!
Even Gwyneth Paltrow's 'clean lifestyle' company GOOP could not guarantee that the crystals in its $85 'medicine bag' were ethically sourced, nor could Auramore, an American-based shop whose sister company, People Crystals, has a popular store on eBay. Askinosie—whose Energy Muse website contains a rare section on How Our Crystals Are Sourced—would not comment on the actual origins of their stones, either. In short – it seems healing crystals are just as harmful for the planet and as unethically sourced as any gemstone you'd see used by any old jeweller.
Where To Find Ethical Healing Crystals
A few crystal sellers are offering more information for their customers, however. You should understand there are three basic ways of knowing the origins of your crystals:
1. Buy from a company that owns an ethical mine 
2. Trust your sources, cross your fingers and ignore anything uncomfortable.
3. Buy from a company that undertakes detailed research on geology and mineralogy, the mining and lapidary practices in each region, and the current socio-economic-political in the country of origin for the stones.
Whilst number 1 is the most reliable way to buy crystals, most of us will choose number 3, and that's fine: luckily, there are a few low-impact crystal shops you can get your stones from. Here are a few of my favourites.
This site sells basic stones of various sizes, and promises that all of their crystals can be traced from ethical sources 'from Earth to pocket'.
Ethically mined in Kenya, where the brand is based, and left raw, untouched & natural, Lilabare Clothing also designs jewellery made with healing crystals to bring you just a touch of good vibes.
This is one of the biggest ethical crystal suppliers is the USA. It boasts a hugely sustainable operation with zero carbon footprint, and you can even go there and mine your own stones if you like!
Kacha Stones owns their own mine on a West Wales hillside overlooking the River Cyche. Their location offers considerable advantages when it comes to crystal cleansing and storage such as a pollution free environment and on site natural springs and streams. Katha Stones is passionate about providing ethically hand mined crystals, and always keep in mind how crystals are sourced, handled, stored and shipped affects their energy.
This is another brand you can trust. Located in the old part of Kabul where heroin addiction and poverty were rife, the Foundation has made a huge change in the quality of life for the residents there since it was set up. They have been able to hire over 400 local men a day to source stones, make jewellery, and create a new cultural, educational and economic hub.
The community now has a primary school, a health clinic, a literacy centre with a library and an institute of Afghan arts and architecture that teaches English and Business skills. The Foundation has worked with British designer Pippa Small to create some stunning collections.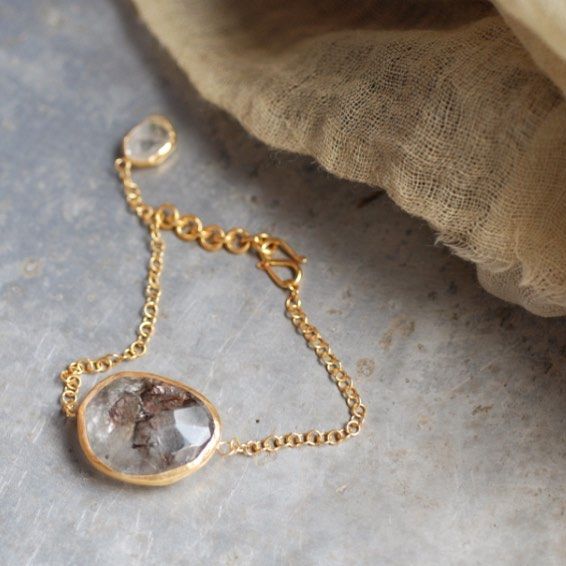 The Takeaway
Since there's no set ethical standard for clean-sourced crystals, it's important to do as much research as you can before buying healing crystals, especially if you really want their energy to be 'clean' – how could anything sourced from un-ecological methods or child labour be healing?
The brands above are a good place to start searching for ethical healing crystals, but ultimately, unless you find the stone yourself, you should be aware that as with any gemstone, crystals can come from dodgy sources indeed.
Last three images: Turquoise Mountain for Pippa Small
Latest posts by Katy Carik
(see all)
This site uses affiliate links with brands we trust, and if you make a purchase using a link, we may receive a commission.
Did you enjoy this post? Want to show your gratitude? Please support us on Patreon!