We did a fashion refugees photo shoot to draw attention to the plight of displaced persons around the world
When model Alexandra Wynne returned from visiting refugee camps in Greece, Turkey and across Germany, her whole life changed. She had been volunteering during the months when the UNHCR recorded the highest amount of asylum seekers crossing the Aegean Sea, and she was astounded at the level of human suffering she witnessed.
Alexandra asked herself: what can I do to help? And as a model, she knew that the fashion industry reaches billions of people daily. So she set out to make a statement in the best way she could: through fashion. She paired up with  Olfa Ben Ali, the Editor In Chief of RE FUSE magazine, to create a fashion shoot for the publication, the sale of which would be donated to refugees in need.
From the refugee's life jackets and the solar lights distributed in the refugee camps to the beaded jewellery created by refugee children, each photo in the shoot below features an item that is reflective of volunteer and refugee experiences on the ground.
Alexandra strongly believes that how we address this refugee crisis and understand what is really happening now in the Middle East will define our generation.  If you would like to help, be careful who you donate money to. The best bet is not to send money to Syria or any war-torn country (it's often 'lost' before it can be distributed). It's better to send funds to a truly grassroots organisation like one of these, or better yet,  donate your time instead of money, just as Alexandra did.
Fashion Credits
1.Sail Dress
Jewellery from the refugee camp
"Flight"
Sail cloth used as dress tied with nautical rope and life vest gutted and fastened into neck ruff. Valentino rockstud shoes
2.Mylar Gown
"Arrive"
Silver Mylar and duct tape gown,  Valentino rockstud shoes
3.Blanket Dress
"Under the Stars"
Down blanket tied with Jute rope, wooden shoes by Michael Felizzi. (Baby: Ilo Anais Nyari Brewer)
4.Solar Puff Dress
"The Love Light Project"
Black neck ruff made w/ plastic garbage bags and solar lights  
http://www.solight-design.com
 strung together, dress made by garbage bags over crinoline and vinyl corset by Damask
5.Blanket Cloak
"In Transit"
Vintage brown cloak, American Army issue green scarf, pants made of duct tape and black plastic garbage bags, Wooden shoes by Michael Felizzi
6.Topless image with necklace
"Border Closed"
Black WW2 wool Men's from the Navy pinned to fit, distressed ribbon as necklace.
7.Lifejacket Dress
"Aboard"
1950s strainer, two lifejackets worn as buckets, burlap sacks and cloth fastened as a bustle, wooden shoes by Michael Felizzi.
* All looks were created and styled on set by Ise White using materials reflective of the models' experience volunteering for the Refugee Crisis from December 14, 2015 – Janurary 25, 2016.
Team Credits
A Fashion Refugees Photo Shoot
Photographed by Reka Nyari @rekanyariphotography
Styled & Designed by Ise White @isewhitestylist
Makeup by Rachel Toledo @racheltoldeomua using Chanel
Hair by Sacha Harford @nextartist @sachaharford using Oribe and Bumble & Bumble
Photographer Assistant: Scott Furkay @furkay
Stylist Assistant: Meagan Taylor @frugalrock
Featuring Alexandra Wynne @MSAmodels @alexandrawynne
RE FUSE MAGAZINE
By Olfa Ben Ali – Editor In Chief, Curator & Initiator.
www.refusemagazine.com
172 pages, 210x280mm, full color, lumbacked, €14,95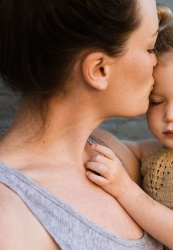 Latest posts by Diane Small
(see all)