By  Arwa Lodhi
My first interior design crush came from a fictional character: Holly Golightly (a.k.a Audrey Hepburn in Breakfast at Tiffany's). The glamorous good-time girl turned me on to the idea of upcycling when I gazed upon her fabulous bathtub-cum-sofa in the iconic film. Since then, upcycling has become a huge thing, with loads of sellers peddling their wares on Etsy and thousands of girls risking their manicures to do things with glue guns they'd never before  imagined.
Problem  is, it takes a bit of thought and creativity to make something as cool as that sofa in Tiffany's – so let us give you a hand if you're looking for upcycling ideas.  Here, we've taken 8 simple unwanted items and transformed them into furniture Holly Golightly totally would have loved in her tiny, perfect little flat.
Bathtubs
So, here's the sofa  that started our upcycling obsession. It may not be too easy, because you need to a) find an awesome old tub b) carve it out artistically c) create custom made cushions. So why not buy one ready made like this one from Industrial Design Rush on Etsy.com?  Want to add a bit more Audrey to your design? You can get a few great Breakfast at Tiffany's prints  
easily online, here
, just to stress where the sofa inspo came from.
Farm Ladders
Have a problem organizing your sexy  heels or clothing overflow?  A vintage ladder in the closet can be painted or left natural, and provides easy storage for any kind of shoes.  You can find old ladders like this one in virtually any auction or rural estate sale.  Just give it a lick of paint and basically hang anything you want from it: towels, shoes, hangers, jewellery, you name it.
Old Car Tires
Who knew lovely furniture could come from  old tires?  Upcycle rimless rubber car tires into Ottomans with sisal cord and a glue gun.   Start by cleaning the tire with an alcohol based degreasing spray to remove residue.   After drying, hot glue sisal cord in a circular pattern around the tread and base of the tire.   Glue two boards in an 'x' formation in the center of the tire to offer support, and cover the seat in the sisal cord, following the circular formation. You may want to pile one pouf on top of another for extra height, or use them as singles to form 'chairs' around a Japanese style table.
Tip: sisal can also be easily painted for a shabby-chic look.
Old Chairs
How adorable is this love seat? If you have two old wooden chairs, you can quickly transform them into a fashionable bench seat like this. Using a saw, remove the seat and front legs of each chair frame.   Connect the two frames with 2" x 3" lumber to create a rectangular bench frame, with each chair flanking on the left and right side. After painting the frame,  you may need to get a custom-made cushion made for the upholstery. Personally, I think Holly would have preferred something in black velvet…
Branch Clothes Rack
Where to hang all your little black dresses? It's a dilemma any fashionista faces – especially if you have tiny closets. Branch clothes rack will be a great addition to your home if you're looking for an alternative, ecofriendly solution to hang your coats or just trying to expand closet space. Start with selecting a sturdy, interesting looking branch, then ensure your coat hangers fit properly around the diameter.
Allow the branch to dry out in the summer sun for a few days, then paint it if needed. Measure the length of the branch and mark the points on it from where you'll be suspending it from the ceiling. Install two eye hooks in the ceiling and suspend your branch clothes rack using a chain link. Voila!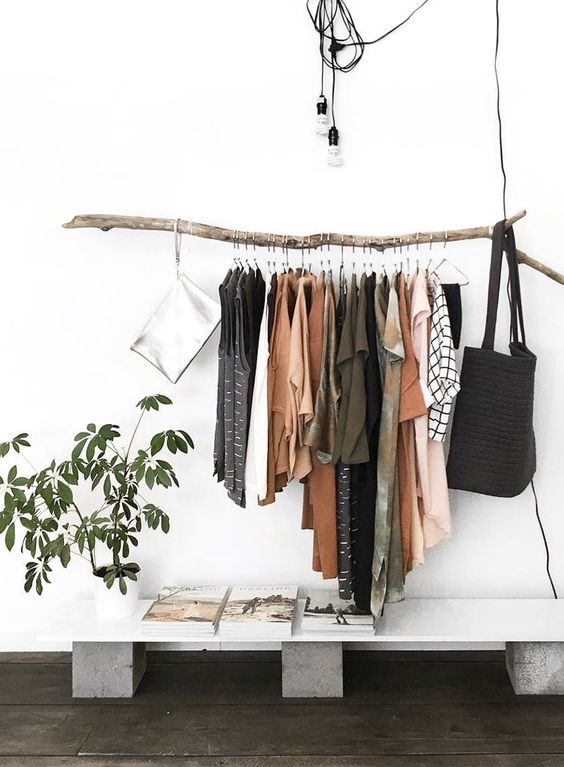 Wood Pallet Bed
If you're planning to change the look of your bedroom, why not consider taking on a wood pallet frame? The natural finish of reclaimed wood pallets will offer your rustic bedroom just the right vibe and you can even paint or varnish them to suit your taste.
Pallet beds are super flexible: you can  make them any size you want, add storage as you see fit, or add lights underneath to give your room a soft, romantic glow.
Click here for more ideas.
Old Cardboard Tubes
Remember Holly's cat? The one called…."Cat", who ran away in the rain? She may have stayed put in the apartment if she had something fun like this perch to sit on!
Make a simple perch by attaching some sturdy  cardboard tubes to a wood base: cut a 2cm groove a tiny bit wider than the diameter of the tube, fill it with superglue and add the tube. Add an old wood salad bowl on top, also scoring a groove on the bottom to add the bowl. Fill the groove with superglue and add the bowl. When dry, use your glue to upholster it all in carpet or coir – your cat will be happy to scratch and sleep the day away! Can't be bothered? Cozycatfurniture.com can do it all for you (as seen below).
Lumber Planters
Girls like Holly don't have time to water plants – so these cacti, housed in upcycled lumber ends, are perfect. They're easy to make: just take any old blocks of leftover lumber, sand the bottoms down so they sit smooth, chisel a hole in the top that's about 3″ deep, put 1″ of pebbles in, then fill the rest in with cactus soil and of course, a little succulent. Voila! It looks like you have a green thumb! Too complicated, or can't find lumber? Reclaim Design's ready made ones  may be an option.
 Main Image: lumas.com