Feeling like you need to downsize your life? Become more independent? Rob Greenfield and his tiny house may inspire you!
By Diane Small
In Europe, we're pretty used to living in small spaces. The average London one bedroom flat is about 40 square meters. In other words, the size of many Americans' entire living rooms.
There is one American who is definitely the exception to the rule, though.
For sustainable living advocate Rob Greenfield, even the smallest London bedsit would feel luxurious. He's just purchased his own entire house, which he affectionately refers to as his 'tiny home' or 'the teeny greenie'. And tiny it is: it's only about 5 square metres! Yipes! So, how does he plan to live in such a small space?
A living example of sustainable living
Greenfield is dedicated to setting an example of sustainable living. He completely shuns the consumerist lifestyle and has cycled around America without a penny in his pocket to show how we can get by on far less than you'd expect.
A passionate advocate of stopping food waste, he has also appeared on various TV shows where he demonstrates how one supermarket dumpster can feed dozens of people with the food they throw out (and usually lock up) even though it's still perfectly edible. He also documented his year of no showers, choosing to bathe himself using natural products in rivers, streams and waterfalls.
Rob Greenfield came across his tiny house by chance. He was planning to build his own small home, but found this teeny home on Craigslist. He bought it for $950, far less than one month's rent in a typical London flat. So why would he want to live in such a small space? And how does he manage?
Get ready to meet sustainability guru Rob Greenfield, and learn more about his tiny house.
Rob Greenfield & His Tiny Home
Why exactly did you choose to do this?
I will be living an extremely simple life, much simpler than most tiny home owners. I intend to spend my life outdoors and involved with my community rather than tucked away in my house, hence the very tiny home.
I find it is all too easy for me to succumb to convenience and comfort, so I take away many conveniences and comforts so that I have no other options but to follow my morals and ethics rather than my need for comfort.
Where's the bathroom? And how does that work?
I'll build a simple compost toilet and this will be outside. I'll build a little privacy booth around it, so consider this an addition the 50 square foot home.
It can get pretty chilly where you live. How do you heat it?
During the day, it will be heated by rays of the sun. At night, I will mostly heat it by putting on warm clothes when I am cold and sleeping with warm blankets. I expect with it being so small that my body will also warm it. San Diego has a very mild climate, and with a bit of determination and dedication heating is not needed. If it's still too cold for me, I will likely get a wood burning stove.
What planning bylaws have you had to deal with?
Oh, I haven't gotten to that part yet. Mainly because this is technically illegal in two ways.
First, living off the grid (sewer and electric) in a home is illegal. And living in a trailer/camper/car is also illegal. I am not going to follow these law though, because I believe it is a human right to be alive and build a simple nest. I will be of benefit to the land I am on, the community I am part of, the environment around me, as well as my country.
It's not your typical way of living. It could be hard to understand for many people. But I can assure you that I am making a positive impact on people and the planet.
Can you cook in there?
Yes. I will be cooking with a rocket stove and a solar oven. I will likely do the cooking outside though where the air is the freshest.
Do you intend to travel with it? If so, what's the plan?
No I will be setting this up stationary in a friends yard. I don't own a car nor do I try to use them often so transporting this little guy wouldn't be that easy.
Where will you put all your stuff though?
I actually don't own a whole lot of stuff! Just a few changes of clothing, and the basics, like a toothbrush and other grooming products, a laptop and a phone.
What are you looking most forward to, in terms of living in your tiny home?
Just having a space of my own.
Rob Greenfield and his tiny home are an inspiration for us all. Though most of us wouldn't be able to live in such a small space for even a week, the point is: we could all learn to downsize.
You should know this: despite – or because of – his tiny home,
lack of possessions
and simple lifestyle, Rob Greenfield is probably one of the happiest, nicest people you will ever meet. Just proving that good men come in small packages.
For more info about sustainability guru Rob Greenfield, please click here.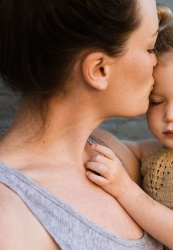 Latest posts by Diane Small
(see all)