By Diane Small
RE/DONE doesn't think of itself as an ethical denim label – in their estimation, it's more of a 'movement to restore individuality to the luxury fashion space, a movement to keep heritage brands relevant, and a movement to create sustainable fashion.' So, exactly how does this 'movement' operate?
Mainly, it focuses on redesigning vintage Levi's denim, usually transforming men's jeans into women's. Hems are expanded into flares; zips are added to ankles; old pockets are torn off and made into patchwork jackets. This year, the brand's – or should I say, 'movement's' – best seller is a version of the Levi's 505, which has the same high waist as the 501, but straighter, longer legs. Each pair is unique; their frayed pockets, faded indigo and whiskered stitching all display a mysterious story of a past life.
As with jeans in general, RE/DONE has proven popular with all people from all generations and walks of life: after admiring her daughter wearing the brand, 90's supermodel Cindy Crawford cheekily posted a pic of herself wearing old Levi's on Instagram with the caption:  'I was doing Re/Done before Re/Done.' " Co-founders Sean Barron and Jamie Mazur saw it and contacted the supermodel to get to start designing her very own "The Crawford Collection."
So, how did she style her dream jean?
"For me, the jean couldn't be super-super-high-waisted because that isn't how we wore them [in the '90s]," Crawford explained to Vogue. "And also, on a mom, they feel like 'mom jeans' when they're that high. My original Levi's weren't super-tight, either–they were tight when you first put them on, but not through the calf or at the ankle. So these are fitted through the butt and thigh, but then it's more of a straight leg, and you can wear them with a pump." The resulting product is now available in two types of denim: rigid, 100-percent cotton or a version with two percent stretch – both of which Crawford's model daughter Kaia has been sporting around the world (pic below).
Barron said it's not just the Crawfords who are obsessed: every model who's tried them on has been instantly smitten. Maybe it's because we've been wearing skinny fit jeans for so long. Or maybe it's because we're all eager to show off our sustainable fashion creds – and if that's the case, RE/DONE has them in spades, since they create all  their jeans in Los Angeles using water conserving methods and no harsh chemicals. In fact, they source everything they repurpose within 15 miles of their Los Angeles factory.
So, where is this denim movement going in the future? Well, men will be happy to hear that RE/DONE will soon be offering a men's line – and they're also upcycling old leather jeans and jackets into new pieces of fashion. The RE/DONE movement is definitely going places.
To shop the collection click here.
All images courtesy RE/DONE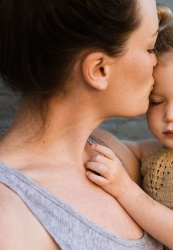 Latest posts by Diane Small
(see all)