Got acne? Rosacea? These natural probiotic skincare products could help save your skin!
By Courtney Yalen
I think we all know by now that probiotics are great for your gut, but have you ever thought about applying probiotics topically? While I don't recommend slathering kimchi on your face (although full-fat plain Greek yogurt is one of the best and easiest DIY masks), there has been a surge of new skincare products with probiotics to use topically.
And no wonder: we've unwittingly been killing the highly necessary natural bacteria on our faces, which not only leads to redness, acne, inflammation and other skin conditions, but also makes our skin more vulnerable to the effects of pollution and allergens. And just how have we been killing those good little microbes, you may ask?
Most obviously, with antibacterial soaps  – I mean, obviously they kill good and bad bacteria, right? But less obvious is the fact that any time we use a skincare product with preservatives, we're hurting our skin's good bacteria – after all, the job of conservation chemicals is to kill any microbes that may eat away at the natural ingredients of a product. Unfortunately, they also eat away at the teeny life forms we need on our bodies!
How natural probiotic skincare products can save your skin
Products with probiotics aim to cultivate the good bacteria so they are able to naturally 'fight off' the bad. Probiotics actually improve and balance your complexion by fortifying your skin's natural barrier, called a microbiome, which is the first line of defense in terms of keeping out nasty irritants and triggers (like pollution, chemicals and allergens) and holding onto the necessities (like moisture). This little personal skin army works to help your skin look healthy and clear by decreasing sensitivity, redness and inflammation, and they keep working even after your skincare routine is finished.
Although there is still much research and testing to be done on probiotics on our microbiome, it is known that they dial down cytokines, cellular signaling molecules that get overexcited in people with chronic inflammatory skin conditions (acne and eczema sufferers, unite!).
What to look for
Probiotics activate the skin's natural ability to repair itself and boost the natural process of restoring collagen, elastin and healthy cells. A strong and balanced microbiome is essential for a radiant, supple, and healthy complexion. According to Dr Sunny Shaper, it's best to take probiotics orally, as this "brings about the best results for your body and the strengthening of your immune system." He recommends starting the day with a fresh yoghurt or live bacteria drink like kombucha, but if you're vegan or don't have access to kombucha, you may have to use a topical product instead.  
Whilst there are loads of products out there claiming to contain probiotics, what's essential to look for on the label is that there are no preservatives – those would just kill the active ingredients.
My own experience
Since starting to use probiotic face wash (from Eminence) and a mist (from MotherDirt), I've noticed that I can get away with only washing my face once a day (for the first time in my 23 years of existence with acne and oily skin!). I still use serum, moisturizer and SPF in the morning, but now I simply splash my face with water to wake up – I only wash my face before bed.
What that means for me personally is that probiotics are balancing my skin, leading to less greasiness and fewer breakouts (normally, when you lose the good bacteria on your face, the bad stuff moves in, leading to acne).  Of course, you can't have healthy skin without a healthy gut, I'm also taking probiotics internally (kimchi, Greek yogurt, kombucha) – for me, this is just as important as using a good skincare product.  
Now, restore the balance in your microbiome with these natural probiotic skincare products, below.
Some Of The Best Natural Probiotic Skincare Products
This beautifully scented line is technologically advanced and known for reducing inflammation and regenerating the skin's collagen by increasing the hyaluronic acid levels.
These natural probiotic skincare products are packed with super botanics like baobab and mongongo oil alongside skin saving probiotics. Aurelia uses both Probiotic Milk Peptide and other probiotic ingredients to "help stimulate cells (fibroblasts) that produce collagen (responsible for skin elasticity), hyaluronic acid (responsible for hydration) and fibronectin (responsible for skin support)".
Mother Dirt's philosophy is that we've become too clean with all the products we use, and our skin is suffering. The range of conventional personal care products has wiped out the AOB's (Ammonia-Oxidizing Bacteria) from our skin, which are the peacekeepers of our microbial community.
By converting the irritating components (ammonia and urea) in your sweat into byproducts that bring benefits to the skin (Nitrite and Nitric Oxide), the AO+ Mist helps reduce dependence on conventional products while actually revealing healthier complexion. You might not believe it 'til you experience it. I love bringing the mist to my hot yoga class or spraying it on before bed.  
Developed by board certified and practicing gastroenterologist educated by NYU and Harvard, TULA (which means 'balance' in Sanskrit) was created by Dr. Roshini Raj. His aim? To naturally balance the skin.
TULA uses a different strain of probiotics depending on the product line (hydrate, exfoliate, anti-aging) with carefully selected clean ingredients. TULA has a wide range of natural probiotic skincare products that nourish your skin with a balanced meal of good-for-you ingredients. The same way a healthy diet nourishes your body, right?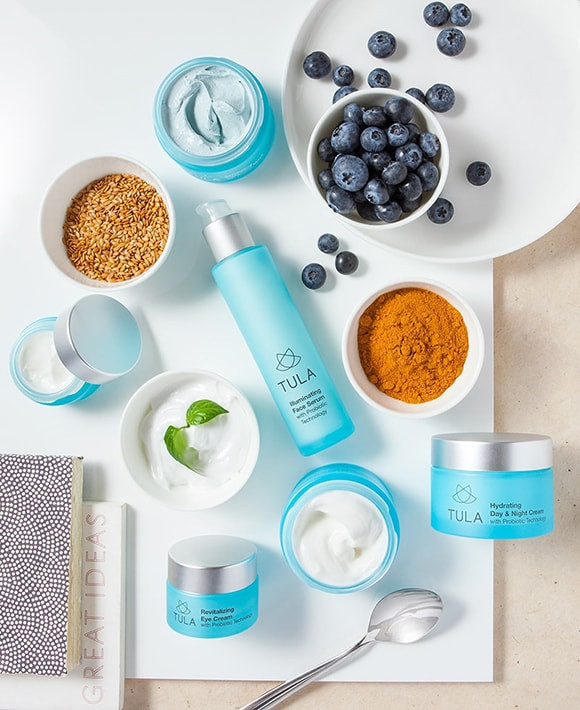 Marie Veronique Pre + Probiotic Daily Mist calms irritation with micronutrients that both encourage microbial diversity and restore balance. Pre-biotics feed probiotics to keep your skin's ecosystem cycle functioning smoothly while coconut water profoundly hydrates while anti-inflammatories calm and soothe.
I'm also a fan of Marie Veronique's natural probiotic skincare products for their recyclable glass bottles and minimal packaging.
This skincare brand hails from South Africa and uses natural ingredients from the region to  maintains skin's microbiome balance by encouraging helpful microorganisms to thrive. Their Pre + Probiotic Daily Mist balances the skin's microbiome, hydrates with humectants to keep skin soft and supple, and calms and soothes with powerful anti-inflammatories.
This is a great first step to incorporating topical probiotics, especially if you have acne-prone skin. Eminence natural probiotic skincare products are awesome in general, but this cleanser is super extra. It's crafted with tea tree oil to prevent breakouts, while astringent willow bark controls oil production. Lactic acid exfoliates, while cucumber juice tones and shrinks pore size.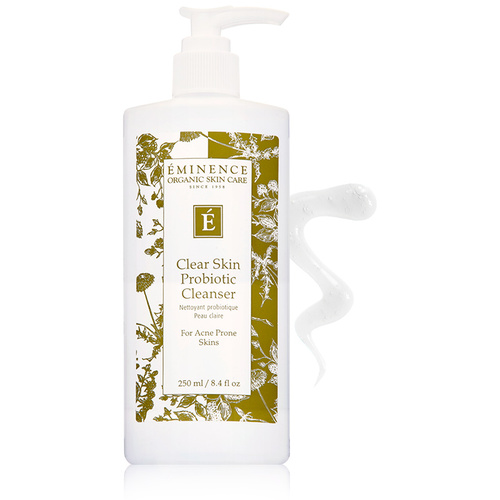 If you've tried and loved Biossance's squalane, you need to try this moisturizer, like, ASAP. Two of my newest favorite remedies for smooth, clear skin in one! 
If you've had trouble with breakouts from heave skin creams in the past, feel free to slather this on without worry. It's an ultra lightweight gel that's packed with squalane and probiotic technology that is known to calm and soothe skin while supporting the skin's natural barrier.
This is everything your oily and problem skin needs. Seriously! Botanically infused and rich in ingredients to balance your skin's microbiome, this cream cleanses without stripping your skin. At just over $10, it's also one of the best natural probiotic skincare products for those on a budget.
A new, probiotic rich release from Tata Harper made for acneic skin. Because Tata Harper can do no wrong.
There's all kinds of goodness in here besides probiotics. Star Aster helps your skin defend itself against oxidative damage and cell deterioration. White Clay is there to suck up oil and dirt, and Papaya Enzymes clean, clear, and minimise the look of pores.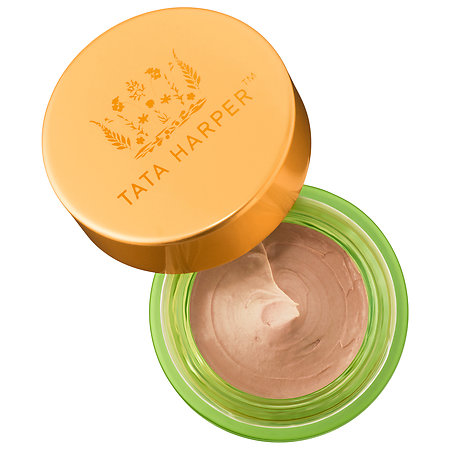 This natural probiotic skincare product reduces inflammation that can manifest as redness, dry patches, or acne. It's got a potent probiotic powder masque with  4 key ingredients to detox, peel, brighten  and boost collagen.
It comes in a powdered form, ensuring the integrity of the probiotic ingredients, which are activated with the addition of water.