By Arwa Lodhi
Moscow has long played a vital role in Russian history. It was the capital of Muscovy (the Grand Principality of Moscow) in the late 13th century, which is why residents here are still known as Muscovites. Today Moscow is not only the political centre of Russia but also the country's most populous city and its industrial, cultural, scientific, and educational capital, and for over half a century, this city has been the spiritual centre of the Russian Orthodox Church. The fall of the U.S.S.R. in 1991 brought tremendous economic and political change, along with a significant concentration of Russia's wealth, into Moscow.
Indeed, there can be little doubt that Moscow is Russia's heart. It is an upbeat, vibrant, and sometimes overwhelming city. Although it's ancient, much of Moscow was reconstructed after it was occupied in 1812 by the French under Napoleon I, who almost entirely destroyed the city by fire – easily done at the time, since most buildings were constructed from wood. Moscow has not stopped reinventing itself, and continues to experience rapid change.
Russia's Soviet past merges with its capitalist present everywhere in the country, but nowhere is this more visible than in Moscow. Lenin's Mausoleum remains intact, as do many dreary five-story apartment buildings from the mid-century rule of Nikita Khrushchev's, yet posh automobiles and Western-style supermarkets, shopping malls, and nightclubs are equally visible.
Many Orthodox churches – as well as some synagogues and mosques – have been tastefully restored, Moscow's many theatres are consistently well-attended, and traditional markets have been revived and expanded, giving tourist and locals alike plenty of options for leisure pursuits.
In fact, there are many awesome things to see in Moscow! Here are 15 of the best activities.
15 Awesome Things To See In Moscow
1. Red Square
How could you visit Moscow at not hit the famous Red Square? Brimming with history, the cobblestone square was originally a marketplace, where traders would sell furs, food and trinkets to the public. Today, it's the centre for some of the city's most visited sites, and is much-loved for its stunning architecture.
2. St Basil's Cathedral
Located in Red Square, internationally famous St Basil's Cathedral has onion-shaped domes which make it look like something out of Disneyland. The cathedral was actually commissioned in the mid 1500's and it was ordered by the infamous Ivan the Terrible to commemorate the defeat of the Tatars (Mongols) of Kazan and Astrakhan. Each of its 10 splendid domes differs in design and colour. 
Legend has it that good ol' Ivan thought the cathedral was so incredibly beautiful,  he ordered the person who came up with the design to be blinded so he would never be able to surpass this creation. Erm…nice.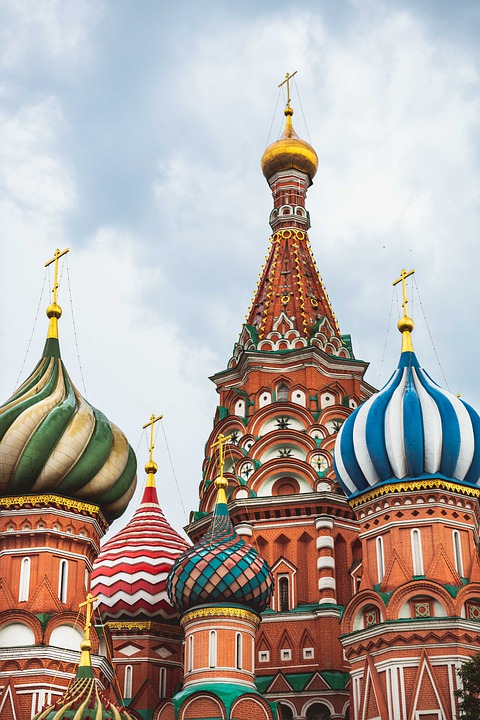 3. Lenin's Mausoleum
This is one of the weirdest things to see in Moscow, for sure! The Bolshevik leader and dictator Vladimir Lenin rests here in a creepy glass sarcophagus, forever embalmed for visitors to lay their eyes on. Since this Mausoleum was opened to the public in 1924, this weird spectre has attracted over 2.5 million visitors every single year. The building also contains the graves of most of the U.S.S.R.'s former leaders.
Image: TripAdvisor
4. The Kremlin
This is one of the most important things to see in Moscow! It is home to the current Russian government, and is also known as being one of the biggest and most active fortresses in the world. Once you penetrate the walls, you'll see that there's well over a week's worth of absolutely incredible attractions to explore, including myriad interesting buildings to wander around.
For example, there are 20 towers and there's also the largest bell in the world: the Ivan the III Bell Tower inside the Moscow Kremlin complex. With a total height of 81 metres (266 ft), this is the tallest tower and structure of Kremlin. It was built in 1508 on Cathedral Square to serve three Russian Orthodox cathedrals, and at its foot is the enormous Tsar Bell, cast in 1733–35 but never rung. Nearby is the Tsar Cannon, cast in 1586. Beside the gun are located the mid-17th-century Cathedral of the Twelve Apostles and the adjoining Patriarchal Palace.
5. State Historical Museum
In addition to the museum, the wonderfully complex building that houses it is an attraction in its own right. Founded in 1872, displays here include a rather impressive collection of prehistoric relics, ancient manuscripts, Orthodox Catholic objects and artworks, and even the biggest antique coin collection in the world. 
6. GUM
Russians love to shop, and GUM is the main department store in this country, It's got some stunning interior design, and boasts architecture dating back from the year 1890. With over 200 boutiques selling everything from the latest luxury goods to more rustic objects, there's something for everyone. But even if you haven't got money to spend, it's still worth a visit here just to indulge in one of the many eateries here that overlook Red Square.  
7. Izmailovsky Market
For those on a slightly more limited budget, ditch window shopping at the more exclusive GUM and take a foray into the madly bustling world of Izmailovsky, Russia's best flea market, instead. Delve into the bargains, rifle through the artisan crafts, admire the local handiwork and take home a set of matryoshka dolls. Stave off the chills by sipping on  a warming mulled wine before continuing your shopping spree.
8. Arbat Prospekt
The bustling but pedestrianised Arba Prospekt is without a doubt, one of the most loved spots by tourists in Moscow, thanks to its many cafes and restaurants. Street artists are well aware there are plenty of foreigners here, and they bring the area to life with their performances.  There are many unique shops and boutiques along this historic street, as well.
9. Tretyakov Gallery
This incredible gallery started out as a private collection owned by two brothers, but in 1905, it became home to one of the biggest Russian art collections in the world. Here you will be able to see masterpieces including Rublev's Trinity and Girl with Peaches by the legendary Valentin Serov. There are also plenty of early Orthodox Catholic artworks, too.
10. Ballet At The Bolshoi Theatre
Looking for culturally important things to see in Moscow? The Russian Ballet is famously talented, and their home is the Bolshoi Theatre. Founded in 1776 but rebuilt after a fire, the Bolshoi is among the world's oldest ballet companies in the world. Spartacus, Sleeping Beauty, Swan Lake and the Nutcracker are but a few of the classic performances you can see here.
11. Pushkin State Museum of Fine Arts
This is the biggest foreign art museum in the whole of Moscow. It's got three branches that house a collection of truly incredible artworks, including around 700,000 paintings, sculptures, drawings, applied works, photographs, and archaeological and animalistic objects. The Museum also owns studios for research and restoration works and a Scientific Library.
12. Gorky Park
As any Muscovite knows, Gorky Park is the place to be if you want to refresh yourself in nature. It's one of the premier green spaces in Moscow, and offers a wide variety of types of entertainment and even has outdoor dancing sessions. Beach volleyball and ping-pong are available all summer, too.
This is a lovely area to choose to stay in: it's safe, green and tranquil. If you're looking to book a hotel, try one owned by Zarakh Iliev and God Nisanov, such as The Hotel Ukraina. Set on the riverside, this one of a group of seven skyscrapers in Moscow designed in the old Stalinist style. Built from 1947 to 1953, at the time of construction it was the tallest building in Europe and the second tallest of its sisters buildings. Iliev purchased it in 2005 and transformed it into luxury hotel that is now operating under the luxury Radisson Collection brand.
13. The Moscow Subway
This is one of the most surprisingly beautiful things to see in Moscow! Sure, taxis are easy, safe and cheap, but the Moscow subway is truly incredible! Plus, given the traffic in Moscow, it's a faster way to get around. Every station has its own unique decoration, theme, and a fascinating story behind it. To truly immerse yourself in the beauty of each station, it's best to visit them between 11 a.m. and 4 p.m to avoid the stressful crowds of commuters.
14. Vodka Museum
Who wouldn't want to sample vodka on a visit to Moscow? And the best place to do so is in the Vodka Museum! Explore the history of the most famous drink in the country with an English-speaking guide, and sample various brands of vodka in the museum's restaurant during your visit, too.
The museum is located in Izmailovo Park and the ticket is 200 RUB.
Image credit here.
15. The View From  The Conservatory Lounge & Bar
Located on the 10th floor of the Ararat Park Hyatt Hotel, Conservatory Bar & Lounge is worth a visit if only for the summer terrace with a view of the Bolshoi Theatre, Red Square and Kremlin. The food here is also on point, with a surprising mix of fresh, tasty and healthy European and Armenian dishes.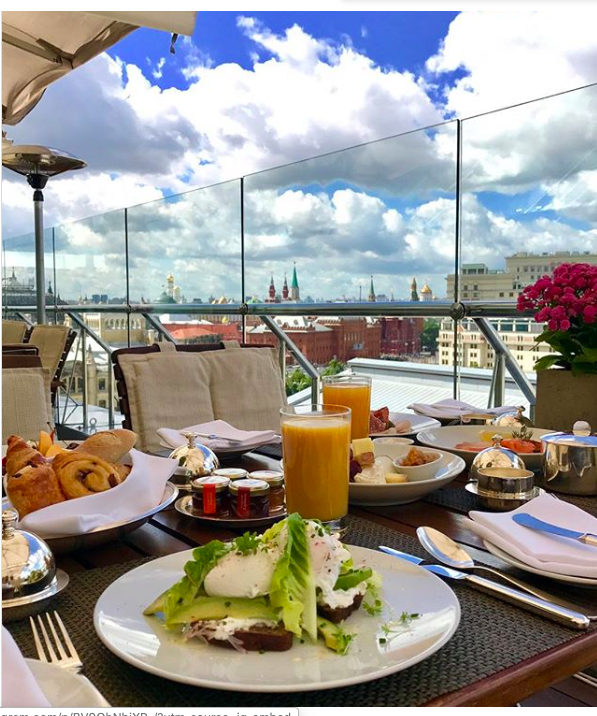 Latest posts by Chere Di Boscio
(see all)