Dreaming of the perfect tropical holiday? Consider one of these eco lodges in Mozambique!
By Danae Mercer
When it comes to sustainable luxury travel, Mozambique isn't the first place that springs to mind.  This southeastern African country has been through its share of tough times, ranging from being  colonised by Portugal to being used for the slave trade to experiencing a violent civil war from 1977  to 1992. Poaching, dynamite fishing, and fires to clear away land for farming have all hurt  Mozambique's strong natural beauty. Still today, infrastructure is poor, poverty prevalent, and conflicts can occur.
Yet eco lodges in Mozambique are becoming increasingly common. A growing number of coastal luxury properties are focusing on sustainability, looking at  activities that can help this beautiful, raw, isolated spot in Africa develop in an ethical manner. The  result is a whole new way for a traveller to enjoy Mozambique's untouched beaches, turquoise  waters, Maldivian-esque islands, and isolated African villages.
Intrigued? Here are some suggestions for Eco Lodges in Mozambique, and what you need to know before you  go.
Travel tips
1. Choose a side
Given the expanse of Mozambique's coast, we recommend picking one side  (either north or south) and staying there. In the north you'll find small isolated villages, thatched  huts, and a certain rawness. Down south there's a busier vibe and Mozambique's bustling capital,  Maputo. Each has a stunning archipelago with numerous luxury-focused private islands. Book a  safari in a neighbouring country, then fly into either Pemba or Maputo before travelling to one of  Mozambique's beaches.
2. Come with cash
No matter where along Mozambique's coast you go, expect to pay. Owing to  numerous factors like poor infrastructure and high import tax, Mozambique is surprisingly  expensive. Jonathan Belt, a researcher with African Travel Resource (africantravelresource.com),  cautioned against letting this put you off: "The good stuff in Africa costs a lot. To stay in remote  locations, you should expect to spend a fair amount. Giving a western style of life in remote Africa  is incredibly expensive." American dollars are widely accepted.
3. Don't go wild
It's worth noting that in Mozambique, poaching has been prevalent to the extent  that much of the big-game wildlife has disappeared. Victoria Troskie, head of Africa for Lightfoot  Travel (lightfoottravel.com), warned against buying any sort of animal product from local vendors.  "No matter what they say, poaching remains a huge problem, and there's no sustainable market for  ivory in the region. All wildlife products, including shells, should be avoided until the country shows  greater regulation."
4. Locate an expert
Finding reliable information on where to go in Mozambique, and what luxury  properties are eco-friendly, can be surprisingly challenging. "A lot of the properties say they're  sustainable, but whether they actually are is another story," noted Belt. His solution is to work with  a reputable travel agency that actually knows the ropes.
5. Be ready for the raw
Ultimately Mozambique is still developing. "There is a lot of great work  being done despite tourism being in its infancy," said Troskie. "Mozambique offers some of the best  off-the- beaten-path beach and ocean experiences. Get your diving license ready, and indulge in as  much seafood as you can — Mozambique is one of the few sub-Saharan countries with a distinct  cuisine."
Eco Lodges In Mozambique
Found in the Quirimbas Archipelago in northern Mozambique, this island retreat does exclusivity well.
There are only six villas, each framed by private  pools and ocean waters, and each featuring a private chef and personal butler. Expect a lot of  natural woods, light colours, coral limestone walls and extensive space. Indeed, space is  something this venue specialises in; its villas, at either five or six rooms, are perfect for families or  decadence-focused groups.
Conservation is also a focus. As part of a marine sanctuary established by the local Fisheries  Council, one that extends around three kilometres out to sea, the area represents a 'no take'  fishing zone. This protects the 180 species of unbleached coral and 300 types of fish. "It's a very  fine example of a successful conservation model between the government, tourism industry and  local community," said the aforementioned Africa expert Troskie when I asked about her favourite  sustainable properties. "Here a lot of work is being done in terms of research and conservation of  the surrounding coral reefs and marine life." Which means this is a great destination for divers.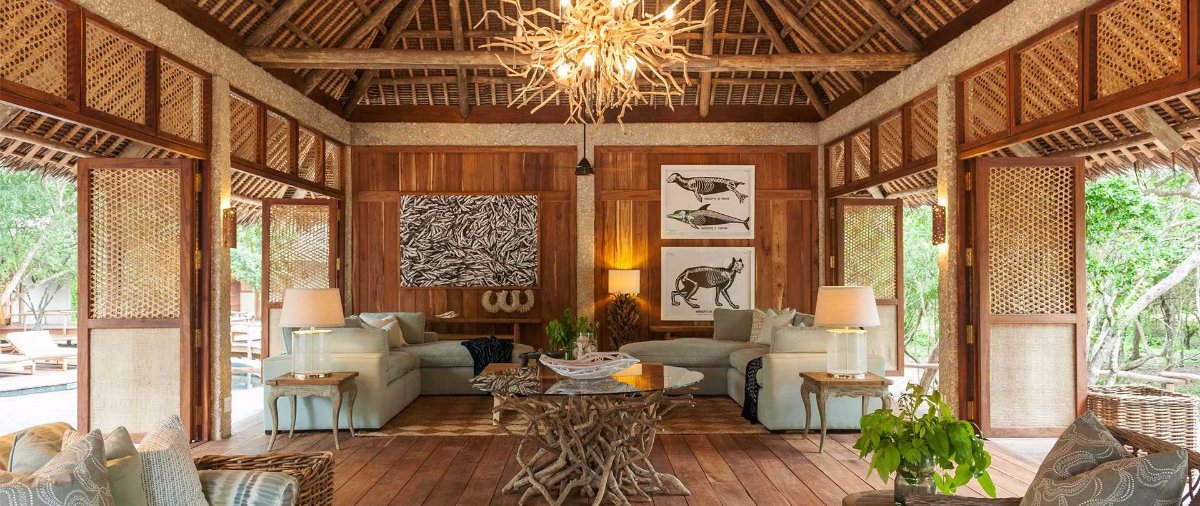 Accessible only by boat or helicopter and located off the coast of Vilankulos in southern Mozambique, this 18-room island resort is the sort of place you'd  want to go for a honeymoon and stay for life. There's white sand, blue ocean, sleepy traditional  dhows, private pools, fresh fish, indoor and outdoor showers, daybeds on the beach, an African  spa and on and on. Villas feature slick wooden accents and thatched roofs, but the vibe is more  modern chic than raw and rustic. Like many of Mozambique's islands, this spot is great for diving;  yet as a popular stop for the elusive hefty dugong, it offers the chance to view the rare marine mammal.
As the area's first eco boutique retreat, the property was built entirely by hand by the local community and is today operated in partnership with them. This means a private Mozambican host  will be available for the duration of your stay. Sustainable building materials, solar panels for showers, eco-detergents in laundry, and a sewerage treatment plant (enabling grey water to be  used in the gardens) all play a part. Azura's Rainbow Fund also supports a variety of social and  environmental projects, like helping increase the number of children on the island in education from  40 to around 400.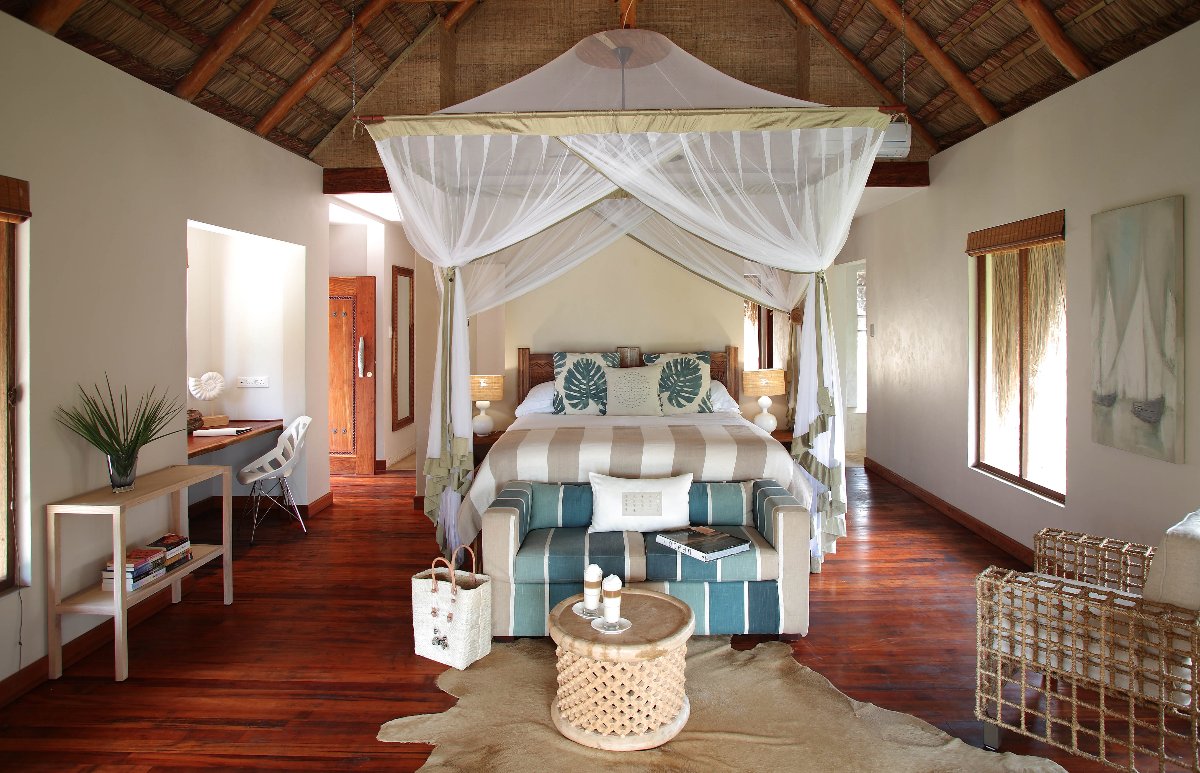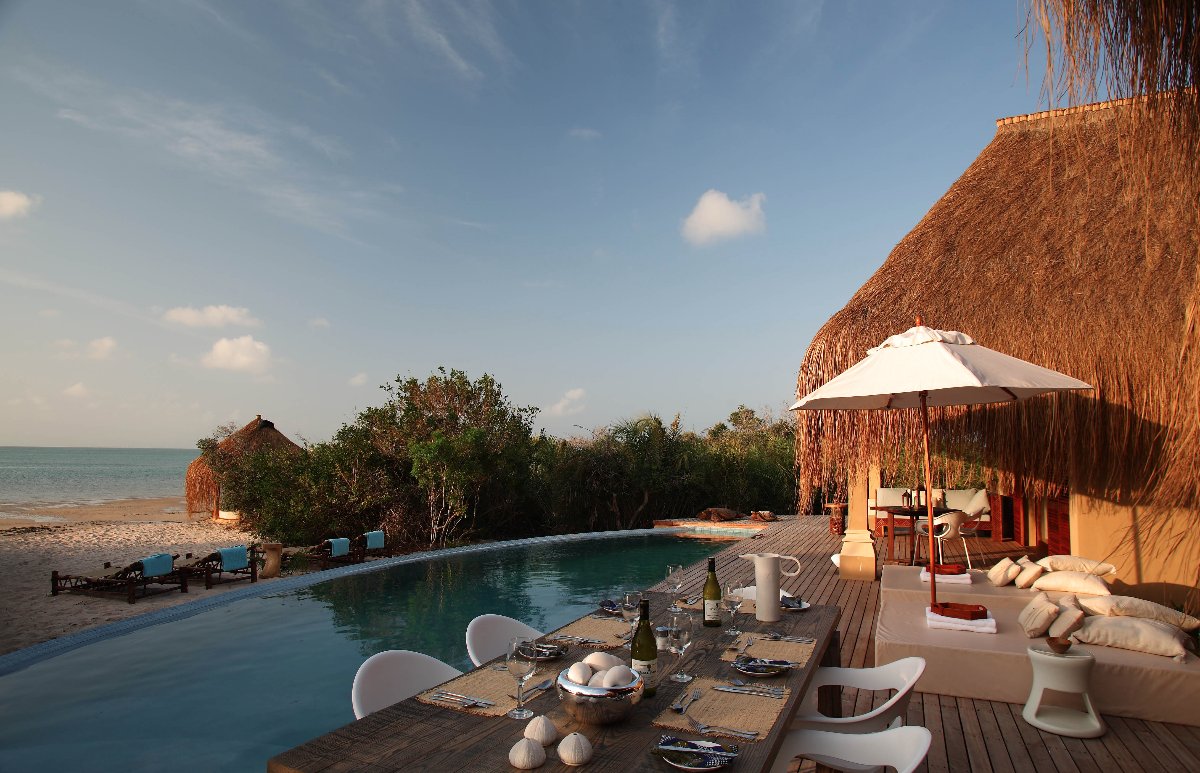 Nestled in the Cabo Delgado province  is a beautiful resort that was opened 10 years ago by Georges and Emmanuelle Korb. The Ulala Lodge captures rustic luxury  with a side of sustainability. It's a bit more raw than the other properties listed here, but with only  eight rooms and two always-about French founders, service is pleasantly personalised. Double  and twin chalets are available, but we recommend booking one of the property's stilt bungalows.
Here, mosquito nets drape over king-sized beds while palm trees clack in the constant sea breeze.  Sustainability is critical to Georges and Emma, both ex-travel agents. They've incorporated solar  and wind power to provide energy and hot water, while employees are recruited from local  communities. Rooms are made with local materials, Georges told me. As for the funds from  tourists? "These are used to buy groceries from local markets, to pay local salaries, to make local  furniture," said Georges. "The best way as a tourist to support development in Africa is to come  and spend your money here."
Deep inside  Mucojo in the Quirimbas National Park, this luxury eco-focused retreat is comprised of  subtle white and faded cream lodges  dotted along  sand paths. Grooming here takes you back to basics: a bucket shower — filled once at 7am and again at 5pm with warm water –filters water through a coconut, while outdoor loos use ash instead of water. At night, the entire  venue goes dark; electricity isn't allowed here and wifi doesn't exist. To get around, guests use  solar-powered lamps. The result of this tech break is the most beautiful expanse of stars imaginable, with the Milky Way leaving us breathless as it displays  its full glory across the sky.
At night, a sleepy bar provides the perfect spot to lounge beside flickering  candles while staring up at the marvellous sky. Across a small bridge is the venue's open-air restaurant,  perfect for catching the sunrise with fresh bread and jams served in seashells.
A portion of the funds from guests' stays goes directly to the Nema Foundation, a charity launched  by the lodge's owners. The group currently works with 16 communities and approximately 24,000  people around Guludo, with projects ranging from funding ambulance motorbikes to helping build  schools. Should guests wish — and I did — they can head into town with the charity to work on a  project.
While there's generally not a lot to see in Pemba, the city makes a great stopping point for those flying  north to visit some of the decadent island retreats in the Quirimbas archipelago (Note: It's worth  checking out the Ibo Island Lodge, a beautiful property on the World Heritage-nominated, ruin-filled  island). Enter the Pemba Avani Beach Hotel and Spa. With manicured grass and winding paths, an infinity pool overlooking the ocean, African-meets- Arabic architecture, and a restaurant that's a  destination in itself for many of the city's high-class locals, the property checks all the luxury boxes. In fact, it's one of the poshes Eco Lodges in Mozambique!
Particularly nice is the open-air spa. Here you can indulge in sundowners at the jacuzzi while  sipping tea before unwinding with a custom massage. Tennis courts, multiple pools, a live-cooking  breakfast buffet and sizeable ocean-facing room terraces all add to the property's charm. Yet even  here, charity is a focus. Sheets and towels are sent to the SOS Children Village of Mozambique.  Children from a local orphanage are hosted for day retreats, while donated money has been used  to rebuild homes after recent floods.
Latest posts by Chere Di Boscio
(see all)