By Chere Di Boscio
It may stun with its elaborate creations, but the couture industry, sadly, uses a lot of animal parts, and can rarely be considered cruelty-free. From the stunning plumes of the peacock, to the more ordinary feathers of the goose; from exotic leathers and furs to causing the deaths of millions of worms for their silk, luxury fashion has long done harm to the animal world.
One designer, however, is saying no to cruel couture. The Czech born former classical dancer Jiri Kalfar combines the perfectionism of ballet with the beauty of nature to create sustainable luxury fashion for men and women.
After having worked and studied in Germany, Italy, Spain, and New York City, Kalfar realised the one true commonality we all share – our planet is in danger. Although he loved dancing (and modelling, his other job), he decided that he wanted his legacy for the next generation to be the sharing of a message to care for the Earth and its animals. He also wanted to continue to express himself creatively, in a sustainable way. And so Jiri Kalfar couture was born.
Kalfar began creating womenswear that showcased his innate sense of movement and style. He used folk-art inspired prints, ethically-sourced materials and innovative cuts for his dresses, skirts and gowns. He decided to also create boundary pushing menswear to make statements about gender identity – also using sustainable textiles and cutting techniques, of course.
Success quickly followed. NYLON selected him as one of the eight emerging designers to watch, while L'Officiel featured him as one of their new wave of designers. He won Best Menswear Designer at Kiev Fashion Week two years in a row, was named as one of Forbes' 30 Under 30, showcased collections at London Fashion Week and successfully debuted his work at New York Fashion Week. Camila Cabello, Paulina Porizkova and Karolina Kurkova are but a few of the celebrities attracted to his designs – it's all rather grand, given his humble roots.
The Vegan Couture of Jiri Kalfar
Uncommon for a couture designer, Kalfar grew up in the countryside, surrounded by pigs, goats, sheep and cows. He didn't really see such free-range farming as maltreating animals, and it was only when he moved to the city that he learned about factory farming. It appalled him so much that he gave up eating meat instantly.
So passionate is Kalfar about animal rights, he actually called one of his more recent collections "Save The Bees." This work was widely covered and celebrated in the press and on social media for melding environmental awareness with luxurious fashion, and garnered him the attention of highly influential people. For example, amazed at his use of sustainable, ethical and vegan friendly materials to create high fashion, Donna Karan selected him to speak at her "Change Fashion – The New Guard" event in New York, to talk about his sustainable fashion design philosophy. 
In that talk, he expressed his disgust at the exploitation of animals not only for meat farming, but also for the use of fur. He strongly believes there is no justification for such practices, and stresses that cruelty to animals is largely unregulated and even downright permitted in such industries.
As he told the Ethical Hedonist: "As a fashion designer, I am part of an industry, which is one of the most polluting, animal harming and wasteful industries on the planet.  And that I can change. I can be part of the change. I can at least speak up about the need to change. One by one, we can actually make a difference to the fashion industry.
I am not naive. I know that as one person I don't make a difference; but it is my belief we should live to become the best we possibly can. To truly matter means not to harm."
A New Decade, A New Eden
To celebrate a new decade, Kalfar created a new zero waste collection called 'Eden Eden.' "Our planet was once a garden – a paradise – where flora and fauna flourished and where nature existed in sync and was respected by humankind. Imagine what a paradise it must have been! The inspiration for this collection is taken from just that, a chance to revisit the Garden of Eden," he says.
The show, which featured 70's inspired maxi-dresses adorned with pussy bows, intricate floral embroideries and masked models in go-go boots, was also a homage to the British choreographer, Wayne McGregor, one of Jiri's idols. Greatly moved by McGregor's "Eden Eden" show, which premiered in 2005 in Stuttgart, where Jiri was studying at the time, he wanted to recreate the emotion he felt from this performance into fashion. 
He used a spectrum of pinks, greens and browns draw on aspects of nature such as flowers, trees, and the beauty of animal markings. The natural world also informed the selection of ethical materials such as Buddhist peace silk. This all comes with the recognition that sustainable fashion should still be fun. This collection is playful, full of colour and challenging cuts, but made consciously with locally produced and locally manufactured materials.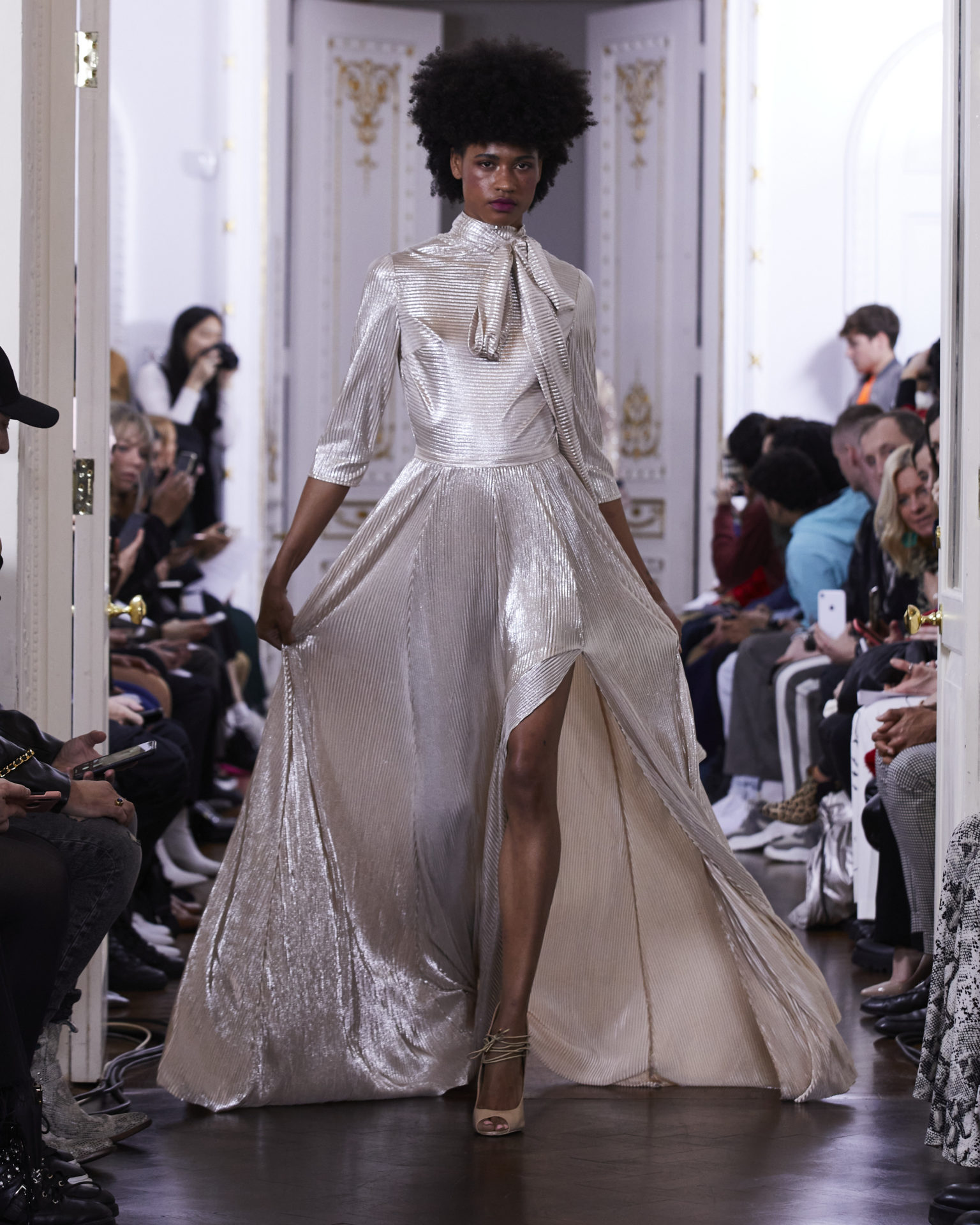 Fierce and powerful
His frocks may be feminine and his embroidery can be pretty, but Jiri has been quoted saying that he wants other people to be afraid of those who wear his clothing. He wants passersby to fear their self-expression, their passion, their confidence. This goes hand in hand with his conviction that whatever you truly believe in is worth fighting for – in a non-violent way, of course. And what this designer truly believes in is that change is needed: for the animals, and for the planet. But as he says: "Change starts with the person looking back at you in the mirror -you must be the change that you want to see in the world"
For more information, please click here, or follow @jirikalfar on Instagram
Latest posts by Chere Di Boscio
(see all)