Horrified by child labor in the diamond industry? MiaDonna is doing something about it! 
By Arwa Lodhi
It's a sad irony: at weddings, we often see a beautifully dressed child carrying the rings of the newlyweds on a satin pillow. They're delivered with much ceremony to the couple, who then slip on those rings to symbolise eternal devotion and love.
And yet, there's often another, hidden child involved in this ceremony: the impoverished one who mined the diamonds for the rings.
According to research by the International Labor Organization, there are around 168 million around the world who are forced into work, and the worst area for this is sub Saharan Africa, where a whopping 21% of the workforce is comprised of child labour.
What's worse is that around half of these children work under "the worst conditions" – that is, in hazardous situations, or doing dangerous work, such as mining. Such labour involves working with harmful substance such as mercury, as well as working near heavy equipment like cranes. There's always the threat of accidents, landslides, or mine collapses.
Particularly, working in diamond mines can be incredibly hard work for children. They often carry up to 50kg of gravel from mines to workplaces, then search for only the tiniest fragments of diamonds by panning the gravel, according to Diamonds for Peace.
No Peace
And speaking of peace, it seems the world's lust for diamonds has historically led to less of it. The term 'blood diamond' was coined to describe diamonds that are minded in a war zone and sold to finance an insurgency, an invading army's war efforts, or a warlord's activity. The civil wars in Angola, Ivory Coast, Sierra Leone, Liberia, Guinea, and Guinea Bissau were said to have been funded with blood diamonds.
A United Nations General Assembly Resolution voted "to ensure that diamond purchases were not financing violence by rebel movements and their allies seeking to undermine legitimate governments" by setting up the Kimberley Process, a scheme that aims to provide the traceability of each stone.
However, the effectiveness of the process has been brought into question by organizations such as Global Witness (which pulled out of the scheme on 5 December 2011) and IMPACT (which pulled out on 14 December 2017), claiming it failed in its purpose and cannot provide consumers and markets with assurance that the diamonds are not conflict diamonds.
Organisations such as Human Rights Watch have also argued that the Kimberley Process is too narrow in scope and does not adequately serve to eliminate other human rights concerns from the diamond production chain
Unawareness of the Misery
Whether there's a war on or not, unfortunately, child labor in the gemstone industry does still exist, and children are only paid a pittance a day – with around 2 dollars being the highest rate.
There are various reasons why children have to work in diamond mines, and sometimes, parents or relatives take them to help them in their own work. In this case, they don't get paid at all, because they are only helping their relatives. Other parents and relatives sell children to make them work because of poverty, and of course, there are orphans, too, who have no choice but to work.
All of this still happens, despite the fact that child labor is banned  by international treaties that have been ratified by many countries, and in addition, most countries have laws against it. However, the enforcement of some of these laws is often lax, and as a result, many Westerners unwittingly purchase fine jewelry without fully realising the misery behind it.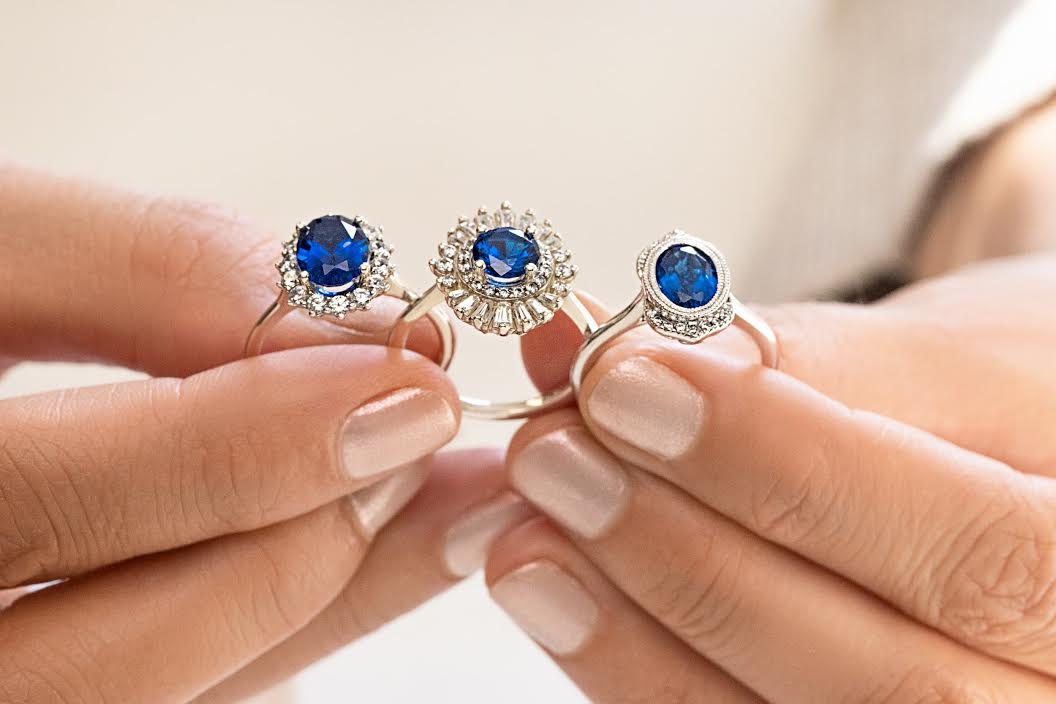 Ethical Alternatives
As more people wake up to the horrors of child labor in mining and the inefficiencies of the Kimberley Process, they refuse to buy anything but ethically produced jewelry. As a consequence of such demands, companies like MiaDonna were launched to ensure consumers could buy beautiful, ethical, conflict-free diamonds with confidence.
Founded in 2005, MiaDonna offers an affordable diamond alternative that helps to free innocent children oppressed by the active conflict diamond mining industry. Handcrafted in the U.S.A. using recycled precious metals, lab-grown gemstones, and lab-grown diamonds, their stunning fine jewelry is not only guaranteed to be conflict-free, but is also crafted without negatively impacting native communities or our environment.
MiaDonna is a foundation-first company and proudly gives back a minimum of 10% of their net profits from every purchase to their charity foundation, The Greener Diamond. These funds help to build educational, mentorship, agricultural, and relief programs in diamond mining communities in countries such as Togo, Liberia and Sierra Leone, Africa.
If you're horrified by child labor in the diamond industry and are looking for lab-grown diamonds, engagement rings, or fine bridal jewelry, look no further than MiaDonna.
Book an appointment to visit their Portland, Oregon showroom or shop online anytime on MiaDonna.com
This post was sponsored by MiaDonna
Latest posts by Chere Di Boscio
(see all)