By Chere Di Boscio
There can be no question that vegan handbags save animals – approximately 139 million animals are killed for leather every year, and that number doesn't even take into consideration the numbers of lives lost to the fur industry.
Many argue that it's fine to wear leather because it's a byproduct of the meat industry. But that's actually not the case: the meat industry is competitive, and the best hides for fashion come from animals raised for that purpose. In fact, some of the softest, most luxurious leathers come from the skin of newborn or even unborn calves, kids and lambs, cut prematurely out of their mother's wombs.
And if killing animals for food and fashion wasn't bad enough, we humans also kill them for their ivory, keratin (like rhino horns), and sickest of all – for fun.
Ania, a Polish entrepreneur, has never understood or agreed with animal exploitation. Instead of falling into despair, she decided to do something about it, and invested in an affordable vegan luxury handbag brand, FERRON, that would also give back by supporting a wildlife charity. FERRON's design is timeless and chic, and can be worn with business attire, for casual outings as well as on fancy occasions. Ania's vision is to provide a versatile pieces that goes with every outfit and enhance the overall look of the owner. And the reviews on FERRON's website and social media feed prove just that!
Each bag is embellished with an iconic elephant logo, which not only reflects Ania's love for animals and makes a statement against cruelty to animals, but also represents FERRON's support of wildlife protection projects such as Sheldrick Wildlife Trust, an elephant orphanage in Kenya.
Today, her brand is loved by many of vegan influencers as well as customers and has received the PETA stamp of approval.
Here, I interviewed Ania about FERRON and her love for our four legged friends.
FERRON: A Vegan Bag Brand To Help Save Elephants
When did you realise you loved animals so much?
I have always loved animals. I grew up in a rural area, in a small town in Poland surrounded by the forest. Seeing a deer, fox or a rabbit on the way to the shops was a pretty much everyday occurrence! I grew up with pets, and to this date think that they are humans' best and most loyal friends. They don't care about your social status, religion, IQ level or bank account balance. 
Do you have any animals in your home?
Yes! My husband and I adopted Oscar 2 years ago, and never looked back! Oscar, a Beagle- Harries, 2 years old at the time, came to our life with a lot of baggage and issues that we're constantly working on. He is a mischievous but a very happy dog and receives thousands of kisses each day! I love him so much. And no one is ever as happy as Oscar to see and greet me at the door, even if I only returned from taking the rubbish out run 🙂
I love the below quote and I am sure most of the dogs' owners can relate to this:
"Dogs love their friends and bite their enemies, quite unlike people, who are incapable of pure love and always have to mix love and hate." Sigmund Freud
Are you a vegan in your own life? 
I'm on a plant- based diet myself. I never liked meat, and ate very little of it. Which is quite bizarre as my family is definitely a carnivore herd! 
What sparked the change to veganism for you?
I had been vegetarian for a few years or so, but since I watched "Dominion" in 2018. It totally put me off not only eating meat but dairy products, too. I have seen a lot of documentaries on animal cruelty and abuse but this particular one shook me to the core. I do recommend it to everyone and I must say that a couple of my friends and family members have gone vegetarian or vegan after watching "Dominion"!
What's so special about elephants for you?
Elephants have always been one of my favorite animals! I vividly remember the kids' books and documentaries about elephants that I watched as a child. It is all about their grace, kindness and strength. They are very intelligent and empathetic creatures, they remember absolutely everything! We, humans, have so much to learn from them. 
FERRON means "one with iron-grey hair, or one who is habitually dressed in grey." The elephant logo symbolises my passion for all animals and shows my commitment to sourcing materials that are completely animal-friendly.
Additionally, £10 of every FERRON bag sold goes towards supporting Sheldrick Wildlife Trust. This helps the aid of conservation efforts at SWT's elephant orphanage in Kenya. I hope I will get to meet them in real life one day!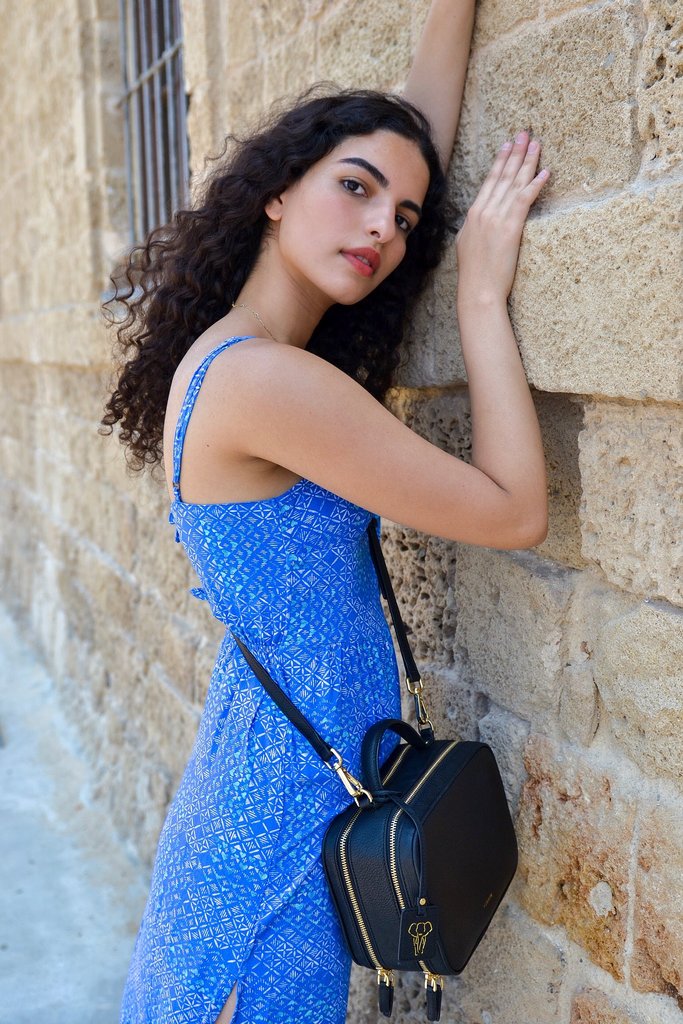 What's the difference between a regular handbag and a luxury handbag, for you?
The purse is one of the most functional, hard-working accessories sitting in our closet. When we purchase the handbag we need to consider not only its look but ensure its versatility, longevity and value. A luxury handbag should look and feel expensive. It should make you feel confident and proud of your investment. When you invest in a  knockoff, fast fashion handbag, you're not investing in anything.
It's important for us, women, to see ourselves as deserving luxury. And I love that I can help them find it, without killing animals and their budget! FERRON's Signature Bag is a timeless and chic piece, with the gold hardware details on the zips and straps. The exterior of the bag is structured and perfectly imitates the soft, textured feel of pebbled leather.
When you purchase FERRON product, you get a longevity  guarantee. I stand behind my product- beautiful and high-quality handbags that are cruelty-free and sustainably made by artisans that are unbelievable at their craft.
Finally, what do you say to those who say 'vegan leather is bad for the environment'?
The real beauty of FERRON is that you will always be able to tell the story of how it's made differently than leather bags derived from animals.
I wish I could say that synthetic alternatives are already perfect and come with no environmental concerns. While this is not the case yet, I want to demystify the environmental impact of synthetic alternatives and compare it to leather made from animal skins.
It is made using Polyurethane (PU) and microfiber, which provide the luxurious feel of real leather without harming a single animal. At this point in time, PU leather has less than half of the environmental impact than leather derived from animals. In terms of durability, PU is waterproof, can be dry-cleaned, is soft and supple and much lighter than real leather. And although it tears more easily than genuine leather, this synthetic form does not crack or fade under sunlight.
For more information, please click here.
Image credits: 1. Ferron 2. Ferron 3. Love & Blossoms 4. Style with a Smile 
Latest posts by Chere Di Boscio
(see all)