By Katy Caric
There's little doubt that everything Meghan Markle does is scrutinised by millions around the world – and this offers a great opportunity for the Duchess of Sussex to broadcast a subtle but powerful message every time she steps out.  In fact, the "Markle effect" is a real thing – this refers to the sell-out effect experienced by brands promoted by the former actress-now-Duchess, and that effect is increasingly seen by sustainable fashion brands.
While some celebrities pay lip service to the idea that fashion should be more ethical, few actually dedicate so much wardrobe space to eco-friendly brands, and fewer still regularly wear them at very public events.
In terms of style, Markle loves a French girl look, and cites French Vogue editor Emmanuelle Alt as one of her main fashion icons. Alt is, she says, a woman who perfectly pulls off  "that French way of styling, where if your outfit is pulled together, then something's got to be dishevelled—your hair, your makeup…". Meghan seems to follow that styling herself: elegant yet casual; sophisticated and just a little bit sexy.
Although her sister-in-law Kate Middleton often rates higher in most fashion polls, in 2018, Tatler named Markle on its list of Britain's best dressed people, praising her for "redefining modern royal style with every subsequent appearance". It has even been said that Markle's impact on fashion trends is stronger, as she has greater pull with American consumers.
Now that she's pregnant, we have no doubt that we'll be seeing many more sustainable fashion brands loved by Meghan Markle splashed all over the media – but this time, it will be maternity wear, of course. Bring it on! 
To watch sailing races during the Invictus Games, the Duchess wore Veja sneakers. The sneakers are designed in France and known for their earth-friendly sneaker and affordable price. They source their materials from organic farms, materials like organic cotton and wild rubber all come from places that are ecologically sound and treat their land without chemicals or pollutants. Shame she didn't choose the vegan versions, though.
These jeans are so great, the Duchess wore them six times over the course of her tour. Outland Denim is an Australian Certified B Corporation that packs a serious ethical and sustainable punch.  They're made in Cambodia via a water-saving, eco-friendly production process. Their denim uses organic cotton and is packed in recycled paper. But that's not all – Outland Denim works with female sex trafficking survivors, providing them a living wage and personal development opportunities. 
Designed by Stella McCartney from vegan-friendly materials, these Stan Smith Adidas are a classic fave with many celebrities, including Madonna. Meghan wore them to great effect with, yep, you guessed it: those Outland jeans!
This elegant Stella McCartney Cape dress got its second outing at the start of the Invictus Games, after Meghan wore it for the first time to the Queen's birthday party in April. In fact, vegan-friendly label Stella McCartney has been one of the Duchess's go to designers since her wedding party.
For a trip to the beach in the Australian summer, Meghan chose Reformation, a brand that's a well known sustainable cult favourite. Designed and produced in California, Reformation uses sustainable fabrics and production to save carbon, water, and waste -for example, the production of this dress saved 11.9 lbs. of carbon, 1227.2 gallons of water, and 1.6 pounds of waste compared to what most mainstream fashion labels would have used. 
Meghan and Harry met with Beach Patrol for a cleanup at South Melbourne Beach and Prince Harry spoke about the dangers of plastic pollution. Fittingly, Meghan wore vegan flats made from recycled plastic bottles and recycled foam from Rothy's. 
For her arrival in Fiji, Meghan accessorized with a Kayu clutch that she had previously used at a wedding this summer. The vegan-friendly clutch was made in the Philippines by local artisans who are paid a living wage and use indigenous techniques to craft the bags. What's more, Kayu bags are made with locally sourced materials like straw and recycled wood. 
To visit a market and give a speech in Fiji, Meghan wore a floral dress by Figue. This label works with traditional artisans in India, Bolivia, and Italy, and employs traditional techniques to produce clothing from recycled fabrics. They also upcycle any leftover textiles into their accessories.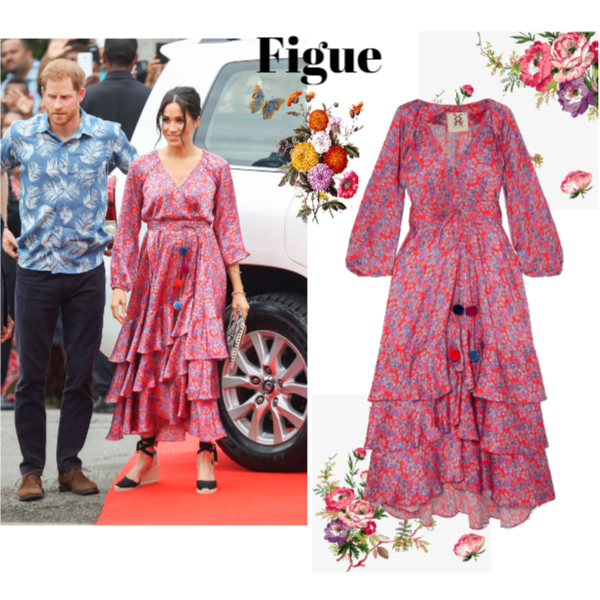 Pippa Small is one of Meghan's favourite jewellery designers, and she has worn her accessories on several occasions. Pippa works with the world's first Fair Trade gold mine in Bolivia to source her gold and has partnered with several different artisan communities like MADE in Nairobi and Turquoise Mountain in Afghanistan to make her jewelry.  
To celebrate 125 years of female voting in New Zealand, the Duchess fittingly wore Gabriela Hearst, a designer that promotes feminism and sustainability at the same time. Hearst even names her bags and clothing after trailblazing women who have inspired her. The collections are produced in France and Italy, working with family businesses and using the best sustainable materials and biodegradable packaging. What's more, Gabriela wants her brand to be plastic free by 2019. While the dress Meghan wore was bespoke, we've linked to a Gabriela Hearst dress that is in a similar style.
To visit Courtney Creative, Meghan wore a tailored version of local sustainable New Zealand designer Maggie Marilyn's Leap of Faith dress which was made ethically in a factory in Auckland. The Maggie Marilyn brand is focused on livable, conscious luxury and materials that don't harm the environment. Think: organic cotton, Tencel, and recycled metals. 
Latest posts by Katy Carik
(see all)