These ethical genderless fashion brands are capturing the zeitgeist with their unisex style!
By Diane Small
Here's a rather dreadful fact: when shopping at Morrison's supermarket, I stumbled across some boy's t-shirts with the slogan "Little man, big ideas". No big deal, right? But guess what? The female equivalent stated "Little girl, big smiles". Hmm…what does that tell us about how we're conditioning children these days?
When pressed to justify kid's clothes that say 'Future social butterfly' vs. 'Future playa' (guess which is for which gender!), retailers have insisted that they are simply giving their customers what they want.
However, with attitudes towards gender stereotypes changing, that might not be the case for much longer.
Huge stores like Zara are now offering an "Ungendered" line, featuring jeans, shirts and jumpers. Likewise, H&M have their unisex denim line "Denim United", which features everything from dresses to overalls.  Yep, it seems unisex fashion is a trend that's growing and growing – but what about ethical genderless fashion brands for those who care about the planet and its people, too?
Here, we've found the best ethical genderless fashion brands that are low on sexism – but high on sustainability.
Main image: Nicola Formichetti's Nicopanda x Peacebird collection
10 Ethical Genderless Fashion Brands For All
GFW makes all of their clothing, such as button-down shirts, skirts and trousers, in four different shapes. Basically, they're designed so they fit your body, not your gender.
Of course, Gender Free World also wants a fair world, so all their garments are made in factories that are guaranteed to be free from exploitation. Unlike many other genderless fashion brands, they also produce undies. "Briefs for tomboys, lacy pants for people with packages and our own brand unisex boxer," is how the describe their collection, which is made from super soft bamboo viscose.
A zero waste label that creates classic, masculine-tailored clothing aimed at women, but suitable for anyone, especially denim lovers.
The label is particularly interesting to us for two reasons. One, it's sustainable, because all garments are made with zero waste techniques. Each collection takes a single textile artifact and creates multiple pieces from it, until the original artifact is completely used; transformed in to many new articles of clothing.
Secondly, this is a highly ethical brand that specifically provides a safe and nurturing work environment for women who have survived victimisation and are seeking shelter from abuse and hardship. They have partnered with a non-profit that provides transitional housing, care, and counselling for women moving out of sex trafficking and addiction in Atlanta. The brand is based there, so they are well aware of the fact that this city has the largest sex trade in the USA.
The Karen Glass studio is socially designed as safe space for: "work, for personal growth, spiritual development, emotional rehabilitation and life abundance elevation."
Ethical genderless fashion doesn't get cooler than Riley Studio! The label creates genderless tees, trousers, shorts and sweats in a palette of neutral hues.
By providing information on each of their suppliers and factories within their supply chain, Riley Studio demonstrates their dedication to transparency. And by partnering with companies that use recycling processes to create materials such as ECONYL Yarn, and Recover Yarn, they demonstrate their dedication to sustainability.
In short, we love not only their clean, minimalist style and gender-inclusive philosophy, but their commitment to people and the planet, too.
The creative force behind this unisex fashion label is none other than Nicola Formichetti. In case you're not familiar with the name, he has worked with some of the world's most influential pop stars (like Lady Gaga), fashion houses (like Diesel) and photographers to create boundary-smashing concepts.
Nicopanda reflects his own personal style and beliefs. It's best known for its fun, edgy and innovative designs.
Though this is NOT one of the most ethical or sustainable brands out there (I mean…the guy collaborates with Amazon Prime and Refinery29, for example…!), I thought I should include Nicopanda here because it really does push hard for the acceptance of gender fluidity.
Images: @Nicopanda on Instagram
Another heavy hitter in the fashion world who creates unisex designs is Christopher Raeburn.
This eco-fashion pioneer is best known for upcycling fabrics into his work, most often surplus army textiles and even used parachutes. But something he has recently started to do is teach the public how they can dye, sew and otherwise upcycle their old garments into new ones! How awesome is that?
His ethically made collections do include men's and women's wear, but many of his designs, such as his outerwear, bags and hoodies, are made for both genders. We also love that you'll often find reversible items, like bucket hats or jackets that you can wear inside out. Two garments in one!
First two image credits: Raeburn_lab on Instagram
One DNA sums up what they do quite beautifully! They say their gender-neutral pieces break down the boundary between womenswear and menswear without sacrificing style. And as you can see below, that's pretty much the case.
Their collections are produced in safe and fair conditions at independent workshops in New York City, and are made to last. In addition to being dedicated to slow fashion principles, the label regularly offers items made from eco-conscious materials. In addition, I should mention that One DNA is an independently black and queer owned and operated small business.
As a bonus, this emerging design label makes clothing that can be worn back to front, or inside and out, meaning you can get way more than one outfit out of one piece. One DNA is really all about versatility and doing your own thing!
This is one seriously woke label! Daniel is a pioneer in zero-waste design, as he demonstrates in his Zero Waste Daniel (ZWD), line. His ZWD was the first market ready label of unisex clothing made from 100% scrap material. He has partnered with NY's first gender-free clothing store, The Phluid Project, for a pop-up, where created a  capsule collection called Gene(cis): Why Do We Dress Like This? A Fashion Story.
Silverstein even produces tees that actually say Woke AF. Of course, they use scrap fabric and zero-waste cutting techniques!  But what we particularly covet from his line are his unisex, one-of-a-kind Bowie tees and sweats, pictured below.
Merging Asian heritage with streetwear influences, BOBBLEHAUS is an ethical genderless fashion brand that we just discovered – and love! With every purchase you make, you'll essentially be planting a tree (the number of trees depends on what you buy). The garments super eco-conscious, too: recycled fabrics and natural materials like Tencel are just some of the green materials BOBBLEHAUS likes to use.
Here, you'll find cargo shirts, boxy suits, shorts, hoodies and more – all cut for any body. Their website is colourful and fun, and their blog is a damn good read, too. It covers pressing social issues like how to deal with racists in your family, thrifting, pop culture and more.
Although it's not dedicated specifically to ethical genderless fashion, King & Tuckfield's philosophy is that anyone of any gender would love to wear modern takes on British classics like roll-neck sweaters, selvedge jeans and soft crew-neck tees. And who are we to argue?
All the brand's garments are ethically manufactured in Britain with meticulous attention to detail, using sustainable fabrics like linen, Lyocel and merino wool.
Upcycled garments and recycled textiles define this brand by designer Olivia OBlanc.
She specialises in streetwear with distinctively urban designs that defy gender and fit any body type or shape. Like another of our favourite designers, Christopher Raeburn, OBlanc loves to incorporate unusual materials like upcycled parachute fabric and recycled tarpaulin into her unique, edgy work.
In the face of diversity, we're celebrating one of the newest ethical genderless fashion brands on our radar: HAREM London. This is a brand that unites two different worlds: London and Istanbul. Merging heritage and future together, the sister duo behind the brand strived to create a fashion-forward opportunity that is entirely unique. And unique, they are!
HAREM creates wearable, contemporary sustainable luxury casual wear that feels great on your skin, using 100% organic Turkish core fabrics. Blending together influences, textiles and techniques from both countries and cultures allows Harem to create genderless clothes that feel comfortable are effortlessly styled.
Designed in their East London studio, their core range is minimal and un-dyed. It's also made sustainably from organic fabrics upcycled from previous collections, thus making this brand circular.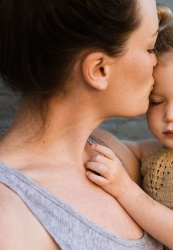 Latest posts by Diane Small
(see all)