By Katy Caric
The accessories you choose can change a look completely – the best example I can think of is how a pair of shoes can transform a simple, all-black outfit into something truly outstanding, but I also fondly recall a former co-worker whose outfits always stood out thanks to the huge, artistic necklaces she used to wear.
Many of us spend more on ethical accessory brands than clothing, and no wonder: you never outgrow accessories, meaning they can remain a part of our wardrobes for decades; they tend to stay in fashion longer than articles of clothing; and they look damn good on Instagram, too! 
If you have an Instagram account, chances are you've seen a Cult Gaia ark bag or two. It has been the most affordable (and the probably most ethical) 'it' bag in recent memory. Designed and produced in L.A. from sustainable bamboo, Cult Gaia's bags are off-beat, Japanese inspired, minimalist classics.
Image: Brown's
Popular vegan brand Veja's goal is to make environmentally friendly vegan shoes that not only look trendy, but make a positive impact on the planet. All their simple, chic footwear is made from wild Brazilian rubber and either organic or recycled cotton, and each piece is put together in ethical factories. too.
From chunky statement pieces to tiny, delicate pieces, British based designer Pippa Small makes it all. She collaborates with artisans across all corners of the globe, from Yangon to Kabul, to help artisan communities revive their traditional craft-making techniques and preserve dying arts.
Image:  Tierney Gearon for Pippa Small Jewellery
Once a hippy favourite, Melissa Joy Manning's jewellery is now on every luxe fashionista's want list. Manning's work features recycled metals and traceable stones, and she has a plethora of green certifications for her processes.
But Manning is much more than just a designer and jeweler – she's also is an educator and a mentor. She co-founded the CFDA Sustainability Committee and is an active mentor to the designers participating in the CFDA + Lexus Fashion* Initiative.
The very reasonably priced bags of popular brand Kayu are designed in Bali and are handmade ethically in cooperation with artisan collectives around the world. Simple, natural, vegan-friendly materials (mainly straw) are locally sourced by said artisans, which reduces their carbon footprint. Trend tip? Get yours monogrammed! It's done ethically by recently arrived immigrants in California, giving their incomes a boost.
Everything created by jewellery and accessories designer Saskia Dietz is made locally near her studio in Germany. Recycled metals, traceable gemstones and natural materials like wood are used by her and her goldsmiths to create fine, delicate jewellery for the elegant, professional woman.
Love accessories with an ethnic touch? South American brand Sensi Studio focuses their work on creating the ultimate artisanal Ecuadorian accessory – the traditional toquilla straw hat. It's handmade using an ancient weaving technique that is being revived and maintained by the label in not only hats, but tops, dresses, bags and other accessories, too.
This innovative label got their start by recycling waste fire hoses into super cool bags. Recently, they've started making accessories from leather scraps leftover from the production processes of other labels. Adding to their high fashion cred, Elvis & Kresse recently launched a 5-year partnership with the Burberry Foundation to further their leather waste solutions.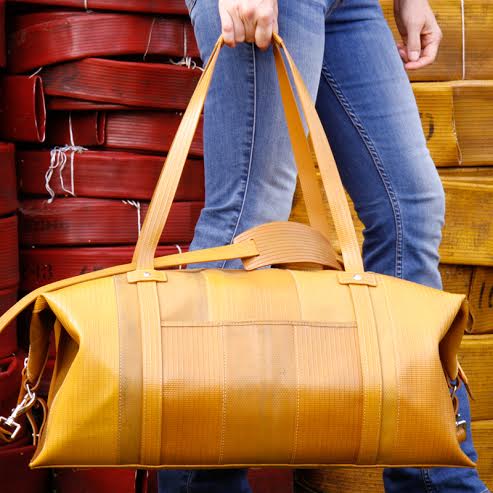 Forget checking the time on your phone; the chicest way to see whether you're late for work is to gaze at the gorgeousness of a vegan watch! And no one make them better than Votch. They're fully dedicated to making cruelty-free styles than run on quartz based mechanics.
Which of these accessories do you love the most? If you end up wearing any of these brands, tag us on Instagram and we'll give you 20% in our shop!
Main image: Saskia Dietz.
Latest posts by Katy Carik
(see all)
This site uses affiliate links with brands we trust, and if you make a purchase using a link, we may receive a commission.
Did you enjoy this post? Want to show your gratitude? Please support us on Patreon!