By Chere Di Boscio
Ah, couture. It's really the ultimate expression of slow fashion, and for me personally, it's a true art. I have been to hundreds of fashion shows at fashion weeks around the world, but the only time I have been moved to tears by the clothing was during haute couture week: the incredible detailing, the hours of work by highly skilled artisans and the overall beauty of each unique piece is all just so overwhelming.
Most of the designers I have seen are from Europe or Lebanon originally, but I've recently discovered a new slow fashion creator: Alin Le'Kal. He's the first Melbourne-based designer ever to debut a collection at Paris Fashion Week, and his work has made quite an impression with fashion editors and celebs alike.
Couture designer Alin Le'Kal is best known for his intricate craftsmanship and attention to detail, capturing the attention of fans such as Kelly Rowland, Olympia Valance and Sophie Monk. But how does he dream up these designs? And how many people does it take to make them?
We caught up with haute couture designer Alin Le'Kal after his spectacular show to learn the answers to these questions, and more.
Our Interview With Couture Designer Alin Le'Kal
When did you first realise you wanted to become a designer
?
It was very early days, a long time ago. I used to watch my family work in the rag trade (I came from a family of dressmakers and designers), and that's when I fell in love with it all. How did you get to where you are today? It takes a lot of work, creativity, study and development of skills. I would always be coming up with new designs and ideas. While I was studying in university (RMIT), I started designing and creating pieces for my sisters' friends, and it built up from there.
How has your design style and brand evolved over the years
?
It evolves the same way fashion does. At first, we wanted to keep up with the latest trends, making sure our designs followed what was 'in' at the moment. However, now instead of following trends, we try to create our own trends.
How do you get 'in the zone' when designing
?
I actually lock out a lot – it is a process. I cut myself away from any distractions – that means turning off my phone, the television… all technology, and isolating myself. I get in my element by turning on some music and focusing on the creative process.
How did it feel to debut your collection at Paris Fashion Week this year
?
It was extremely challenging to create a collection for the European couture market. It is very different to what Australia is used to. Australian fashion style tends to be much simpler in their own unique way, as we have less gala and big events to wear couture pieces to. The style is just different. Even though it was a challenge, we never had any hesitation or doubt that we could succeed.
What's your favourite part about being a haute couture designer
?
The highlight is definitely seeing my brides so happy on their special day, it brings me such joy. Their smiles are priceless.
How do you want women to feel when wearing Alin Le'Kal designs
?
I just want them to feel absolutely beautiful. If they do not feel beautiful, it will show while they are wearing the dress. It is the all about the feeling. When they feel comfortable and beautiful, they will start to glow from that feeling.
How many artisans did it take to produce your most recent collection
?
It took a team of about 20 people, over the process of 5 months. The detailed beaded gowns from the collection took more time. What was the inspiration behind the collection? It was all about Australia. I was inspired by Australia's breathtaking nature, colours and scenery. The collection took inspiration from the themes, textures and natural hues of the bright corals of Queensland, the sand dunes, the ocean, the dazzling blue sky, the land… it was a bit of everything.
Which gown is your favourite standout from the collection
?
I think that would have to be our long turquoise beaded piece with the high neck and high slit.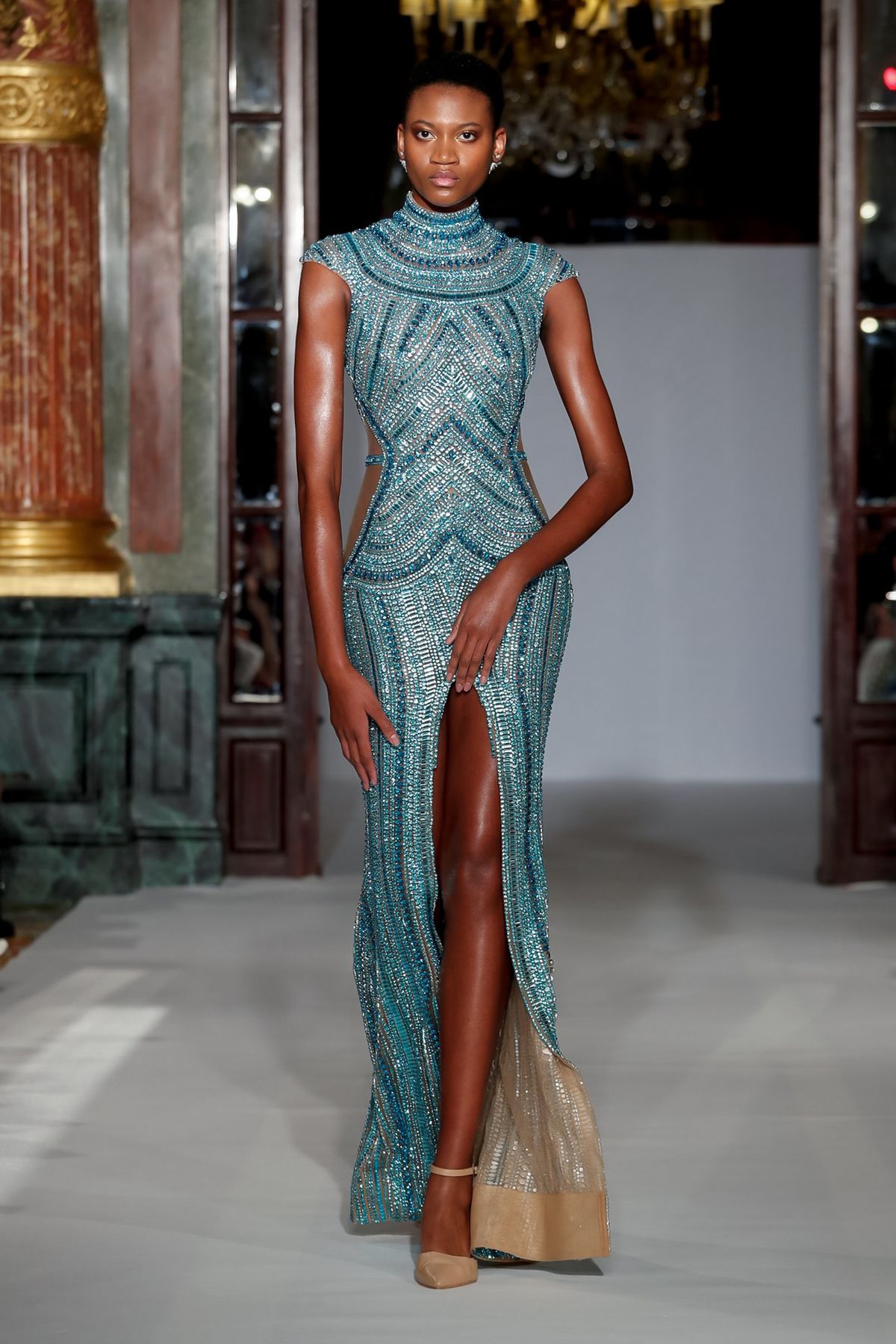 Latest posts by Chere Di Boscio
(see all)