By Diane Small
Last year, Tatiana Maranhao won the Miss Earth Canada 2015 title and later competed in the Miss Earth 2015 finals in Vienna, Austria. The 19 year old beauty from Ontario is a  budding actress who has directed and starred in her own theater shows, and hopes to launch a swimwear range shortly.
Competing in an eco-friendly based beauty competition means working hard to stay looking good, especially by using natural makeup and skincare products. In fact, Tatiana believes strongly in a holistic  approach to beauty, and shared her thoughts and natural beauty secrets with Eluxe in this exclusive interview.
You talk a lot about 'beauty from the inside out.' How do you feel about the Clean Eating movement?
I strongly feel that Generation Y is going to change the world  when it comes to health issues. There is no doubt that obesity is a serious ongoing problem, one of many, especially among Western countries. Today, it has become a norm to workout daily and eat clean for the young generation. Quinoa and kale are no longer seen as something "only vegans" consume. I feel like social media has played a big part in this, we see bloggers like
Hannah Bronfman
, (whose
vanilla almond green smoothie
is below) who live by being healthy and pushes that on her followers daily. Hopefully we will be maintain this as time goes on!
What do you eat in a typical day?
I have been obsessed with slicing apples and adding peanut butter, cinnamon, granola and honey on top, I have one or two a day. Lunch is typically an omelette or oatmeal. Sometimes three. I usually make a bowl of quinoa or rice with roasted peppers for dinner. I am tea crazy so I try to drink one or two cups of green tea with every meal. Don't be fooled – of course I like munching on chips and sweets from time to time. It's all about portion control.
What's your favourite makeup look for a night out? Which products do you use?
Lately, I've been keeping my makeup minimal, but when I do use makeup, I love  
Ecco Bella
since they are cruelty free and eco-friendly, and they  work well with my sensitive skin. My eye makeup for a night out is a winged eyeliner. Lastly, for lips I have been mixing my
Eccobella 'Tuscan Rose'
with my 'Boss Lady' lip tube from Laqa & Co. for a unique lipstick shade that suits my skintone perfectly.
What's your skincare routine?
I have very sensitive, acne prone skin, so skincare is very important to me. I absolutely love my cleansers from
Murad
, which is free from Parabens,  Sulfates and  Phthalates, but still contains some chemicals. I can't put too many products on my face, so I keep my moisturizer natural with a little bit of
coconut oil
, a little goes a long way! Once every week or so I exfoliate with a coffee scrub from Frank Body, which is my real secret to clear skin. In fact, the
Frank Body Scrub
has been amazing with my skin; I've noticed a big change with the acne scars I have.
What are some of your most natural beauty tips?
As I mentioned,
coconut oil
is the absolute best for anything beauty wise. Using it as a moisturizer is the best, also for tanning! I put some in a small spray bottle and sprayed my face everyday I was in Cuba, it gave my face a really nice tan and it kept my face silky smooth.
You have amazing hair! Can you give us some tips on how you get yours so long and shiny?
Thanks! I actually cut it in December so now it isn't as long, but it is growing back. I have never been crazy about styling my hair because it was so long that it was just too much work so I think that's why I was able to have super long healthy hair. I still don't put a lot of heat on it, but when I do I use
Sultra's hair tools.
Would you ever do plastic surgery? What are your feelings on this?
I am all for whatever makes someone happy. For me, being natural is what makes me happy. I know that a lot of people have insecurities that they want to fix, which is okay too. With that being said, there are serious dangers with plastic surgery, physically and mentally. Some people are obsessed with it and fix things that don't need fixing. That is what has made it so controversial. Don't abuse it!
There's a lot of beauty technology on offer these days: radiofrequency, oxygen facials and so on. What are your favourite beauty clinic treatments?
I have heard of a lot of beauty treatments that celebrities do, but honestly I have never had any myself. I think I just might be too scared to try anything because my skin is so sensitive. As far as salon treatments, I only go in to get my hair trimmed and will probably keep it at that.
What are your favourite beauty treats?
I am currently loving all of the sheet masks, they are amazing! It does wonders to your skin and my makeup goes on flawlessly after.
MaskerAide
  has some really cool sheet masks that are worth checking out, they are also  vegan friendly, free of nasty chemicals and come in biodegradable packages.
Have you ever considered starting your own cosmetics range?
Actually, I have been thinking of going in a different direction: designing eco swimsuits. I am in love with swimsuits and could live in them for the rest of my life if I had to. I am working on designs at the moment, so we will see where it goes. Eluxe will be first to know when the line comes out!
Images of Tatiana:  El-Enns
Related articles across the web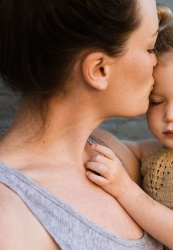 Latest posts by Diane Small
(see all)
This site uses affiliate links with brands we trust, and if you make a purchase using a link, we may receive a commission.
Did you enjoy this post? Want to show your gratitude? Please support us on Patreon!