In Europe and looking for a staycation this year? Here are the best UK beaches to visit this summer!
By Lora O'Brien
When you think of the beach, images of golden sands, palm trees and tropical breezes may come to mind. But not for me. Nope, I'm all about the British seaside!
Many of my childhood summer holidays were spent exploring various different British shores, and they are still to this day some of my fondest memories. Sure, I've been fortunate to have also seen a few gorgeous foreign beaches, but some of the UK beaches that I've visited have been just as nice, if not more so.
For me, I love everything about the beach. Okay, so maybe not the sand that sneaks its way into every bodily crevice. But everything else, I adore! From the soothing soundtrack of the seagulls and lapping waves to taking a dip in the sea and then drying off by lounging on the beach under the humid heat of the British summer weather.
And with plenty more of the British summertime ahead of us, we've still got time to visit a beach or three. And luckily for us Brits, the UK is home to some of the most beautiful, natural landscapes – its beaches are certainly not to be missed!
I turned to the experts at Holidu, the search engine for holiday rentals, to help us create the perfect British bucket list to satisfy our desire for sun and sand this summer.
Pop on your flip-flops, get the sunblock ready, and prepare to visit some of the best UK beaches this summer.
The Best UK Beaches To Visit This Summer
1. St Andrews, Scotland
The beach that came out on top is St Andrews beach, located in Scotland. Made famous as the location for the Oscar-winning film Chariots of Fire, this is the perfect spot for doing anything 'beachy' – sunbathing, walking, running, snorkelling (if you can handle the chill!) and more.
Don't miss a visit to the charming town, just a few kilometres away. It's home to St Andrew's Cathedral, which was once the largest building in Europe. The town is also known worldwide as the "home of golf" – so if you want to get a game in, this is the place to do so!
Image credits here.
2. Three Cliffs Bay – Carmarthenshire, Wales
Just missing out on the number one spot are the beaches which can be found in Carmarthenshire, Wales. Three Cliffs Bay beach offers a wilder experience, perfect for those who prefer to set off and explore than to sit and recline. Picture a spectacular shoreline of sand dunes, salt marsh and limestone cliffs.
More of a wildlife lover? Immerse yourself in nature and position yourself high on the cliffs instead of the shore: you might just be lucky enough to catch a sight of dolphins, basking sharks and porpoises! Alternatively, go check out over 800 years of history at the magnificent Cilgerran Castle, nearby. This striking 13th-century fortress is perched overlooking the spectacular Teifi Gorge.
Oh, and fun fact: this beach has a rockstar status: it features in a music video by the Red Hot Chilli Peppers!
Image credits below here.
3. Upton Towans Beach – Cornwall, England
The first of three beaches in Cornwall to feature on this list, Upton Towans beach, also known as Hayle Towans, is nothing short of breathtaking. Snap a photo here and you'll have everyone convinced that you went on a Caribbean holiday thanks to its white sand and turquoise blue sea contrast.
Whether it's a surfing trip, a family day out or just a place to escape to and relax, you'll have hours of enjoyment as you explore the sand dunes and rock pools.
Fitness enthusiast? You can jog along the three-mile stretch as you admire the magnificent view of the lighthouse.
Image credits here.
4. Mellon Udrigle Beach – Highlands, Scotland
Do you ever wish you could stumble upon a beach that feels like you're the only person to have ever walked its shoreline? Well, I can't guarantee that exactly, but a trip to Mellon Udrigle beach is the next best thing! The northernmost beach in this list, Mellon Udrigle beach is a real hidden gem. Tucked up on the northwest coast of Scotland with a remote landscape, this beach only ever has a few visitors so you can pretty much expect to have the beach to yourself.
If you happen to make the trip to Mellon Udrigle on a good day, you might even be able to see the island of Skye from across the waters.
Looking to spot some wildlife? The beach is a regular resting place for seals who place themselves on the rocks so keep a lookout!
5. Porthcothan Beach – Cornwall, England
With many UK beaches rivalling far away, exotic countries when it comes to its scenery, Porthcothan beach in Cornwall is another southern English beach that is like a photographic postcard. There is plenty to do to keep everyone entertained, from surfing to long, picturesque walks. The beach is dog-friendly, kept clean and tidy and you can even have your own barbeque on the beach – does it get any better?
Second and third image credits here.
6. Caswell Bay Beach – Carmarthenshire, Wales
We're heading back to Wales again because Caswell Bay is yet another irresistible beach that is a hit with visitors of all ages. If you're looking for a beach the whole family can enjoy, this is the one for you – you can even bring the dog! Children and dogs can run free along the sandy shoreline and surfers can take to the sea to ride some epic waves. Not sure how to surf? With a popular surf school offering lessons all around, it's the perfect time to take up a new hobby.
Scouring the beach you can expect to find rock pools that are home to wildlife and clean water that is perfect for swimming, kayaking and so much more.
Stopped off on a whim? A beachside shop stocks all of the essentials required for a day spent on the sand, so it's perfect for those spontaneous adventures.
7. Machir Bay – Isle of Islay, Scotland
A beach setting may not be what first springs to mind at the mention of Scotland. But the country is home to many islands (over 900 to be exact) and these islands host some breathtaking beaches. Machir Bay, in particular, overlooks the North Atlantic Ocean and is located on the west coast of the Isle of Islay, situated in the Inner Hebrides.
Its remote location pretty much guarantees that this beach is more often than not empty, and a trip to Inlay would feel incomplete if you didn't pay a visit to this raw and epic stretch of sand!
Whether you want to stop whatever you're doing to enjoy the spectacular sunsets here, or dolphin watch as pods move through the water, this is the ultimate place to kick back and relax in the stunning setting of nature.
8. Woolacombe Beach – Devon, England
Woolacombe is a beach that's often ranked among the best beaches in the UK, and even the world! Otherwise known as a "surfer's paradise", Woolacombe is the perfect place to head to if you're looking to catch some waves or recline in the sand as you watch the professionals do so.
More a seaside and chill type of person? It makes the perfect beach for a spot of sunbathing, with plenty of facilities on hand for your day trip including three large car parking areas, a plethora  of food trucks and nearby toilets with baby changing facilities, making it appealing to people of all ages.
9. Crantock Beach – Cornwall, England
Just when you think you've discovered all of Cornwall's hidden treasure troves, we add another to the list! But Crantock Beach features in this list not only because it's so stunning, but also because it's owned by the National Trust, whose members work hard to keep the beach in immaculate condition.
The perfect pitstop location if you're taking a walk, or you can grab your bucket and spade and settle down for the day. Whether you choose to build sandcastles, go for some snorkelling in the sea or kick your adrenaline into high gear with a little dune jumping, there are lots of things to do at this beach on the South West Coast Path.
Last image credit here.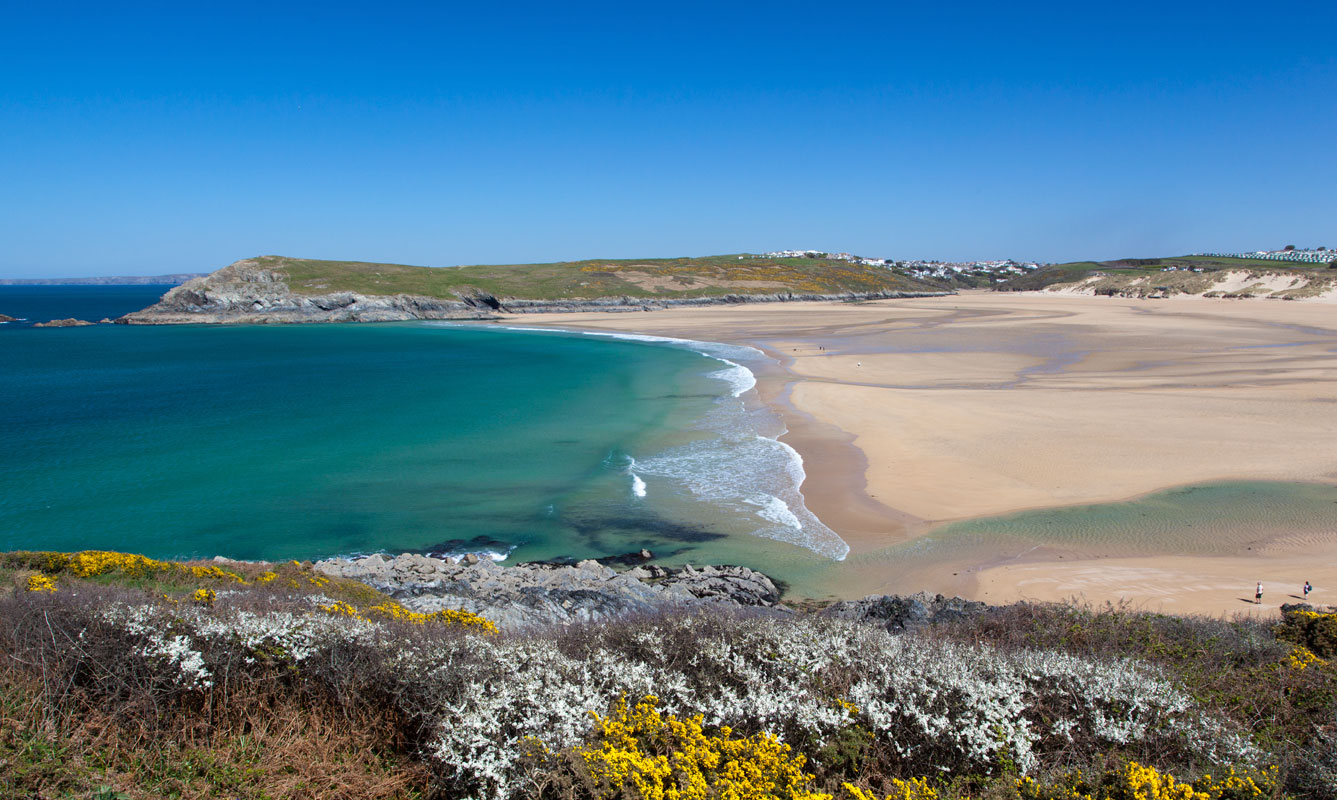 10. Man O'War Beach – Dorset, England
The stunning photo below may give the impression that this beach is a secret few people know about, but the reality is that thousands flock to Man O'War every year to enjoy a slice of this beachy haven. The combined sand and stone beach, paired with crystal clear waters, will give any beachgoer the illusion that they're on the Portuguese coast rather than southern England.
While the beach is simply stunning and the perfect backdrop for some sunset photographs, the main attraction is Durdle Door – the fascinating rock formation which juts out into the water.
Last image credit here.
Latest posts by Chere Di Boscio
(see all)