This article may use affiliate links. Eluxe Magazine only links to products we trust.
By Lora O'Brien
If you've yet to indulge in a smoothie bowl . . . WHAT?! You surely mustn't have an Instagram account then. Smoothie bowls are quite literally taking over that site. I can't scroll through my feed without a bright, vibrant smoothie bowl appearing before my eyes. I always have to stop and admire them and give them a big LIKE: after all, they're pretty much edible works of art.
But for those of you who haven't been in the Instaphere lately, you may be wondering: what is a smoothie bowl? It's name pretty much hints at what it is; a bowl of delicious smoothie, typically topped with whatever takes your fancy. You're probably thinking: ermm…  why not just drink your smoothie? Well, because  smoothie bowls are really pretty. But it's much more than that, too. Taking the time to chew your food is really great for your health because when we chew, enzymes are triggered in our mouth which help our food on the journey of digestion. We all know that digestion can be a tough job on our body, so by chewing, we're actually allowing our stomach to work by breaking down foods even faster meaning those vital nutrients are getting right into our bodies!
So if your morning breakfast or dinner dessert routine is getting tired and you're looking to try something fresh and tasty, definitely try one of these smoothie bowls. You could even enjoy them as a pre or post gym and it's easy to add some plant based protein into them for a boost. And the best part? You can top them with just about anything.  Thank me later!
1. Pumpkin Spice Smoothie Bowl
Does this not just look like a bowl of sunshine or what? Just look at that yellow. This is going to be a really filling breakfast thanks to the wonderful addition of pumpkin. If you're a little hesitant at the mention of pumpkin, don't worry. The delicious almond butter, coconut milk, and maple syrup are going to make this warming and sweet whilst the pumpkin spice and cinnamon will give it a delicate warmth. Topped with chia seeds, a great boost of protein and omegas, hemp seeds and pecans, this is for sure going to get your day off to an energized bang.
Get the recipe here.
2. Green  Smoothie Bowl #1
All good things come to us in the shade of green, so if green isn't a shade you particularly like, you may want to start getting used to it in your foods, especially when it's this healthy! This smoothie bowl is creamy and thick,  and thanks to the frozen bananas, cold so it'll be like eating a bowl of ice cream. Topped with crunchy granola, goji berries, raw cacao nibs and coconut smoothie bowl is bursting with plant based goodness.
Get the recipe here.
3. Acai  Smoothie Bowl
Acai is such a wonderful superfood, and a smoothie is the perfect way to introduce it into your diet. This smoothie is really going to kick start your day, you'll be dancing round the kitchen after the first spoonful. Frozen bananas are also a great addition as they add a cold, thick consistency to your smoothie bowl.
Get the recipe here.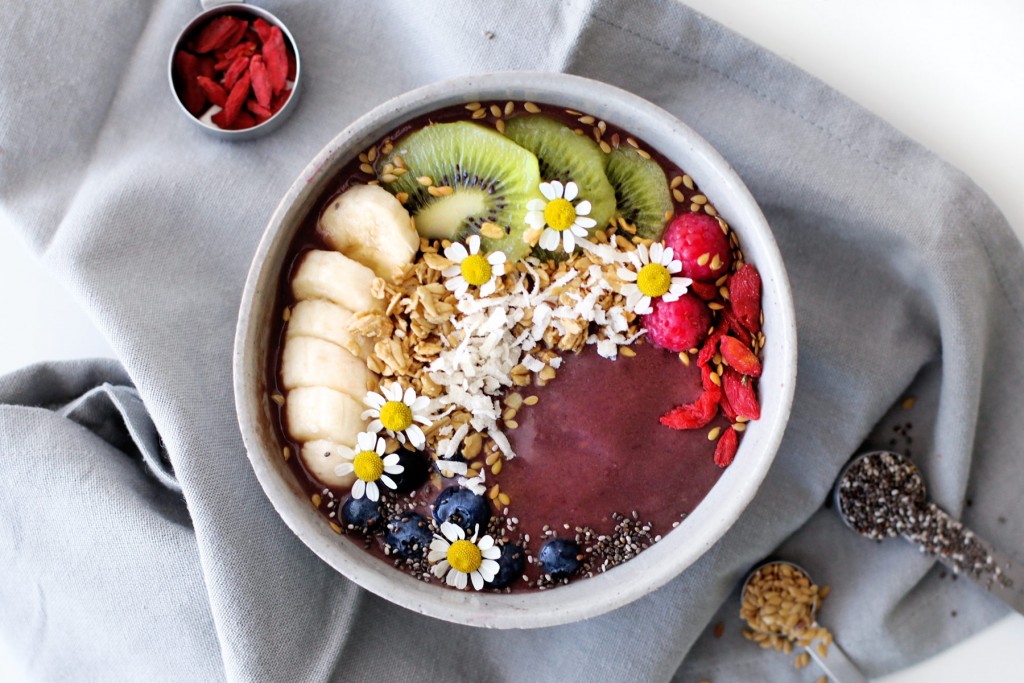 4. Mango Tropical Smoothie  Bowl
Who wouldn't enjoy a tropical smoothie for breakfast to make us feel like we're dining on an island far, far away? SIGH! Well, we might be missing an island and a palm tree or two, but we can still re-create the tropics in our own kitchen starting with this gorgeous smoothie. There's mango and banana and it's topped with chunks of coconut and berries, and I can't type this anymore because I need to wipe my mouth because I'm salivating.
Get the recipe here.
5. Carrot Cake  Smoothie  Bowl
Anyone for a side of carrot cake? ME! For years I have enjoyed slabs of carrot cake feeling only a twinge of guilt  after comforting myself with the fact that I was technically eating one of my five a days. But now I don't have to lie to myself or worry about my love handles expanding because this is true guilt free carrot cake! Yep, you heard me sister! What else can I say besides go make this, like now!
Get the recipe here.
6. Green  Smoothie Bowl #2
Another green smoothie, another huge boost of plant based goodness! This one does have kale, spinach and cucumber in it, but if you're worried it's going to taste like blended greens don't sweat it. The coconut water is going to give it a tropical vibe, and the flavours that will really shine through are the pear and the ginger, yummy!
Get the recipe here.
7. Apple & Spirulina Smoothie  Bowl
Spirulina is a great superfood if you're looking to either detox the body or just give your health a boost. Green apple itself is high in vitamin C and almond butter is a healthy fat packed full of beneficial minerals. So if you've over indulged lately, or just feel like your body deserves some TLC, this smoothie is for you. Again, spirulina  isn't to everyone's palette, but it is SO healthy, it's worth adding to every smoothie (Not sure why it's good for you? Click here.) The greatest thing about this smoothie is the fact it's bursting with flavours – you'll barely notice the green superfood. Plus, it's got lime juice in it. Who doesn't rate limes in a smoothie?
Get the recipe here.
8. Chocolate, PB & Banana Smoothie  Bowl
I can't see why anyone wouldn't not love this smoothie. It's got the key ingredients in it to make it a real winner. From the banana, to the peanut butter to the dark chocolate chips. Yep, agreed, anything with chocolate chips ultimately wins. Drizzled with peanut butter, topped with extra bananas and granola . . . this won't even feel like a breakfast but more like a dessert.
Get the recipe here.
9. Zesty Sunrise  Smoothie  Bowl
If we could bottle the taste of sunshine I like to think that it would taste  a little like this smoothie. Zesty and energizing, this citrus based recipe is so, so, so good! Who wouldn't love orange, pineapple, lemon and frozen banana? It's cooling, hydrating and most certainly full of flavour. And topping this with more of those tasty fruits is the best way to enjoy this. Although I'd add a little shredded coconut, too.
Get the recipe here.
10. Antioxidant  Smoothie  Bowl
Kick start your day with a tasty boost of antioxidants. This smoothie may be simple, but it contains so much goodness in just one recipe. The berries are immune-boosting, and the bananas and almond milk make it rich and smooth. Then it's sprinkled with nuts and seeds which are so great for the body. You could even enjoy this as a mid-morning snack if you're just looking for something nice to eat.
Get the recipe here.
11. Strawberry & Peach  Smoothie  Bowl
Forget strawberries and cream – strawberries and peach is the way to go! It's smooth, it's creamy, it's 100% delicious. I'd add coconut water to this to enjoy as a pre or post workout as the fruit is going to fuel your body with nutritious goodness whereas the coconut water is great for hydration and bursting with good old electrolytes.
Get the recipe here.
12. Green  Smoothie  Bowl #3
Another green smoothie because I just love the colour green. It makes me happy. And the fantastic thing about a green smoothie is that you can throw it lots of leafy greens and then add the flavour by tweaking the fruit you add. This recipe calls for fruit juice, so I'd definitely recommend juicing several oranges and adding those. Orange juice in a green smoothie is heavenly because the citrus really overpowers any lingering flavours of greens, making this great for those who shy away from their greens. Aside from the colour, they won't even know they're in it.
Get the recipe here.
13.  Pitaya Smoothie Bowl
Pitaya, or dragon fruit to some of us, just makes everything pretty and pink. People say that dragon fruit tastes like a white kiwi fruit  and I have to agree, although they can taste a little earthy. So the berries, banana and almond milk definitely bring this recipe to light whilst the pitaya makes it gorgeous to look at.
Get the recipe here.
14.  Mango, Kiwi & Avocado Green Smoothie
I know there's still a few of us that will recoil at the addition of avocado in a smoothie, but seriously, you won't taste it. It's all about the texture. Avocado is the secret to how creamy this smoothie goes. The mango and the kiwi give this bowl of liquid sunshine a tropical vibe, and the almond milk makes it just that little bit sweeter.
Get the recipe here.
15.  Hazelnut Hemp Smoothie Bowl
Think nutella in a smoothie. Are you drooling yet? I certainly am! This is definitely a smoothie for those of us with a sweet tooth yet the sweetness in this all comes from natural, plant based ingredients. The proof that healthy eating can taste amazing is most definitely in the pudding with this recipe. Or, y'know, the smoothie.
Get the recipe here.
16.  Chai Apple Pie Smoothie Bowl
Summer isn't quite ready to make a friendly appearance, so with spring showers a frequent reminder of this the best way to start of the day is with a smoothie bowl full of warm tones. Apple and cinnamon is always a winning combo, but the chai spices takes this recipe to the next level.
Get the recipe here.
17. Honeydew  Smoothie Bowl
If you've never before tasted honeydew melon in a smoothie, oh my, you're in for a treat! It's truly delicious. And when you have shredded coconut and coconut milk it's going to be so creamy.  But the oats in this smoothie bowl is going to make this heartier than your typical smoothie making this the perfect breakfast choice.
Get the recipe here.
18. Dark Cherry  Smoothie Bowl
I love everything about this smoothie right down to the addition of cherries. I love cherries. And this recipe calls for frozen cherries so the even better thing about this smoothie bowl is that you can make this all year round. And with just three simple ingredients, this is super simple to make, and packed with flavour. If cherries are in season, throw a load on top and enjoy even more.
Get the recipe here.
19. Matcha Peach  Smoothie Bowl
Matcha is an acquired  taste, I know that. So matcha green tea may not be for all of us. The next best thing? Add it to a smoothie bowl! Especially one with ripe peaches and frozen bananas. Almond milk will make this creamy and the spinach is going to give a healthy boost without you even really tasting it. If you're vegan omit the honey and maybe add some vanilla to make it sweeter.
Get the recipe here.
20. The Girl Boss Super  Smoothie Bowl
The title alone just has me donning my best Spice Girls costume and chanting, 'Girl power!'. This is going to get your day off to a real positive start. And that delicious pink tone? It's frozen pitaya, otherwise known as dragon fruit, and doesn't it just make this smoothie bowl look like something Barbie would eat? Like, if she was real.
Get the recipe here.
21. Chocolate Mint  Smoothie Bowl
Mint and chocolate were made to go hand in hand. They just work, and when something works why change it? Just make it healthy! The green comes from the spirulina, but if you're not too fond of this superfood, you'll barely be able to taste it with the addition of coconut milk and the essences of peppermint and vanilla.
Get the recipe here.
22. Strawberries & Cream  Smoothie Bowl
I know, strawberries are meant to make things pretty and pink, right? Well, don't judge this smoothie by its murky brown tones, it's got lots of added spinach in it making this both delicious and super healthy. But the strawberries are going to make this sweet, added sweeter by the vanilla extract. Hemp and chia seeds will give this a real antioxidant and fiber boost. I'd even throw more strawberries on top because you can never eat too many in my humble opinion.
Get the recipe here.
23.  Butternut Molasses    Smoothie Bowl
Yep, you read that right, this has butternut squash in it. But unlike the cubes of vegetable you're used to having with dinner, the butternut squash in this is pureed and then mixed with almond milk and bananas to create this smooth and creamy texture. The addition of blackstrap molasses is going to give this a sweet edge, and if you're new to molasses then all you need to know if that it's good for the blood and is even a de-frizzer for the hair. Can I get a hell to the yeah?
Get the recipe here.
24. Avocado & Cashew Cream  Smoothie Bowl
Whilst this recipe calls for Greek yogurt you can easily make this vegan and dairy free by adding in vegan coconut yogurt for an even creamier tone. Can I also mention this has cashew cream on the top? CASHEW CREAM. Wow.
Get the recipe here.
Related articles across the web