The best natural halal perfumes have no nasties, no alcohol, and no animal parts, either!
By Lora O'Brien
Perfume is highly personal. The scent the wearer chooses to spritz over themselves will say a lot about who they are. But for many devout Muslim women, their choices are limited, because most perfumes are not halal.
For these women, the halal concept doesn't just apply to food, but in other aspects of life, too. And when it comes to perfume, a product can only be considered halal if it doesn't contain alcohol, animal ingredients, harsh chemicals and is not tested on animals.
Whether you're Muslim seeking all natural halal perfumes, or you're looking for a unique scent that isn't loaded with chemicals, below are lots of delicious scents that won't harm your health. Using magnificent natural oils and high-quality fragrance, these Muslim-friendly fragrances are also vegan-friendly. And all are perfect for finding your signature scent!
The Best All Natural Halal Perfumes
Crafted in Melbourne, Australia, Christy Organics is a perfumery brand that specializes in a range of vegan and organic roll-on perfumes. Their scents are each made entirely from a blend of natural ingredients that are sourced locally in Australia, such as botanical concentrates. The unique thing about wearing an all-natural perfume is that its scent will evolve differently, depending on the wearer's skin chemistry – which means you'll have a unique scent that is entirely yours.
Made with 100% natural ingredients, all Christy Organics perfumes are free from synthetic notes, chemical preservatives and additives. They're also free from alcohol, parabens, phthalates, and are vegan and cruelty-free, too.
My pick? Abundance! This has a rich, Oriental feel, thanks to its superb mix of frankincense and rose geranium, which adds a gentle sweetness that will warm the soul of the wearer.
Price: $60.00
Stand out scent: Abundance's alluring, luxurious scent holds a rich tale of wealth and luxury.
Iba is India's first halal and PETA certified vegan and cruelty-free beauty brand. They offer affordable beauty essentials as well as fragrances. The word 'Iba' is of Arabic origin, meaning self-respect and pride in oneself. This is the perfect name for a company whose vision is to offer healthy, ethical beauty solutions for women.
Made with pure ingredients, all of Iba's products are free from alcohol, animal-derived ingredients or harsh chemicals such as sulfates, parabens, ammonia and bleaching agents.
While their perfume line consists of just four scents, that's all you really need! Whether you choose Rain Drops, Floral Fantasy, Sweet Passion or Show Stopper, they're perfect for any occasion. Easy to apply thanks to the rollerball, one application of the perfume will last the entire day. Not to mention, the fabulous little scent is the perfect size for your handbag.
Price: At just $6.00, this is one of the best natural halal perfumes for those on a budget
Stand out scent: Show Stopper oozes glamour and elegance with each use
It's no surprise that one of the best natural halal perfumes comes from the most populous Muslim nation on earth: Indonesia.
Wardah Beauty is an Indonesian cosmetic brand that is a pioneer in halal beauty products. The brand is proud to have been halal from its beginnings. It offers a strong portfolio of halal skincare and make-up, as well as fragrances for women.
Though the brand is more known for their skincare and make-up products, they also have a perfume line that is called Scentsation. The range includes light-scented body mists and Eau de Toilettes. All of them have been developed with halal and safe ingredients,
Price: Around $70.00
Stand out scent: Their Peaceful fragrance exudes a blend of lavender, mallow and chamomile.
Synthetic fragrances can be a pain – literally! Offering an alternative to irritating synthetic perfumes is Ridha Naturals. Their all-natural range of scents can be described as paradise in a bottle, providing the mystical, Middle Eastern vibe in their range of blends for men and women.
Ridha Naturals perfumes are here to shift the paradigm. They've set the standard that beauty companies can, and should care about! The brand is completely natural, using ingredients that are kind to the planet and your skin. Their range of 100% halal, plant-based, natural, alcohol-free oil perfumes will transition you to a place far away, while simultaneously uplifting the body and soul
Available in two blends, the women's one is dominant with its standout fragrances. The 'her' scent features marjoram, lavender, jasmine, and rose. Available in handy 10ml roll-ons, these are perfect for travelling or popping into your handbag.
Price: At just $15.00, this is another one of the best halal perfumes for those on a budget.
Stand out scent: Available in His and Hers, this brand is wonderfully minimalist in its offerings.
Fehmida Obrahim Shah is the qualified aromatherapist and trained perfumer behind the London-based brand Ink & Ocean. She has created a range of botanical perfumes, candles and beauty products which are all alcohol-free, natural and 100% plant-based. They're also certified by PETA as being vegan and cruelty-free, too!
Ink & Ocean's botanical, halal perfumes are crafted using plant extracts, resins, plant tinctures and flowers in a base of oil. It's exactly how the ancients made perfume! Crafted from organic ingredients and pure essential oils, these halal fragrances are bespoke at an affordable price.
Whether you like your natural halal perfumes woody, earthy, floral or fresh, Ink & Ocean has a range of artisan fragrances to choose from. Each scent is specially made to order in Fehmida's micro perfumery. You'll get a unique, handmade perfume delivered to your doorstep!
Price: $55.00
Stand out scent: You can create your own personal perfume! But if you prefer to buy something pre-made, Island Muse is like a voyage to the topics. It features gardenia, bergamot and jasmine, offset by a hint of peppermint. Who doesn't love that?
A bottle of Sunnamusk perfume may have you thinking of luxury, but the brand started off with very humble beginnings. In just ten years, they went from a start-up selling in the market stalls of East London, into the multi-million-dollar brand they are today.
The specialist fragrance house based in London works alongside a highly skilled team of perfumers to produce their exclusive range of pure fine oils and Eau de Parfum.
With lots of fragrances under their belt, there is a scent for everyone. Each fragrance is long-lasting and designed to be worn all day long, guaranteed to make a lasting impression with its sophisticated aroma.
Price: $70.00
Stand out scent: Sweet Escape is just as the name suggests. Think of Moroccan rose notes complimented by hot, salty sunshine by the sea.
When it comes to fragrance, we all have the cheaper brands that we love faithfully and use daily. But many of us have that special perfume that we go back to time and time again for special occasions. Steeped in nostalgia and memories, we splurge on this perfume – because it's worth every penny!
If you're looking for that brand, then you'll love Maison Sybarite. Everything about this brand is high-end and minimalist, from their packaging right down to their ingredients. The health of their customers is a priority, so they use the cleanest available technology in the perfume industry. They make natural halal perfumes from plant-based essential oils that are safe for long term use.
The brand is not only vegan and cruelty-free, but is also free from parabens, phthalates, silicones, alcohol and chemical solvents. The founders of Maison Sybarite aim to create a new generation of water-based perfumes that provide an innovative fragrance, while respecting nature.
Price: $160.00
Stand out scent: 720! This fragrance oozes sophistication, and is also gender-neutral. Rich patchouli and cedarwood are accented with cardamom, cinnamon, and nutmeg.
Brûmée is a brand that is all too aware of how the fragrance industry has overlooked harmful ingredients for many years, and they're leading the way for change. Changing how fragrance is made and worn, the brand is bridging the gap between skincare and fragrance with clean formulations that are kind to skin and hair, but most importantly, safe to use.
The water content of their products will nourish and hydrate skin, whilst the aromatic layers crafted from essential oil will mature throughout the day, enhancing the scent you choose to wear.
Brûmée's latest launch has evolved further, and they're proud to present their stunning range of natural halal perfumes. Using only raw ingredients in a water-based solution, their scents are unique and void of any potentially harmful ingredients. Just as perfume should be!
Capturing nature's most exquisite aromas, these fragrances can be used on skin and hair. And they're all vegan, cruelty-free and certified natural, too.
Price: $65.00
Stand out scent: Aromatic Spices will have you feeling confident, thanks to the cinnamon, nutmeg and cardamom, and feminine, thanks to the beautiful jasmine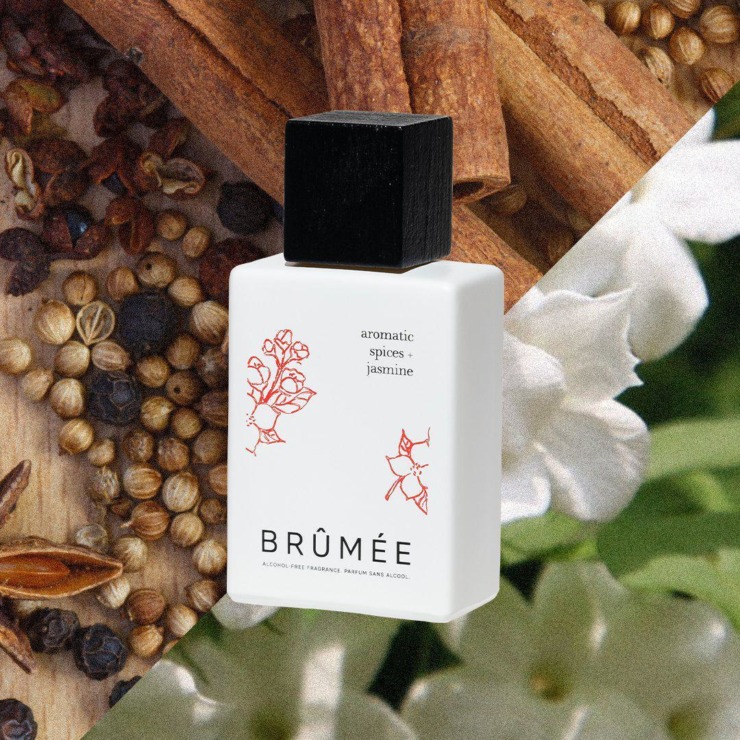 Created for Muslims, by a Muslim. That pretty much sums up Eidha Perfumes.
Each halal scent made by this brand is 100% cruelty free and vegan friendly. But that's not all. Eidha also uses pure, natural oils and minimal packaging to ensure the brand is as planet-friendly as possible.
Realising the powerful impact that fragrance has on our mood, the perfumes are designed to assuage anxiety, stress, headaches and other ailments.
Price: $65.00
Stand out scent: Anxiety is my fave. Its base is frankincense and patchouli. Grapefruit, poppy and cloves are present to lift your spirits, too.
Rahua is a hair care brand that has been a firm favourite here at Eluxe for awhile. The natural brand is 100% vegan and uses rare rainforest ingredients to make its styling products.
And now, there's more to love about them! In addition to hair care, they've produced a gorgeous perfume oil. Featuring rare palo santo, frankincense, geranium, and gardenia oils, the enchanting fragrance is uplifting, sophisticated and both woodsy and sweet at the same time.
Based around the brand's signature ingredient, rahua oil, the perfume helps promote feelings of well-being and positivity. It's the perfect boost for a long day! Keep the sleek rollerball close by to re-apply to pressure points throughout the day to most your mood anytime, anyplace!
Price: Around $45.00
Stand out scent: As of yet, they only have their Palo Santo Oil Perfume, but this is all you need. Uplifting and grounding at the same time, it's simply magnificent.
Did we miss any natural halal perfumes that you love? Let us know in the comments, below!
Latest posts by Lora O'Brien
(see all)