This article may use affiliate links. Eluxe Magazine only links to products we trust.
By Lora O'Brien.
With the colder weather rapidly approaching we've packed away our gorgeous summer dresses and slipped into the cashmere pyjamas instead.    Even looking at the  open toed sandals we basked in all summer makes us  shudder slightly.
When it's cold outside we want something warm inside, and what goes better with that piping hot latte than an old time favourite, the muffin. Usually, this is a treat we associate with an extra evening down the gym, and it's with a smidgen of guilt that  we devour  any  lingering crumbs, the only remaining evidence of our sins.
But eating healthy doesn't mean you have to miss out on these treats. In fact, we've found some of the best recipes to curb your winter cravings and they're not only sin-free, but even good for you. A miracle, right? A  muffin that won't punish us with an actual muffin-top! These 20 healthy muffin recipes easy to make at home, much better for you than any you'll find in a cafe, and they're all either gluten free or vegan! So get toasty and tuck into one or two of our top twenty.
1.  Banana Muffins
Who doesn't love the delicious, carmelly taste of baked banana? And with the heating staying on for the foreseeable future we can predict a lot of ripe bananas in many households. Now you have an easy gluten-free recipe that will help you use them up. So pop these in a bag and pack them in kid's lunches, or take them with you to work to whip them out when  your tummy's grumbling.
Get the recipe here.
2.  Vanilla & Mixed Berry Muffins
This recipe will convert even those who aren't particularly keen on fruit. The combination of warm, fluffy freshly baked muffins mixed with the gooeyness of warm berries is truly divine! Of course, berries aren't in season now, but these are perfectly made with frozen ones. Make these with a pot of tea for girlfriends or for your children to take as a healthy snack at school. Either way, we predict this will be a household favourite. And it's 100% vegan.
Get the recipe here.
3. Chocolate Banana  Muffins
If you didn't think banana muffins could get any better, be ready to take your muffin loving to the next level by adding some rich dark chocolate. The chocolate-banana combo works so well together, creating a decadently rich muffin that will have you convinced it's way more calorific than it is. With the use of buckwheat, you're getting lots of good grains into your diet, too.
Get the recipe here
4. Gluten Free Maple & Pecan Muffins
Winter is the perfect time for comfort food, and two things that never  fail to  get our mouths watering are maple syrup and roasted pecans. Whether they're sprinkled on porridge or in this case, combined  into delightful muffins, we're huge fans. We think of these gluten free  muffins created by Carol Lovett over at Ditch the Wheat as little bites of winter.
Get the recipe here.
5. Gluten Free Lemon Millet  Muffins
When it comes to muffins, a zesty lemon one  is seriously  at the top of our list. It's so traditional and refreshing and we're prone to adding a dollop of cashew cream onto the top. For those who are looking to cook more gluten-free recipes, or are catering for someone following a GF diet, then these are perfect. You honestly won't notice there's no gluten in these–we're sure you'll love these even more.
Get the recipe here.
6. Gluten Free Tangy Rhubarb  Muffins
Muffins are usually quite sweet but if too much sugar isn't your bag, you may just love this rhubarb recipe. The almond flour will help create a sweet and fluffy muffin packed  with the tart taste  of rhubarb which will have your  taste buds exploding.
Get the recipe here
7. GF & Vegan  Veggie Muffins
Not only are these babies  GF and vegan, but they're the perfect way to use up any leftover fruit and vegetables hanging around. Yep, you read that right, veggies! These muffins get kudos for their chameleon benefits; your children will never realise they're packed full of good greens such as kale and spinach. Perfect for those kiddies that defy their five-a-day.
Get the recipe here.
8. Blood Orange  Muffins
We don't know about you, but we love our muffins when they're packing a seriously fruity punch, and citrusy fruits always work wonders. You've read how much we love lemon, so we were ridiculously excited to stumble across this blood orange recipe. Why have we never thought about making orange muffins? And what's better, a cacao frosting would make this taste like our childhood favourite, the Terry's Chocolate orange, making them perfect for Christmas!
Get the recipe here
9. Apple & Cinnamon  Muffins
If we could bottle the scent of winter then it would be the aroma of freshly baked apples and spiced cinnamon. Something about the combination just has us feeling all festive. This muffin is a take on the traditional flavours of apple pie. Think soft, crumbly muffin mingled with chunks of cinnamon spiced apple. Yum!
Get the recipe here
10. Double Chocolate Banana & Espresso  Muffins
These banana based muffins are the perfect on-the-go breakfast. With their shot of espresso, their rich chocolate base and fudge like filling, these surprisingly healthy little guys will have you feeling just a bit smug that you can enjoy these for  breakfast.
Get the recipe here
11.  Strawberries and Cream Muffins
Strawberries and cream just remind us of summer. Delicious plump strawberries and delicious vegan 'cream' evoke memories of picnics and Wimbledon. This take on a British favourite is a real winner. When it's pouring down outside, you can still bring a little of that summer feeling inside.  
Get the recipe here
12. Simple Chocolate Vegan Muffins
Who isn't a fan of the chocolate muffin? Rich and soft and gooey all in one! This take on the classic chocolate muffin is so quick and easy to make whilst being  deliciously vegan, too.
Get the recipe here
13. Vegan Carrot  Muffins
This recipe is a twist on that old time favourite, the carrot cake. But this recipe is completely vegan and the moisture in these muffins comes from apple sauce and orange juice, rather than fattening butter. They'll be bursting with flavour whether they're served fresh from the oven or cooled the next day.  
Get the recipe here
14. Plum  Muffins
Do your like the fruit in your muffins to be a little underwhelming? Sometimes just by adding a small piece of fruit it can give  the muffin enough of a kick that even those who aren't bananas for fruit will enjoy, and these plum muffins are the perfect example. These guys aren't overly  packed  with fruit, but the plums inside will give the muffin a rich fruity flavour without assaulting your taste buds too heavily.    
Get the recipe here
15. Zucchini & Apple  Muffins
We know what you're thinking; courgettes . . . in a  muffin? We feel you, really we do. We had the same initial reaction, but this recipe from Deliciously Ella is a real winner. Once cooked inside the muffin the courgettes don't hold much flavour, but they do provide a nice texture and the beautifully cooked apples  take centre stage in the flavour stakes. So you'll feel super healthy for eating your veggies for breakfast.
Get the recipe here
16. Pumpkin & Gingerbread  Muffins
Whether it's winter or not we predict this recipe will stand the test of time, as Angela Liddon has proved on her blog, Oh She Glows. This vegan recipe has been a hit with readers for years now, and we can see why. Who doesn't like a warm, delicately spiced muffin? And these muffins get extra brownie points for leaving our homes smelling absolutely delicious as they bake!  
Get the recipe here
17. Hot Cross Bun  Muffins
We're always a fan of a hot cross bun, even when Easter is far from near. The Merrymaker Sisters have created perfection by adapting the hot cross bun recipe and skilfully turning it into a vegan muffin. These are perfect for an afternoon snack or to take along to a picnic. The girls  also suggest serving them with a chocolate nut butter. Who are we to disagree?  
Get the recipe here
18. Herb & Quinoa  Muffins
For those of you that are a little more on the savoury spectrum of snacking then we've got you covered, too. These herb & quinoa based muffins created by health foodie Amy Chaplin are to die for. Have them  for breakfast, for brunch, for lunch or just as a snack. They're packed full of vegan protein, flavour and goodness, and they'll keep you satisfied any hour of the day.  
Get the recipe here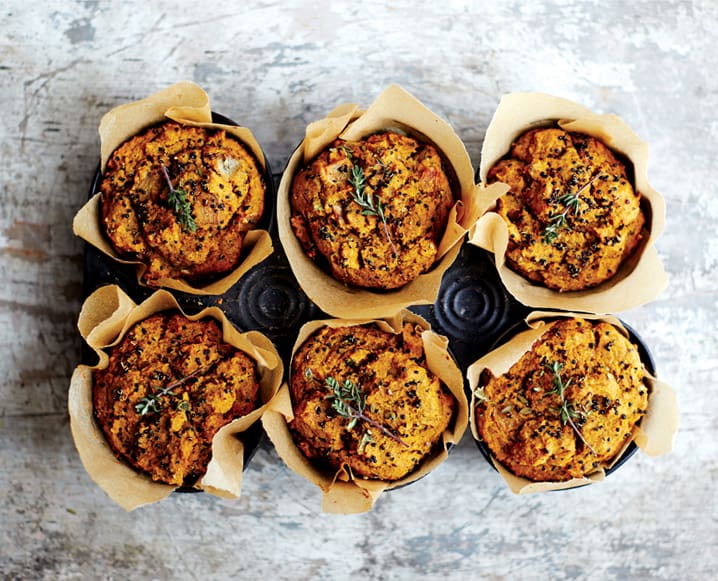 19. Savoury Roasted Pumpkin & Rosemary  Muffins
These guys are packed with flavour, from the garlic and thyme to the coconut oil and rosemary. They're free of both gluten and sugar making them a fab substitute for children when they fancy an afternoon snack. The best part? If pumpkin isn't your favourite flavour then you can play around with the recipe. We're thinking sweet potato.  
Get the recipe here
20. Butternut Squash, Spinach & Feta  Muffins
Another savoury take on the infamous muffin, and this time it's packing some serious greens. This is another great way to get more greens into your children's packed lunches, or to eat more yourself without feeling like you're always chowing down on a salad. With savoury muffins you can also play around with flavours. Want them spicier? Why not add a touch a cayenne pepper?  
Get the recipe here
21. Vegan Apple Streusel Muffins
All the flavours of this traditional German dessert are adapted into a tangy, vegan muffin. We love the touch of cinnamon–the perfect spice for winter, and one that actually mitigates the effects of sugar in your body, protecting you a bit from an insulin rush.
Get the recipe here
22. Vegan Blueberry Power Muffins
What muffin is more classic than the blueberry? But those are usually made with food baddies–not only white flour and sugar, but even worse–some kind of blueberry 'paste' usually serves for the fruity flavour rather than actual berries, which can be quite costly, especially in winter. Make yours with frozen blueberries, and rest easy knowing these are actually healthy–packed with fibre and vitamins from the oats.
Get the recipe here
23. Butternut Cranberry Muffins
What? Butternut squash in a muffin again? Yep. And darn tasty it is too! These vegan, gluten free AND sugar free muffins couldn't be lighter, fluffier–or healthier! Maple syrup adds some sweetness, and crushed pecans adds some crunch.
Get the recipe here.
24. Gluten Free Cornmeal Muffins
An American classic! They are totally not vegan and frankly, they have too much butter to be considered healthy. but they are 100% gluten free–and best of all, the recipe is easily adaptable: add chocolate or pineapple for a sweet treat, or cheddar and spinach for a dinner side dish.
Get the recipe here
25. Filled Oat Bran Muffins
Do these brown vegan babies look a bit boring to you? Well, they shouldn't–they contain a sweet little secret! They're filled with jam! But if you want these to be even healthier, you can fill them up with any number of yummies: sugar free compote, cashew cream, or just throw a cup of leftover berries, banana slices or nuts.
Get the recipe here