Sick to death of the lack of privacy from Facebook (and Insta, and Whatsapp, which it owns) Try these alternative social media sites instead!
By Jody McCutcheon
Recently, many people have been searching for alternative social media sites after feeling seriously betrayed by social media giants.
Whistleblower Edward Snowden has even decried Facebook as 'surveillance disguised as social media', since the CIA and NSA have long been monitoring all of our activities on that platform – every like, post and comment. Using nine internet firms including Facebook, Google, Microsoft and Yahoo, the NSA tracked online communications in a sweeping surveillance programme known as Prism. Britain's electronic eavesdropping agency GCHQ was also accused of gathering information on the online companies via Prism. No matter where you live or who you are, they know your name, address, and even have a database to be able to spot you via your personal pictures anywhere in the world, thanks to CCTV cameras and Facebook's facial recognition software.
Facebook has also been caught selling our data to every corporation and organization that comes a-knocking – even really nefarious ones like the CIA and Cambridge Analytica. And let's not forget that Facebook also owns two of the other most popular social media sites in the world: Whatsapp and Instagram. Do you really feel comfortable using those now?
And then there's Google-owned YouTube. Once a way to communicate news and ideas to the world via video, it has more or less blacklisted many non-traditional ideologies it doesn't like—for example, they've hidden LGBTQ content and censored or demonetized channels they consider to be 'alt right'. No surprises there, since Google has also lowered the rankings of any sites they feel go against their political position, calling those 'fake news'. Right now, their focus is on anything against the mainstream narratives on political issues like Syria or Russia. But how long before they bury alternative health news that threatens mainstream medicine, information about veganism that threatens beef and milk lobby groups, or even corporate disasters similar to what happened at Rana Plaza? We have many reasons to worry.
Despite all these pitfalls, social media still has its claws in us. We're social creatures. It fills a need. We want to connect, to share, to stay informed. Social media is basically a newspaper, greeting card and a personal letter all rolled up in one—and interactive, to boot. No wonder some of us are hesitant to quit social media altogether, despite all the caveats.
But with mainstay sites like Facebook and YouTube behaving so badly, doesn't it make sense to look for alternative social media sites for your connection fix, while also taking more control of your own privacy and data protection?
Below are what we think are seven of the best Facebook alternatives, and new options to choose instead of more mainstream social media sites.
7 Alternative Social Media Sites We Hope Will Crush Facebook
"Like Facebook, but with privacy." That's the motto of MeWe. Engineered with privacy in mind, MeWe sticks two fingers up to Facebook and other social media companies with a revolutionary service that emphasises privacy and social sharing where people can be their real, uncensored selves. Benefits include:
No Ads
No Spyware
No political biases or agendas
No facial recognition
No newsfeed or content manipulation
MeWe members are #Not4Sale and enjoy the protection of a Privacy Bill Of Rights.
Available on iOS, Android, and desktop, MeWe is an integrated social network and chat app with all the features people love, including:
private 1:1 and group chat
private and open groups
disappearing content
custom camera with Gif creation
live voice and live video
next-gen voice messaging
secret chat with double-ratchet encryption
personal social cloud
custom group profiles
…and much more.
MeWe members enjoy total control over what they share along with full ownership of their content and data, which will never be sold. The next-gen social networking platform allows members to see every post, chat, comment, etc., made by individuals and groups they are connected to, in true timeline order with no interference.

Calling itself The Creators Network, Ello is a Pinterest-like network launched in 2014 for those who create art or enjoy looking at others' art. Your profile is based on your interests and your preferred content (writing, architecture, visual art, etc.). The more wide-ranging your interests, the more categories you can choose. Once you're set up, your feed consists of posts catered to your specific interests. You can comment, like, repost, follow and buy, and meet new people in the 'Discover' section. Best of all? You can also share and sell your own content.
Ello is free to use, although they're considering the idea of offering some paid services in the future. And with the goal of being the alternative social media network of choice, Ello is marketed on three principles.
They don't sell user data to advertisers or third parties. In fact, data collection is restricted to what you provide on the Settings page and in posts: name, email address, location, creator type, etc. The rest of your data is anonymized.
They are emphatically ad-free.
They don't force you to use your real name.
If you're the creative type, Ello could be the social network for you. It even offers an opportunity to earn commission on the sale of your art.
Diaspora is an interesting case study. The creators of this open-source project were obviously very skeptical about centralized power, so they dreamed up a decentralized system. Launched in 2010, the Diaspora platform actually consists of many different networks, called pods.
Ad-free, Diaspora is built on three egalitarian philosophies: decentralization, freedom and privacy, thus returning social networking to the people. Similar to the Facebook setup, you can post status updates, share content and leave comments on others' posts. Developers encourage users to report offensive content, as when ISIS propaganda surfaced on the network in 2014. Otherwise, censorship can only happen with approval by pod admins.
Since it's decentralized, Diaspora can't be owned by any one individual or corporation. Data is carried on individual pods, rather than being held by a central provider. Indeed, with enough knowhow, you can even operate your own pod, which basically acts as a server. Thus you can be certain that your private data remains private. You really do own your own data and control your own privacy settings. Otherwise, you can register at any pod of your choosing, communicate with any other user on any pod and download desired data from the network at your leisure. You choose who reads your posts. And you needn't use your real name.
The self-proclaimed "front page of the internet" is a social news aggregate and discussion forum that's been around since 2005. Registered users (redditors) submit content in a variety of subjects—news, science, music, books, video games, etc.—and other redditors vote the content up or down. Submissions with more upvotes remain nearer to the top of their subject board, or subreddit, while those with enough up votes hit the site's front page.
The Reddit community is usually pretty much a self-policed one, thanks to up-or-down voting on posts either raising them to full visibility and comment, or making them disappear completely, but this is easily manipulated by paid trolls to up or down vote comments that are, say, anti-Israeli, anti-Trump or whatever. Many have also recently complained that moderators have censored them in various ways…so it seems Reddit is well on its way of becoming the new Facebook, but there's still a smidgen bit more freedom here.
Launched in 2017 in the wake of YouTube's stricter censorship and demonetization policies, this YouTube competitor is a peer-to-peer video hosting service. The idea behind Bitchute is similar to Diaspora's decentralization concept: the site uses WebTorrent to operate P2P video-sharing over the BitTorrent network. WebTorrent works inside web browsers and requires no installation.
The cost of bandwidth is normally the biggest obstacle for new video-sharing platforms. With their ad revenue, YouTube can afford it—but consequently, they must also toe their advertisers' censorship line. This isn't a problem for Bitchute: they needn't provide bandwidth because users provide their own.
To register with Bitchute, you can give your name or remain anonymous. In order for Bitchute to collect your personal information, you must give consent. Rest assured, unlike YouTube and Facebook, they won't sell it to third parties or advertisers. But refusal to offer your personal information may result in an inability to engage in certain service-related activities.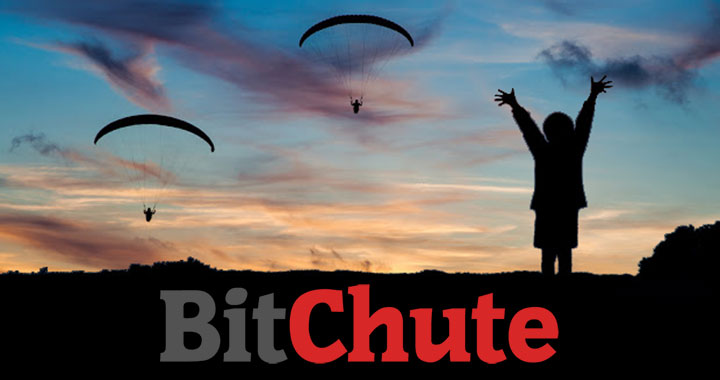 This blockchain-based blogging and social networking site started in 2016. Perhaps the most innovative alternative to mainstream social media sites, it rewards authors with payments for their contributions with a cryptocurrency called Steem. You don't mine Steem with an expensive computer rig, but rather by creating and commenting on content, which then is written to the Steem blockchain and stored in a permanent blockchain ledger.
So far, Steemit claims over 900K user accounts and over USD$40,000,000 of payments to contributors – incredibly innovative, considering Facebook uses all our content that we give for free, in order for them to make a profit. It's free to create one account and post content, but if you want to create multiple accounts (which theoretically would allow you to post and vote on more content), you're charged a fee. You must provide an email address and phone number to join, thus allowing admin to verify that each user has signed up for only one free account. Anonymity isn't discouraged, but if you claim to be someone specific, you must give evidence that you are that person.
Steemit is ad-free, but according to their privacy policy, they will share your personal data if it helps ad partners "carry out work." Getting paid to blog is an attractive idea, and it's a neat introduction to cryptocurrency, to boot.
This is the perfect Whatsapp alternative. You can send messages and make voice calls the same way you would with Whatsapp, but the difference is that Telegram messages are heavily encrypted and can self-destruct.
Telegram client apps are available for Android, iOS, Windows Phone, Windows NT, macOS and Linux. Users can send messages and exchange photos, videos, stickers, audio and files of any type.
Telegram's client-side code is open-source software but the source code for recent versions is not always immediately published, whereas its server-side code is closed-source and proprietary. So far, there are around 200 million monthly users, and numbers are growing!
Messages and media in Telegram are encrypted when stored on its servers, and the client-server communication is also encrypted. The service provides end-to-end encryption for voice calls, and optional end-to-end encrypted "secret" chats between two online users, yet not for groups or channels. 
Telegram's security model has been criticized for permanently storing all contacts, messages and media together with their decryption keys on its servers by default and by not enabling end-to-end encryption for messages by default. However, its founder,  Pavel Durov, has argued that this is because it helps to avoid third-party unsecure backups, and to allow users to access messages and files from any device.
Did we miss any alternative social media sites you love? Tell us in the comments, below!
This site uses affiliate links with brands we trust, and if you make a purchase using a link, we may receive a commission.
Did you enjoy this post? Want to show your gratitude? Please support us on Patreon!