Trying to keep a clear head but still want to party with pals? Try these vegan mocktail recipes!
By Lora O'Brien
No matter what the occasion, when you're with a group of friends having a party, inevitably, alcohol will be served as a popular refreshment. In the UK, at least!
But it can be far from hydrating – or healthy. In fact, if you drank 200 ml of beer for example, you'd pee out 320ml of water, obviously leaving your body seriously dehydrated.
Sure, you can drink alcohol in a sensible fashion (1 boozy drink followed by 1.5 cups of water). Or, you could just ditch it completely in favour of these tasty mocktails!
Here, I've collected some vegan mocktail recipes for the most delicious and hydrating drinks to serve at your next gathering. Whether it's brunch, lunch or a dinner party, these are all perfect!
But if you really miss the booze, you can make 2 pitchers: one cocktail pitcher with some alcohol (vodka goes with pretty much everything; gin is great for citrusy blends). And of course, one without.
Just alternate your drinks and you'll be fine!
Virgin Cocktail Recipes – Better Than Booze!
1. Ginger Beer Hibiscus Mocktail
Dreaming of sandy beaches and clear blue seas? This is the virgin cocktail recipe to momentarily transcend you to that tropical place. From the ginger beer to the hibiscus syrup and passion fruit, this infusion is both refreshing and relaxing.
Get the recipe here.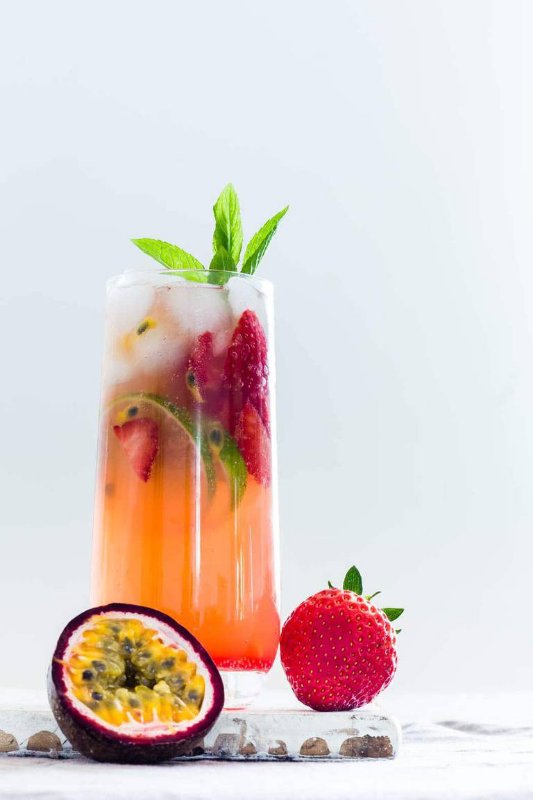 2. Sparkling Chia Kombucha Mocktail
This mocktail recipe is the perfect summer refreshment. Sparkling water gives it the bubbly replacement of alcohol, whilst kombucha adds even more fizziness and flavour. And did I mention this will not only boost your good gut bacteria, but that the chia seeds will also give you a great hit of healthy Omega oils, too?
Get the recipe here.
3. Pineapple Mojito Mocktail
Ah, fruity drinks, how I love thee! From Lemon Drop Shots to Pina Coladas…I love that fresh, sweet fruitiness! So no surprise I adore this mocktail. It features fresh pineapple juice, lemon juice and mint leaves. It's simple, sweet and satisfying!
Get the recipe here.
4. Virgin Sangria
Say what? Sangria without the wine? Yep! It's possible! This is basically a fruity blend, but it's not as sweet as juice, and has a bit of bite due to the lime. And isn't the best part of sangria the fruit, anyway?
Get the recipe here.
5. Blueberry Virgin Mojito
An alcoholic mojito is basically a mix of white rum, lemon juice, sugar and mint leaves. It's easily made into a virgin cocktail recipe by replacing the rum with sparkling soda. Add in blueberries, lime and mint leaves for a fun and fresh twist.
Get the recipe here.
6. Blue Lagoon Mocktail
This might be one of the naffest vegan mocktail recipes. But I've got a confession: many of my holidays have been spent sitting by the pool knocking back Blue Lagoons. The gorgeous hue in this mocktail comes from a natural source: the Blue Curacao syrup (which is fruit derived). Not sure where to find it? Click here.
Get the recipe here.
7. Grilled Pineapple & Lime Mocktail
Got ripe pineapples on hand? Turn them into this delicious grilled pineapple and lime mocktail recipe. This drink is super fruity and refreshing! To keep this 100% vegan sub the honey for agave syrup.
Get the recipe here.
8. The Cranberry Cutie Mocktail
Looking to bring cocktail night to your home? This cranberry cutie is one of the best vegan mocktail recipes for you! It reminds me of a scene from Sex and the City. It's pretty, pink and perfect for serving up when you've got the girls over.
Get the recipe here.
9. Non-Alcoholic Ginger Mimosa
A mimosa is usually a mix of orange and champagne – but why not give your mimosa a new lease of life by using ginger ale instead of alcohol? The combination of orange and ginger will tantalise your taste buds, and this is the perfect recipe for brunches, too.
Get the recipe here.
10. Lychee Mojito
This might look like one of the more complicated vegan mocktail recipes, but it's actually super simple to make. Just shake together lychee syrup, lime juice, mint leaves and syrup together and then add to soda water. Pop some lychee and mint leaves on a stick as a gorgeous garnish, et voila!
Get the recipe here.
11. Banana Piña Colada
All too often, a piña colada can be too sweet. I mean – coconut cream, pineapple AND sugar syrup? Yipes! But this summertime vegan mocktail recipe combines fresh and healthy ingredients for the same heavenly creaminess. Minus all the fattening crap!
Get the recipe here.
12. Vegan Bloody Mary
Fact: The Bloody Mary isn't usually vegan friendly, thanks to the anchovies in Worchestershire sauce. However, this virgin recipe has all of the key components of the traditional recipe – minus the alcohol, and the fishy droplets. And it's just as yummy. If not more so! At Hallowe'en, I make a bunch of these with olive 'eyeballs'. Fun! But hey, that's just me…
Get the recipe here.
13. Citrus Strawberry Mocktail
This citrus and strawberry mocktail is the perfect summer refreshment. It's great for those who don't really go for overly sweet cocktails, as the lime juice balances out the sweet strawberries. One of my personal favourite vegan mocktail recipes for summer, for sure!
Get the recipe here.
14. Cherry Bomb Mocktail
I don't know about you, but I LOVE adding cherries to recipes! They're the perfect way to liven up a drink. And with just 3 simple ingredients, this virgin cocktail recipe is easy to make, fun and loaded with both bubbly, cherry goodness.
Get the recipe here.
15. Raspberry Sherbet Punch
If Barbie made a punch, I'm pretty sure it would look like this! This sweet and tangy raspberry punch recipe is so easy and fun to make, and will go down a treat with adults and kids alike. Definitely one of the best vegan mocktail recipes to serve up at hen nights and baby showers, too!
Get the recipe here.
16. Alcohol-Free Mimosa
This virgin Mimosa doesn't get simpler than this! With just 2 ingredients, it will take just seconds to make. You can serve it up fast, whenever you fancy. It's not only healthy, but it also doesn't contain added sugar.
Get the recipe here.
17. Cucumber Coolers
This cooler recipe makes the perfect non-alcoholic drink for the summer. Mint-infused cucumber juice is topped up with fragrant elderflower cordial, punchy lime and soda water, and finished off with elegant strips of cucumber and fresh mint sprigs. The classiest homemade mocktail around!
Get the recipe here.
18. Virgin Frozen Margaritas
Do vegan mocktail recipes get any better than this? It's a cool, refreshing frozen drink that will chase away the heat when it's hot as hell outside. This frozen citrus Margarita is a little bit tart and a little bit sweet. The best part? This is one of those vegan mocktail recipes that can be whipped up in seconds.
Get the recipe here.
19. Virgin Moscow Mule
If you've never had a Moscow mule before, try one! It's basically ginger beer, lime juice, fresh mint and some vodka mixed together. This mocktail version trades ginger beer for a non-alcoholic version. Instead of vodka, sparkling water or lemonade works perfectly. The end result is a crisp and refreshing beverage, perfect for those warm summer evenings.
Get the recipe here.
20. Non-Alcoholic Juicy Julep
This recipe is a virgin version of the popular mint julep cocktail. Think you need the bourbon? This recipe will convince you that you don't. From the pineapple, orange and lime juice to the ginger ale and mint, there is so much flavour in this drink. No wonder it's one of our editor's favourite vegan mocktail recipes!
Get the recipe here.
21. Mai Tai Mocktail Party Punch
If you're looking for really vibrant vegan mocktail recipes, or hosting an island themed party, this punch is the perfect recipe to serve up to your guests. Make it even more fitting by garnishing it with chunks of orange and lime, cherries and cute drinks umbrellas!
Get the recipe here.
22. Watermelon Margarita Mocktail
Have you ever had a watermelon and it was either over ripened or too bland? Throw it in the blender and it will taste great, trust me! And whilst you're at it, throw in some lime juice and agave syrup, and you've got yourself a watermelon margarita. For added fun, why not serve it back in the watermelon with a ladle?
Get the recipe here.
23. Ginger Basil Grapefruit Spritzer
Do vegan mocktail recipes get any more refreshing than this? The bitterness of grapefruit is mitigated by the warmth of ginger, and then topped off with the aroma of basil. Very adult, very elegant!
Get the recipe here.
24. Ombré Grapefruit Cocktail
This drink may be simple, but it's bound to receive many compliments thanks to the gorgeous ombré effect. Perfect for summer, these will go down a treat with guests. I'd say this is the perfect virgin recipe to serve up at big occasions, like weddings or anniversaries.
Get the recipe here.
25. Miami Vice Mocktail
This is definitely one of the prettier vegan mocktail recipes! The pink part is a strawberry virgin Daiquiri, whilst the white park is a virgin Piña Colada. Each have just 5 ingredients which can be thrown into the blender. Guaranteed to impress your guests – and your taste buds!
Get the recipe here.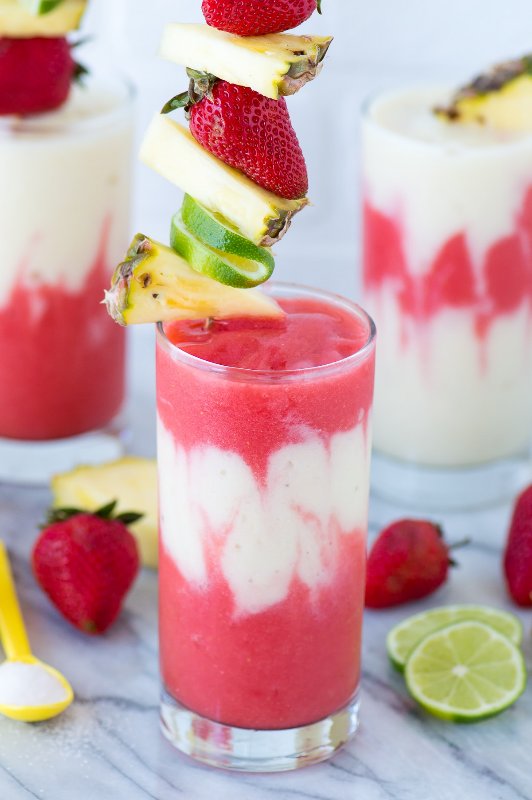 26. Peach Mocktail
When we think of vegan mocktail recipes, we tend to think of sweeter flavours. Not a fan? This recipe infuses the savoury flavour of sage and sharp apple cider vinegar with the sweet summer flavour of peaches. The result? A mocktail perfect for those looking for something less sweet, more refreshing.
Get the recipe here.
27. Grapefruit and Rosemary Mocktail
This drink is perfect if you like the sweet and sour taste of grapefruit – which just happens to go together beautifully with rosemary – who knew? This is another of our vegan mocktail recipes that's great for brunches!
Get the recipe here.
28. Sparkling Cranberry Kombucha Mocktail
Vegan mocktail recipes don't get better for your tummy than this! It's basically health in a glass. The kombucha will feed your good gut bacteria, which boosts your immunity, and the cranberries provide a nice hit of vitamin C. And did I mention it tastes tart and tangy?
Get the recipe here.
Main image: Mock Margarita. Get the recipe here.
Latest posts by Lora O'Brien
(see all)