Last Updated on
By Diane Small
The Philippines are getting a reputation for sustainability. The home of the latest vegan leather substitute, Pinatex, the country also boasts several eco-chic designers, including Joyce Pilarsky, Ezra Santos and Mia Arcenas, amongst others. But of course, the white sandy shores and lush tropical forests make this place the perfect destination for beach loving conscious travellers.
I thought this would be the ideal place to take my partner to celebrate two years together. We chose to stay at one of the Philippine's top rated  5 star hotels, Discovery Shores  Boracay Island. Winner of the highest votes for the Philippines on The World's Best Hotels in Asia, the hotel was particularly honoured for their  unparalleled "Service That's All Heart," and for their excellent facilities.
And no wonder. After stepping off the plane, we were greeted with big smiles and gifted with a Discovery Shores bracelet by our driver.  Upon arriving to the resort, we were welcomed with open arms and big hearts.  A table in our room was filled with fresh fruit and treats, and the staff had even put a "welcome home" sign up for us as well as framed pictures of us (taken from Facebook?) around the room. A much needed foot wash and massage took the edge off the travel fatigue. This was certainly the warmest welcome I have experienced anywhere!
Throughout my stay, I felt that each staff member genuinely put their heart into their greetings and service – it seemed everyone in the resort knew our names and needs. We never had to lift a finger:  even when by the pool, the staff would come around with treats and drinks, clean your sunglasses, fold your towels and help in any way that's needed.  All the staff are local, superb and a true credit to the company.
The resort is superlatively located on  one of the best beaches on the planet, and features a world-renowned spa within its widely  praised architecture.  The hotel also prides itself on being eco-conscious and strives to continually better itself in this area.  For example, they participate in Earth Day activities annually; conduct regular beach cleanups with the staff and guests are invited to participate. In fact, my  fiance and I felt inspired to give back on our anniversary by helping to do this,  and also by helping distribute  food parcels to some of the islands less fortunate children. It felt really good to  make a positive contribution to the community.
I was extremely happy to hear that the resort had switched to biodegradable plastics, though having no plastics would be preferable.  I also found it delightful that the Discovery Shores Boracay Island  collect the rainwater and use it to water the plants in the garden. Signs inside the rooms encourage guests to be responsible with their water usage and limit showers only to what is required.
Nature lovers will be happy to know there's  no end to the number of amazing outdoor activities and experiences to discover on the island: sail boarding, kayaking, hiking, or sailing on a paraw boat, a native outrigger sailboat. Cruises on these will take you around the island's hidden beaches, coves and secret hideaways, where you can get up close with the local fish and fauna with diving or snorkelling equipment. Back at the hotel, there's a fitness room for those aiming to keep on their workout schedules, and yoga classes on offer, too.
Oh, and of course you won't want to miss being  pampered at the luxurious Terra wellness spa."Terra" of course, is the Latin word for earth, and was chosen to express the spa's emphasis of how our health depends on our being at one with nature.  We indulged in their long, leisurely signature massage, featuring all natural aromatherapy oils.  The surroundings, the ambiance, the dedication of the expertise staff, the selection of organic and natural products  –  it was all simply divine.
As for dining, there are plenty of options: you can enjoy a sumptuous breakfast by the sea, linger over a late a la carte lunch, or feast on one of the hotel's famous themed buffets. With an enviable tradition of remarkably crafted dishes and impeccable service, the Sands Restaurant charts a sea of tastes for the palate to explore.
We ate at Sands restaurant each morning and lunch, which boasts locally sourced  Filipino cuisine in their a la carte dishes. Asking for vegan options for any meal was no trouble at all and we were personally introduced to the chefs and each time  they freshly prepared wholesome vegan dishes  for us. In particular, we absolutely loved their daily selection of fresh fruit and juices – we couldn't get enough!  
One magical night we were fortunate enough to have the Discovery Shore's award-winning  restaurant, Indigo, exclusively to ourselves to celebrate our anniversary. We'll never forget the romantic ambiance or the gourmet vegan food – or what happened after dinner: we arrived back to our room to discover that our room had been filled with long stem roses, scattered rose petals and  personalized vegan treats. Soon, there was a knock at the door and two masseuses stepped in to offer us complimentary his and hers massages. It was without a doubt one of the best evenings  we have ever experienced together. These guys really know how to do romance! No wonder their eco-chic beach weddings are so popular.
Indeed, I can honestly say that in all my years as a luxury travel journalist, I've never felt so welcomed and pampered as when I stayed at this resort. We left with heavy hearts, but I knew it wouldn't be the last time we'd feel the Discovery Shores love.  
For more information please click here.
Related articles across the web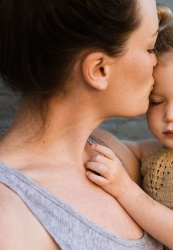 Latest posts by Diane Small
(see all)
This site uses affiliate links with brands we trust, and if you make a purchase using a link, we may receive a commission.
Did you enjoy this post? Want to show your gratitude? Please support us on Patreon!