By Lora O'Brien
For many years we treated chocolate like it was the devil, but the truth? Chocolate, when made from high quality ingredients, is pretty much a superfood! It's packed with antioxidants and it can even boost energy, reduce stress and increase concentration. Basically, chocolate is the perfect way to recharge your batteries!
So, now that we're processing the notion that chocolate actually is good for our bodies, how good is it for the  farmers who grow the cocoa used to make it? As it turns out, not so great, to say the least.
Did you know it's not uncommon in some countries for child labourers to be used to keep up with the high demand for cocoa? They're exploited for their work, forced to work long hours with little to no pay, they're denied an education, and they have zero rights – all so the world's largest cocoa corporations can stock your local supermarket or corner store with our favourite treat.
The good news is, when you choose to buy chocolate that supports FairTrade, you're also supporting the ethical treatment of laborers around the world who are providing us with one of our most loved foods. It means all workers involved in the production of that product were paid fairly for their labour, allowing them to care for their family and build a sustainable means of income. Of course, no kids are ever used in FairTrade work.
Easter is the perfect time to show your support for FairTrade chocolate brands. Not only have they made it their mission to work alongside the farmers where they're sourcing their ingredients, they also make damn good chocolate, too!
Butlers Chocolates was born back in 1932 and, situated in the heart of Dublin, it remains one of the few truly family-owned chocolate producers left in the world. With over 400 employees throughout its factory in Ireland, the ethos of this brand is both family and togetherness. Alongside their desire to produce the finest quality of chocolate, they're passionate about sustainability.
Working alongside Cocoa Horizons, they aim to create new opportunities for women to enable them to earn a better living, by helping to fund the training of women farmers to help them set up and manage a farm from scratch. They earn a steady income from selling cocoa from the farm, whilst also using the same land to grow various other food crops for their families.
Butlers Chocolates is a fully verified member of Origin Green, the world's first national sustainability programme, which focuses on 3 key areas: Sourcing, Emissions and CSR. With sustainability at the forefront of everything they do, they're working to reduce energy use, minimise their carbon footprint and lessen their impact on the environment.
Suitable for: Vegetarians.

Our favourite product: The Platinum Chocolate Collection is a sophisticated tray of truffles with a range of flavours, such as vanilla ganache, pink Himalayan sea salt and white flake truffle.
Price: £21.99. Get yours here.
Contrary to popular belief, there is neither a Mrs Green nor a Mr Black. In fact, the Green symbolises their commitment to ethically sourced cocoa, whilst Black stands for the high quality and delicious taste of their chocolate. And when it comes to fair trade, Green and Black's is one of the first chocolate brands who made a conscious effort to source fair trade certified ingredients in their chocolate, and their first bar to be awarded the FairTrade mark was back in 1994.
From bean to bar, Green and Black know that great chocolate starts with great cocoa. Whether it's the intense fruitiness of organic cocoa used in their Green & Black's organic range or the nuttiness of the Ghanaian cocoa used in their new Velvet Edition Collection, they work alongside farmers to ensure Fair Trade standards are met.
Suitable for: Vegetarians and vegans.

Our favourite product: Green & Black's Organic Tasting Collection is a great way to sample all of the delicious bars of chocolate.
Price: $17.56. Get yours here.
When it comes to chocolate, To'ak is exceptionally indulgent and exclusively sourced from 14 cocoa growers in the valley of Piedra de Plata, Ecuador. The production of their cocoa is so precise, it can be compared to the same precision of a premium small-batch whisky maker. It's matured in a fifty year old French oak cognac cask, and is more than just simply chocolate; it's truly a multi-sensory experience.
To'ak originally started off as a rainforest conservation project started by co-founder Jerry Toth in Ecuador in 2007. Through his non-profit foundation, he helped create the Jama-Coaque Ecological Reserve, which currently protects over 1,4000 acres of tropical forest. It was here he began to cultivate cacao trees, creating rich chocolate by hand in a thatched bamboo house secluded in the heart of the forest.
Today, To'ak works hand-in-hand with a small group of cacao growers in Piedra de Plata to help save Ecuador's historic cacao from being on the drink of extinction. In return, the cacao growers receive the highest price per pound in all of Ecuador. All wood used in To'ak's posh packaging is directly replenished through the planting of native hardwood trees in partnership with the Ecuador-based rainforest conservation foundation Third Millennium Alliance (TMA).
Suitable for: Vegans; serious chocolate connoisseurs.

Our favourite product: Vintage Rain Harvest 2015 Single Malt Islay Cask Dark Chocolate is chocolate at its finest. Deep notes of dark fruit are laced with silky undertones that will last long after you've eaten one of these.
Price: £375.00. Get yours here.
Lily's Sweets was created when a chocoholic combined her love of chocolate and natural foods, recognizing the fact she could offer chocolate with all its pleasures – minus the sugar. Lily's became a premium, mouth-watering chocolate brand that is a healthier alternative to the conventional chocolates that are so readily available.
All their chocolate has undergone a rigorous verification process so that they can receive the Non-GMO seal of approval. Lily's is also a FairTrade chocolate brand that works to ensure that the farmers and communities that provide the brand with their chocolate are fairly compensated. Lily's also teaches them how to become – and remain-  sustainable.
Lily's was named after co-founder Chuck Genuardi's niece, who is a brain cancer survivor. For that reason, the brand also donate portions of their profits to support kids with cancer.
Suitable for: Vegetarians, diabetics.

Our favourite feature: If you like your chocolate naturally sweetened, you'll love Lily's Salted Almond & Milk bar.
Price: $6.79. Get yours here.
Divine Chocolate has been crafting FairTrade chocolate for over 20 years, and they know the importance of not only creating high quality chocolate that we love to eat, but also ensuring that the farmers who harvest the cocoa used to make the chocolate are also treated fairly and given a voice.
Divine is a company that is driven be a social mission: to grow a successful global farmer-owned company that uses the power of chocolate to empower both the producers and the consumers. Whilst FairTrade normally just ensures farmers receive a better deal for their cocoa, Divine actually profit shares with their farmers, making this brand the only 100% FairTrade chocolate company that's partly owned by cocoa farmers.
Suitable for: Vegetarians.

Our favourite product: Divine's milk chocolate popcorn egg is a light, crunchy delight.
Price: £7.99. Get yours here.
Renowned for their irresistible truffles, Prestat also has a pretty impressive group of loyal fans: the royal family is said to keep these chocolates handy for guests, and Roald Dahl loved them so much, he made Prestat truffles the centrepiece of his novel My Uncle Oswald. But whilst Prestat may be catering to the rich
Prestat works alongside Esoko, an entrepreneurial IT company, to ensure the market is more efficient and transparent to further empower farmers. It covers all of the farmer's crops, and makes sure that they have a deeper market knowledge, thus giving them more power when negotiating deals for their cocoa.
Best for: Vegetarians and those who like a bit of an alcoholic kick in their choccies.

Our favourite product: The Jewel Box fine chocolates and truffles is an assortment of 49 decadent dark, milk and white chocolate truffles, but we also love the London Gin Box.
Price: From £13.99. Get yours here.
Unlike mainstream chocolate brands that provide a lack of transparency as to where the chocolate you're buying has come from, Madécasse placed themselves into some of the poorest communities to buy cocoa directly from those farmers. With Africa growing 70% of the world's cocoa, yet producing a shockingly low 1% of the world's chocolate, they set out to make their chocolate entirely in Africa. Madécasse not only empowers Madagascar's cocoa farmers with skills training and a higher wage, they also source other ingredients locally. From chocolate making, to packaging production, to the farming of the cocoa, spices and fruit, Madécasse has created meaningful incomes for over 200 people in Madagascar.
Suitable for: Vegans.

Our favourite product: Madécasse Chocolate Bae Gift Set includes four popular bars and is the perfect way to sample them. Set includes Pure 70%, Sea Salt & Nibs, Toasted Coconut and Salted Almond.
Price: $19.50. Get yours here.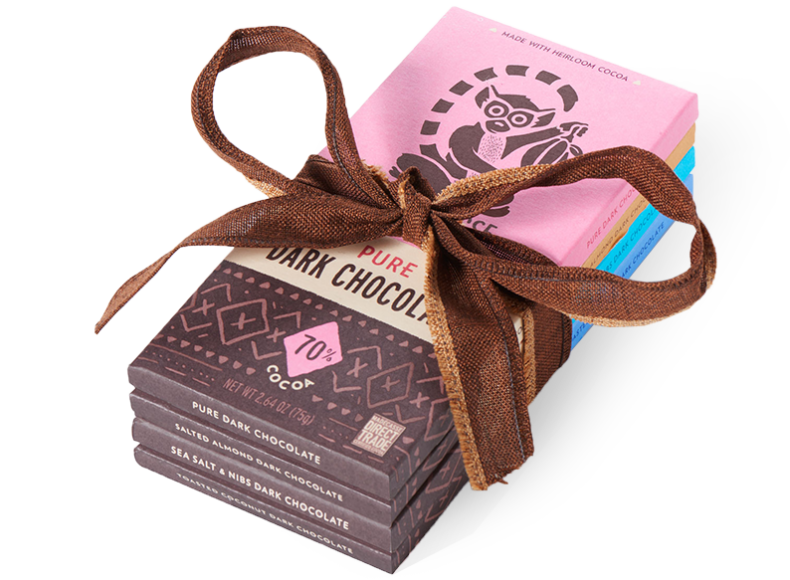 Jim Lampman would buy fancy chocolates for his staff every Christmas, until one year his pastry chef voiced what he really thought of them. Jim challenged him to make something better, and the result was a batch of hand-rolled truffles that were decadent and rich, whilst smooth and creamy, and within a year Lake Champlain Chocolates was born.
In 2013, Lake Champlain earned their FairTrade certification. Understanding that it takes a team to make their chocolates possible, from the farmers who grow and harvest the cocoa and those who transport it, to those who transform it into chocolate and process and package the orders, they wanted to ensure that everyone is treated and compensated fairly.
Suitable for: Vegetarians and vegans.

Our favourite product: Lake Champlain Chocolates Organic Dark Coins are luxury bite-sized treats that are perfect for indulgent snacking.
Price: $13.75. Get yours here.
Choosing health over profits, Loving Earth always ensures their chocolate is pure, minimally processed are grown organically in a sustainable way that nurtures the wellbeing of our planet as well as our own health. In order to be sustainable, all ingredients are produced without the use of synthetic fertilizers or chemical pesticides and herbicides, and are cultivated in a way that helps restore native ecosystems, prevent erosion and support water conservation.
One of the key elements of the mission behind Loving Earth is to source ingredients from the Indigenous communities where they originated. Not only does the brand ensure that their workers are being paid a fair price, they also re-invest in the community to provide essential services such as education and health care.
Suitable for: Vegetarians and vegans.

Our favourite product: Not sure you can choose just one bar? Why not try Loving Earth's 7 Flavor Variety Pack and sample them all.
Price: $47.95. Get yours here.
When it comes to chocolate diversity, Zotter Chocolates never fails to experiment. With over 400 different varieties of chocolate products and over 400 different organic ingredients, there are plenty of flavours to satiate those chocolate cravings. But what's most impressive is the fact that Zotter carries out all of their production in-house, from the roasting of the cocoa beans to the grinding of the conche. Zotter is actually the only company in the whole of Europe that produces chocolate from bean to bar, using nothing but organic and quality FairTrade ingredients.
Since 2004, Zotter has been a permanent licence partner of FairTrade Austria, and according to its founder Josef Zotter, they believe that as a cocoa processing company, they carry the responsibility for the living and working conditions of the cocoa farmers in third world countries. Today, it's one of the most sustainable companies in Austria.
Suitable for: Vegetarians and vegans.

Our favourite product: Zotter have a plethora of delicious chocolate options to choose from, so if you're not sure where to start, why not try the Zotter Pineapple and Cashew Nut bar? The sunny-sweet yet refreshingly sour pineapple layers perfectly with cashew nougat.
Price: $7.72. Get yours here.
This site uses affiliate links with brands we trust, and if you make a purchase using a link, we may receive a commission.
Did you enjoy this post? Want to show your gratitude? Please support us on Patreon!