By Diane Small
We see them in magazines. They stare out at us from billboards. Their pecs and abs are the envy of men everywhere, and women long to be held by their bulging biceps. Male models may seem manly, brooding and intimidating, but sometimes, the reality is normally far different.
Take top model Janis Ostojic, for example. With accomplished models JD and Martine Ostojic for parents, Janis was destined to be a model, and gazing into his deep set brown eyes, you'd think he'd be a smouldering love god. But really, he's just a regular bloke.
Raised in Milan, Italy, Janis won a modelling contest in Belgium when he was just 20. That kicked off a career that has seen him pose for Versace, Guess and other major labels.  In 2013, he starred in the 2013 horror film 'De Opdracht' (The Assignment) as an eccentric serial killer.
Today, he's an avid fitness enthusiast, maintaining his boyish good looks with interval training, football and clean eating. He loves cultivating his inner self with reading and meditating, and keeps his karma clean by supporting animal shelters and anti-cancer campaigns.
Here, we asked Janis about his eating habits to see whether it's possible for others to replicate that physique!
What are some of your favourite daily dishes?
I love pizza, InNOut, and the half-baked chocolate chip cookie is HEAVEN.
What do you normally eat in a day?
I kind of eat four salads of any kind and I usually I make them myself, full of healthy vegetables. I add some good fats to them as well, such as a handful of almonds or peanuts or avocado.
What do you cook the best?
Hmmm, I can't cook anything!
What's your workout routine like?
I go to the gym four times a week for weight training. Besides that, I go sprinting on a track or go for a run in the neighborhood at least 2-4 times a week.
What's your favourite post workout treat?
Pizza? Just kidding – though I do love it. Sometimes I treat myself with the surprise of Whole Foods' freshly prepared dishes.
How does your fitness routine affect your diet?
When I started losing body fat, I replaced my carbs with good fats. I still eat oatmeal in the morning sometimes. When I do a lot of cardio, I'll probably eat oatmeal, and when I do power-training I eat more fat.
You're involved with cancer charities. How do you think diet relates to fighting cancer?
I think your diet has a lot to do with how your body progresses. There are a lot of illnesses you can beat with your diet before they're even able to start. But still, there are unexplainable causes. So I'd say yes a healthy diet helps A   LOT, but nothing is guaranteed.
You're also active with animal charities. Have they made any impact for you to go vegan?
I care a lot for animals, I really do! I try to cut meat out as much as I can. But I grew up with the thought of needing the protein and I still feel that way today. Are there too many animals getting slaughtered for useless purposes? Yes. Can mankind live without real, organic meat? No, I don't think so. People can argue about this all day, but I respect their opinion and I just want you to respect mine.
Where would you take someone on a first date, and what would you order?
Saddle Ranch, and then I'd order quesadillas and a half-baked cookie.
When you're travelling as a model, what do you tend to eat on the go?
They sell salads everywhere these days! So I get those. And probably nuts or fruits.
Modelling's great for now, but what do you have planned for the future?
I'd love to create a line of accessories.
How To Eat Like Janis
Ok, so he's not vegan (yet!). But as with practically every dish in the whole world, there are vegan versions of Janis's favourite foods. Here, we've found even healthier versions of what the smoking hot model eats – and you're even more likely to achieve his sculpted physique with these recipes!
7 Minute Oatmeal
This thick, rich oatmeal is perfect for cold winter days – or, after doing a lot of cardio, as in Janis's case!
Get the recipe here.
Vegan In-N-Out Burger
Yes, this exists! You can get an equally delicious, but all vegan version of   Janis's fave fast food thanks to bloggers Carrots and Flowers. It even looks 'meaty'!
Get the recipe here.  
The Big Vegan Bowl
When Janis says he eats salads every day, he's not talking about a bit of lettuce on a plate. This huge bowl by Oh She Glows is packed with good fats, and lots of fibre, too.
Get the recipe here.
Vegan Pizza
Again, a healthier version of what Janis craves, but this pizza recipe is still packed with all the flavour of all that goodness: olive oil, tomatoes, garlic and cheese.
Get the recipe here.
Vegan Quesadillas
It seems impossible to make quesadillas without queso (cheese, to you and me in English), but ConnoiseurusVeg has managed to do just that, using avo for that creaminess we love. They've even improved on the traditional Mexican dish, if you ask us!
Get the recipe here.
Half Baked Cookies
Even top models need a treat, and these chewy chocolate chip cookies (vegan, of course!) are just what Janis craves.
Get the recipe here.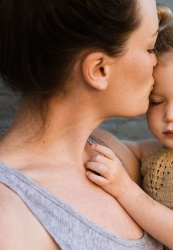 Latest posts by Diane Small
(see all)