By Lora O'Brien
Having been a plant-based foodie since 2009, it's fair to say that Alexandra Tallulah knows the importance of how a good, clean diet can fight off diseases and help us to maintain optimum health. And luckily for us, Alexandra is here to spread the word, and share her inventive and delicious recipes with us all!
Inmybowl.com plays homage to a whole array of versatile, yet vegan recipes. The website recreates popular recipes such as creamy mac and cheese, spicy curries and even ice cream, but in healthy form. If you thought being vegan meant eating bland foods, then think again: Alexandra is here to show us how being vegan has never tasted better, you'll be wondering  why you never decided to go vegan before now.
I caught up with Alexandra for a quick interview to grill her on what exactly made her transition to a vegan lifestyle, the foods she absolutely can't live without, and what she hopes to achieve by 2017.
So. Tell us a little about  yourself…
Hi! I'm a Washington, D.C.-based nutritionist and wellness  warrior and the writer and photograph behind plant-based lifestyle and recipe  website  inmybowl.com  and on Instagram, @tallulahalexandra. I'm an avid yogi, a total anatomy  and nutrition nerd, and I'm extremely passionate about whole body wellness, a balance  between a nourished mind, body, and spirit.
In My Bowl and Tallulah both began in late 2013  as personal projects during my post-baccalaureate program in nutrition and dietetics. I had  received my B.A. from American University, graduating with a degree in neuropsychology and a  concentration in eating behaviors, and was continuing my education with the intention of  becoming a registered dietitian. I began the platforms as a portfolio for future me, a reference of  recipes and cognitions that I could later share with my patients and clients during counselling  sessions. In My Bowl and Tallulah now both serve as internationally celebrated resources and  hubs for whole body, holistic wellness. Creating plant-based recipes inspired by seasonal and  local ingredients and making nourishing meals accessible to the everyday eater, I actively strive  to make my philosophies and wellness inspired lifestyle as accessible as I can to every  demographic.
Did you ever expect In My Bowl to do so well?
Though my initial intentions and wildest dreams were never to have such an immense following,  both In My Bowl and Tallulah have truly afforded me the most incredibly wonderful community.  I accredit growth to just being myself, and being myself consistently – keeping my photographs,  cognitions, captions, everything, as genuine and me as possible. I've also always acknowledged  that plant based eating can feel very intimidating and limiting for the everyday eater. My  prerogative has never been to push veganism or convert anyone to veganism, instead making  these more healthful options less daunting and more captivating so every eater can feel like health  is accessible to them as well. I think that's been very well received.
When did you transition to full-on vegan?
I've been a plant-based eater since 2009. I've always identified more with the term plant-based  because my diet is free of processed and synthetic foods. With Oreos, Bacon Bits, and macaroni  and cheese widely available to the vegan community, "Vegan" is far from synonymous with  healthful and nourishing. I also used the term plant-based because I don't like putting such a  definitive label on myself; plant-based feels more inclusive!
What influenced you to become vegan?
I've always been so drawn to the field of healthcare and wellness, always. Growing up, my mom  would make up medical scenarios and we'd pretend the ironing board was an ER table and  stuffed animals were our patients; all I'd wanted was to make them feel better. Studying  neuropsychology and eating behaviors during my undergraduate program, and then going on to  receive my B.S. in nutrition and dietetics, I developed a passion for preventative medicine, most  specifically the power of unprocessed and natural foods and their abilities to keep us well. With  that in mind, I shifted my lifestyle away from processed options and instead focus on filling my  bowl with more nourishing meals made from seasonal produce, ripe avocado, nuts, seeds, and  grains.
What's your favorite go-to recipe?
It's way too hard to pick a favorite, but during the cooler months I find myself most drawn to  those really hearty stews and curries. There is something so cozy, nourishing, and healing  about them, they draw you into this pseudo hibernation I just can't get enough of. Winter  evenings you'll find me cuddling up under my favorite wool blanket with a deep ceramic bowl  filled with stewed vegetables and warm spices. This past winter I've loved my  Clean  Cannellini Kale Soup and my  Creamy Tomato Noodle Soup  over warmed basmati rice (Ed's note: SO.GOOD.).
Walk us through a typical day of eating for you
I am the ultimate creature of habit! I begin each morning with some variation of my banana  avocado 'ice cream' smoothie bowl, topped with either fresh or frozen berries, granola, and  coconut flakes. My partner and I usually do all of our cooking on Sundays, making big batches of  soups, stews, grains, and vegetables that we keep handy in our fridge and freezer during the  work week to conveniently grab and warm. During a typical Monday-Friday, I'll usually reach for  those leftovers, like my Tomato Farro Minestrone, Chickpea & Kale Curry, or mismatch brown  rice, farro, or quinoa with steamed or sauteed veggies and thick slices of ripe avocado for a  Rainbow Buddha Bowl. Afternoon and pre-workout snacks usually include fresh seasonal fruits  (recently I've been loving grapefruit and clementine!) and a handful of raw walnuts, and for  dessert I love slicing up frozen banana then topping it with creamy almond butter and cinnamon.
If you absolutely had to choose, which  3 foods could you never  live without?
It's so hard to limit a list to just three, but if I HAD to – coffee, coconut milk ice cream, almond  butter (and avocados).
Are there any food brands you love?
I tend to shop the perimeter of my market (and farmers market!), filling my fridge and pantry  with fresh and frozen produce and bulk grains, seeds, and nuts. When I do make those packaged  purchases, I always make sure I can identify every ingredient on the label and that those  ingredients were well sourced. A few of my favorite brands include Windy City Organics (their  nut butters are too delicious), Emmy's Organics buckwheat cereal (cacao coconut is a must!), and  Seven Sunday's muesli!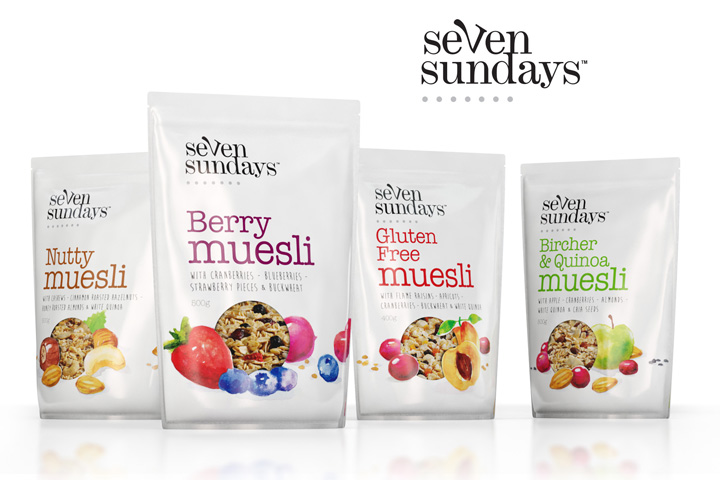 What's your favorite one ingredient to cook with?
Again, way too hard to pick just one! I draw inspiration from what keeps me nourished and  my plant based and unprocessed food philosophies, usually seasonal and local ingredients  procured from my local farmers market, budget-friendly options from the bulk section of my  grocery store, and the weather. Warmer months I love cooking with and munching on those  lighter more hydrating bites like nectarines, watermelon, tomatoes, and leafy greens. During  the autumn and winter I am such a hibernator. You'll find me bundled up with a deep bowl of  root vegetable and bean stew in ten mismatched layers of flannel and wool.
If you could only make one smoothie for the rest of time, what would it be?
Definitely my banana avocado 'ice cream' smoothie bowl – it's been my absolute favorite for  about three years now! Think ripe banana, ripe avocado, homemade vanilla bean almond milk,  spinach, and cinnamon, all blended up to creamy dreamy perfection, then topped with fresh  berries, granola, and coconut flakes! I'm making myself hungry!
What advice would you give someone looking to transition to vegan?
If I've learned anything, it's that people don't like to feel pressured into lifestyle change- they  have to be ready, opened, and the change has to be gradual for it to withstand. I always tell my  community it's not about eating less meat, but about eating more plants, and the change feels less  intimidating and more natural.
What's on the horizon for you?
Over the past two and half years so much of my focus has been on creating and celebrating a  community online. This year, my focus has definitely shifted towards fostering that essence and  magic in real life!
Try Alexandra's Top Recipes!
Banana Avocado Ice Cream
Welcome to my breakfast table- for those of you that follow my Instagram  will have  noticed each morning (for the past few weeks.. I really should be mixing this up), has begun  much the same, with my completely raw and vegan, creamy, creamy, sweet and cinnamon-y  smoothie bowl variation: Banana-Avocado 'Ice Cream'. Sometimes I douse it in shaved coconut 'sprinkles', sometimes I add so many berries the smoothie is hardly visible, sometimes I add nuts. I always serve this GREEN (really green) nutrient packed masterpiece with the first of my many daily coffees  to  welcome the day.
You will need:
1 medium banana, peeled and frozen
¼ ripe avocado, peel removed
½  cup fresh spinach or kale
½  teaspoon ground cinnamon
1 teaspoon ground wheatgrass powder (optional)
5 ice cubes
½  – 1 cup filtered water (depending on desired consistency)
What to do
Place all of the ingredients in a high speed blender; start  with ½ cup water, then while blending, gradually adding more until the 'ice cream' has  a soft-serve creamy, creamy consistency. Pour into your favorite bowl and sprinkle on your favorite toppings, and enjoy!
Vegan Chickpea & Kale Curry
A very simple, nourishing curry celebrating a pantry's worth of immune boosting spices, budget savvy canned beans and dried grains, this entirely plant based, vegan Chickpea & Kale Curry is not one to be missed. Divinely creamy, bone and soul warming, with subtle overtones  of nutrition, I serve mine over fresh basmati rice, with an extra squeeze of lemon.
You will need
2 tablespoons olive oil
1 medium yellow onion, diced
4 cloves garlic, minced
2-inch knob fresh ginger, peeled and minced
1 teaspoon ground garam masala
2 teaspoons curry powder
½ teaspoon ground coriander
pinch of cayenne
1 can (14 ounces) garbanzo beans, drained and rinsed
1 can (14 ounces) light coconut milk
1 cup low sodium vegetable broth
2 cups lacinato kale, roughly chopped
juice of   ½ a lemon
salt & pepper to taste
What to do
In a large Dutch oven or heavy pot, heat olive oil over medium heat until just hot. Add onion and saute, stirring frequently, until soft and translucent (about 7 minutes). Stir in garlic, ginger, garam masala, curry powder, coriander, and cayenne then continue to saute until fragrant, an additional 2 minutes.
Increase heat to high, then add garbanzo beans, coconut milk, and vegetable broth. Bring curry to a boil, then reduce heat to medium-low, simmering for 10 minutes. Stir in kale and lemon juice then  continue to simmer for an additional 10 minutes. Season to taste, serve and enjoy!
Latest posts by Lora O'Brien
(see all)