By Diane Small
We're very excited about  H&M these days. Not only because it recently released its ad campaign featuring Joan Smalls clad in an all-black Alexander Wang x H&M sporty-chic collaboration, but because supermodel Alek Wek has joined the innovative Swedish brand.
Rather than modelling clothes, as you may expect, Wek has instead taken on a behind-the-scenes role that will hopefully make a major impact on ending poverty–the high street retailer announced that it has teamed up with Wek to donate $9.3 million to Water Aid  in an effort to promote sanitation and hygiene in schools.
It's an issue that is close to her heart.  Alek Wek  was born in  Southern Sudan  and raised in the  Dinka tribe–an indigenous group that struggles to have enough water in a dry climate. At fourteen, she was forced to flee to London to escape a civil war. Soon thereafter, Alek was discovered at a London street fair, and she quickly rose to the top of the modelling industry and was named "Model of the Decade" by  i-D magazine.
Unlike other retailer-model collaborations, this one will be a long term effort.  Wek has joined H&M's Conscious Foundation as an official ambassador, in which she will initially work with the organisation for three years to help toward their goal of ending world poverty by 2030. In addition, Wek and H&M will also donate $1.3 million to a Harlem-based school program–all of these causes, from water sanitation to education, have always been a part of Wek's life's work as a model and catalyst for change.
In fact, Alek's influence extends far beyond the fashion world, and she has expended much effort towards making the world a better place. Just some of her accomplishments include:
Speaking at the International Black Caucus Foreign Affairs as a member of a panel that included Hilary Clinton amongst others.
Serving on the advisory board for the U.S. Committee for Refugees.
Speaking in New York area schools to raise awareness around famine in Southern Sudan and to educate children on the importance of nourishment.
Acting as a  Goodwill Ambassador for the UN Refugee Agency UNHCR
Working with the  Bracelet of Life  campaign in conjunction with Medecins Sans Frontières / Doctors without Borders
However, she is not the only model to act for social change.  Eluxe often covers  models, beautiful both inside and out, who aren't afraid to stand up for the rights of others. Click here to see more.
Main image:  Eduardo Sciammarella  for Wikicommons
Related articles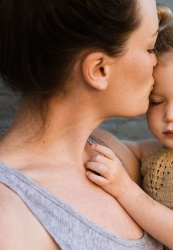 Latest posts by Diane Small
(see all)
This site uses affiliate links with brands we trust, and if you make a purchase using a link, we may receive a commission.
Did you enjoy this post? Want to show your gratitude? Please support us on Patreon!