By Lora O'Brien
A lot of us have been there, wanting to prepare vegan meals for our guys – be they friends, fathers or partners, but too afraid to. Even if they love the idea of vegan food, they often complain: 'it's just not filling enough!' or 'but meat makes me feel so energised!' And yeah, we get it – a salad may do us good on a hot summer's day, but guys sometimes still feel that they need to have second or even third helpings before they feel really full.
So, I searched around for 'manly' favourites. Basically, anything involving beer, carbs or frying. And guess what? There were plenty of options! They may not be the healthiest dishes on the planet, but you can always sub gluten free flours or noodles for the bread, pasta and pizza, or Xylitol for sugar (use the same proportions).
Without further ado, here is some of the best Vegan Food For Dudes – perfect for weekend brunches, when you have loads of male friends over for football games, Father's Day, and other 'manly' occasions.
1. Simple Tofu Scramble
Sometimes the best way to start the day off is with some hearty, cooked food. And what better than a tofu scramble and some filling potatoes? With its added veggies and 'tater carb load, it's a serious breakfast that will keep him going strong all day. I predict men from all walks of life will enjoy this dish.
Get the recipe here.
2. Herby Sausage Breakfast Hash
This breakfast hash is so quick and easy to make but will look like you slaved away in the kitchen for much longer, earning you some serious brownie points. I highly recommend serving this with a pot of tea and some warm whole grain toast.
Get the recipe here.
3. Vegan Bacon, Egg & Cheese Breakfast Sandwich
Hope we don't get sued for saying so, but this looks like the breakfast McMuffin you'd find in McDonalds. But surprise! This one is 100% vegan! And doesn't it look delish?
Get the recipe here.
4. Portobello Mushroom Bacon Sarnie
The next best thing to bacon (if you're into that salty, meaty taste) could well be Portobello mushrooms. And if you haven't yet heard of or used liquid smoke, you should think about investing in some. It gives food that smoky taste that foods like bacon have. Save the pig! Try Portobello. (Hmm…not sure that slogan will catch on…?)
Get the recipe here.
5. Vegan Turkish Pizza
Hands up if you love pizza? Well, I certainly do and I was so thrilled to find this recipe. It looks like its packed full of meat, but there's actually none in it. Yep, that's right. That topping that looks like spicy ground beef is actually ground mushrooms and walnuts. Mind blown? Mine definitely is!
Get the recipe here.
6. Mushroom Schnitzel
Yes, I know frying isn't the healthiest way to cook. But it is possibly the tastiest! And this meaty, hearty 'schnitzel' can be made even tastier with some nice mashed potatoes (recipe below)…or if you want to go a bit healthier, mashed sweet potatoes. Add a salad, and voila!
Get the recipe here.
7. The Best Damn Vegan Mashed Potatoes
It's a universal favourite, and a delicious comfort food. But mashed potatoes usually include a  mother load of butter, milk or cream…thankfully, they're easy to make vegan!
Get the recipe here.
8. The Best Vegan BLT
The BEST vegan BLT? That's a pretty boastful title, but I'm 100% confident that this recipe lives up to it. The BLT has been a popular sandwich for years, and I'll let you into a little secret – before going vegan, I used to DEVOUR these bad boys! There's just something about a BLT that works, and this recipe doesn't miss out on the goodness just because it's vegan. The crisp lettuce is still there, the chunks of juicy tomatoes and this even has a spicy cashew mayo for a little bit of an edge. And what is being used instead of bacon do I hear you ask? Wait for it . . . eggplant.
9. Gluten Free Vegan Mac'n'Cheese
Whaat? This recipe looks sooo good, so creamy…and yet it's gluten and dairy free! How is that possible? Well, the Minimalist Baker has used garlic, nutritional yeast and olive oil to make this amazing creation.
Get the recipe here.
10. Reuben Sandwich
Don't be put off by the fact this isn't a strictly vegan recipe. A quick switch to vegan cheese and you're good to go! Who doesn't love a great big whopper of a sandwich? Treat Dad to a delicious vegan take on the meaty Reuben sandwich and you could even make some sweet potato fries to accompany it.
11. BBQ Jackfruit Sandwich with Avocado Slaw
I've mentioned before the wondrous ways in which jackfruit can be used to replicate a vegan friendly pulled pork, and this recipe looks insanely look. Make the man in your life this BBQ sandwich this Father's Day and I can almost guarantee he'll love you forever. And the base is this delicious and creamy avocado slaw.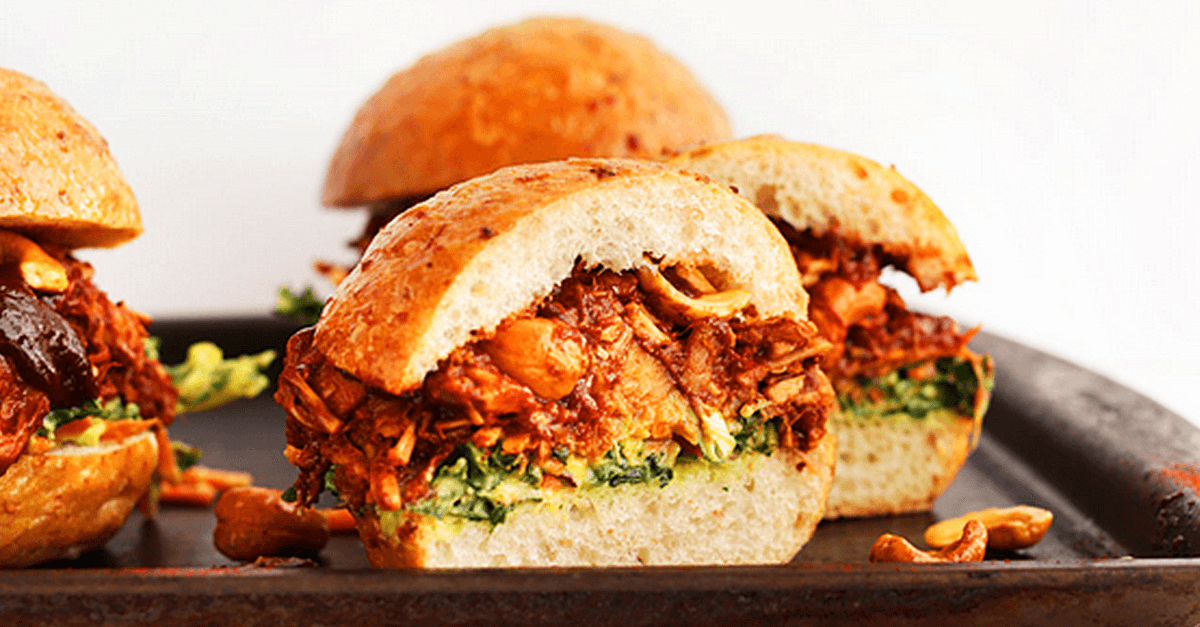 12. Curried Carrot Chickpea Chia Burgers
This curried carrot and chickpea burger looks like something you'd get served in a fancy gastropub, and I think the men are going to love this. Vegan burgers are great, but sometimes they're a little 'same old', so these curried ones are great if you're looking to cook up something new. Serve them with some vegetable crisps to make the plate even fancier.
13. Vegan 'Meat' Loaf
Let's face it: vegan meatloaf doesn't have the best reputation, thanks to hippies trying to pull a bone dry nut-and-breadcrumb mash off as something tasty. But I really think it's time we change that! When you're vegan, sometimes you want something to serve up for a Sunday style dinner, and nut loaf is such a great dish. Plus it's packed full of so much good stuff! Accompany it with some roast taters, heaps of veg and some vegan gravy to replicate that traditional roast.
Get the recipe here.
14. 30 Minute Coconut Curry
Here in the UK, if you ask just about any guy what he'd like to order on a Friday night at home, he'll answer: 'curry'! This one is so fast, you'll have it ready practically before he finds the takeaway menu and picks up the phone. Boil up some brown or jasmine rice and add a few threads of saffron, and you have yourself a meal.
Get the recipe here.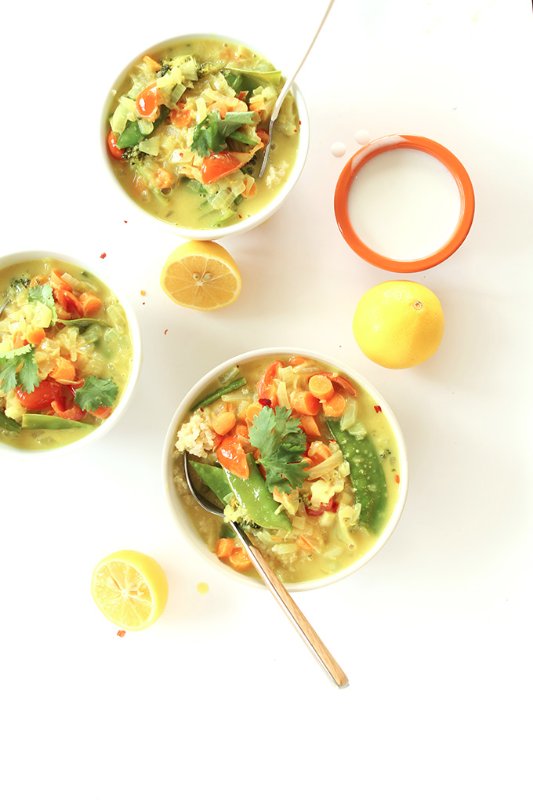 15. Vegan Lasagne
How could we create a list without one of these? Italians, you may want to look away right now: this contains no ricotta or other cheese, just tofu. But you'd never guess it…
Get the recipe here.
15. Two Bite Vegan Baked Potatoes
Not only do these look the bomb, they're going to taste delicious, too. There's something so good about a stuffed baked potato, and these are ideal if you're having people over for a little Father's Day celebration. You could cook these up and serve them as either a starter, a side dish or even just as a little snack.
Get the recipe here.
16. Sesame Crusted Tofu with Nuoc Cham
For those who love a little Asian flavour, this recipe transforms bland old tofu into something a little more exciting. They're like a mix between 'chicken' steaks and breaded chicken. This recipe does call for an egg to coat the tofu in breadcrumbs, but you could use an egg replace instead to make these fully vegan.
17. Vegan Shepherd's Pie
Here's a bit of trivia for you: did you know that Rolling Stone Keith Richard is a master of the Shepherd's Pie? Apparently, he's a bit obsessed with his own personal recipe, which we know contains carrots and spring onions, but is otherwise pretty meaty.
Get the recipe here. This version is just as hearty, but way more healthy. There's another recipe we love that uses sweet potatoes, seen in the main pic. Click here for that.
18. BBQ Chik'un Pizza with Ranch Sauce
This pizza looks like something you'd order. It looks professional, and I doubt anyone will even be able to tell it's 100% vegan. Dishes like this make it so easy to give up meat and go to show just how versatile a vegan diet can be. All you'll need to go with this is some beers and a really good movie, and you've got the perfect chilled out Sunday evening.
Get the recipe here.
19.Vegan Beer Chili
What's more macho than a chili dish with a boozy edge? This beer chili is such a warm, comforting dish and it's easy to make, too. Cook up a massive pot of this and serve it however you like. Serve over some rice or just straight up in a bowl. Either way, it's going to go down a real treat. Did I mention it has beer in it?
Get the recipe here.
20. Beer Battered Onion Rings
Take onion rings to the next level this year and treat dad to some of these beer battered ones. They're everything we love in an onion ring with a little bit of a beer coated twist. You could cook a batch of these up to go with pretty much every dish here. Yeah, I know these are far from healthy, but who doesn't love an onion ring, seriously?
Get the recipe here.
21. Fully Loaded Vegan Nachos
Sometimes, all you need in live is a beer in one hand, and a heaping bowl of nachos in the other. These shun the beef and cheese for some healthier options. Make those tortilla chips blue organic ones and this is practically healthy!
Get the recipe here.
22. Vegan Sloppy Joes
Big, messy, filling and tasty – these are the ultimate macho lunch or dinner fare. The meat substitute is basically lentils. Goes amazingly well with a nice, cold beer!
Get the recipe here.
23. Bread & Butter Pudding
Bread and butter pudding is such an old fashioned dish, but it's still a family favourite, so this is the perfect dish to serve up when surrounded by kinfolk. You could serve it with a heap of soy ice cream, or even some plant based custard.
Get the recipe here.
24. Perfect Pecan Pie
Everything about this recipe makes my mouth water, from the candied pecans to the crunchy crust.  I'd serve a huge wedge of this up with some dairy free ice cream. You won't be able to stop people coming back for seconds.
Get the recipe here.
25. Vegan Waffles
This is a pretty basic dish that you can switch up in so many ways. Once you've made your waffles, you can truly get creative with the toppings. Fruit lovers could top with fresh berries and even make a really simple compote. Sweet tooth? Maple syrup is always a winner in my eyes.
Get the recipe here.
26. Deep Dish Apple Pie
Vegan Food For Dudes has to include a hearty dessert, and apple pie is a classic favourite. It just automatically gets people thinking of a visit to a grandparent's house when the place was perfumed with the scent of baking apples and cinnamon… Again, you can top this with dairy free ice cream, vegan custard or just enjoy it on its own.
Get the recipe here.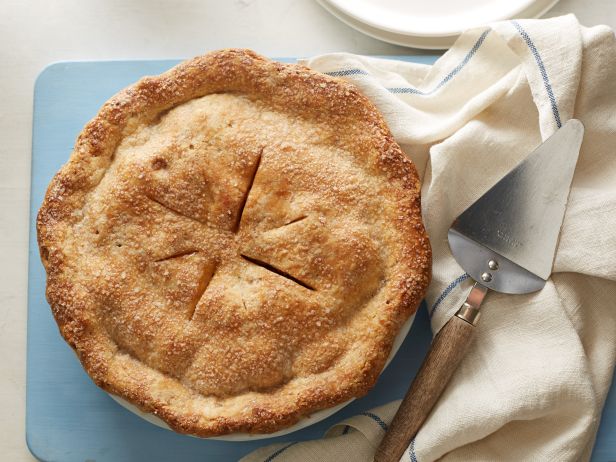 Related articles across the web