By Lora O'Brien
I live for my morning coffee. I enjoy nothing more than the taste of coffee, the aroma of coffee. I even use a few coffee based beauty products, like exfoliators. Okay, you get it right? I am a coffee fiend. I used to be under the illusion that I needed to break up my love affair with coffee to maintain a healthy lifestyle, but I've since learned that coffee actually brings health benefits. Hurray! It reduces your chances of getting Alzheimer's, dementia, heart disease, diabetes mellitus type 2, liver cancer, cirrhosis and gout, for example.
Coffee's benefits stem from more than just caffeine content. Decaffeinated coffee can help prevent prostate cancer, and coffee's antioxidants help prevent free radicals from damaging the body's cells, and guess what? As a result of this, your morning cuppa can actually be good for your skin! This is not only because it protects it from the free radicals that result in wrinkles, but also because coffee can lend your skin some protection from the sun's damage: apparently coffee drinkers have lower chances of developing skin cancer than those who don't indulge. But just make sure you enjoy it in moderation, and drink the best cuppa you can by following these guidelines:
Choose FairTrade
Coffee is seriously global, which makes it one of the most valuable and widely traded agricultural product on earth. Around 125 million people worldwide depend on coffee for their livelihoods. For years, many of coffee  farmers failed to earn a reliable living from growing it, so Fairtrade came in to ensure those guys are getting at least the Fairtrade minimum price for their coffee. Whilst you might pay a little bit extra for your coffee if it's Fairtrade, I'd say it feels great to know that  you're drinking a cup of good karma!
Go Organic
Just like with fruit and veggies I'd highly, highly recommend sourcing out an organic brand of coffee.  Many of you may be surprised to learn that coffee beans tend to be sprayed rather heavily with pesticides, herbicides and toxins that the body really can't handle. Organic is healthier for us in the long run as it means the growing and processing methods are done so without the use of toxic ingredients.
Ditch the Sugar
I think the worst habit many of us possess is the need to heap spoonfuls of sugar into our coffee. Whilst I sometimes crave the combination of strong coffee with a little sweetness, I try to not add the white stuff and neither should you. When craving something sweet for your coffee there are some quick tips for adding a little something special. Cinnamon is a great option and blends so well with the flavour of coffee and adds a lovely edge. Not feeling cinnamon? Why not use a FairTrade cocoa?
Grind Yourself
Though it can be quick and easy to buy coffee already ground, nothing beats freshly grinding those coffee beans yourself. Coffee beans can very easily become stale when exposed to both oxygen and moisture, and there's a heck load of both in the kitchen, especially when cooking.  The best way to enjoy coffee in a healthy way and to get the best taste wise is to grind  enough for a single serve brew each time.
Enjoy in Moderation
I think this one really speaks for itself, but moderation, like with anything, is key. And when it comes to caffeine you should really try to limit your intake to one or two cups a day, preferably in the morning. Many of us hit the caffeine as soon as we wake up, but we should wait until we have some food inside us first. Why? Caffeine causes our bodies to release sugar in into the bloodstream which on an empty stomach can cause a drop in blood sugar, which can make us get some horrid sugar cravings! Also caffeine can work as an appetite suppressant, meaning we can go longer without feeling hungry. And we all know how important breakfast is, so we don't want to skip that, right?
Enjoy!
There's such a lot of pressure put on what we should and shouldn't enjoy, and sometimes it can feel like we can't really take pleasure from any of our wee vices. But as mentioned above,  coffee comes with quite a few  of its own health benefits. And, it can do wonders for us in the gym, as caffeine is a natural fat burner – it works by stimulating the nervous system and causing it to send signals to the fat cells in the body to break down body fat. But of course, an extra shot will also make you move your butt all that longer and quicker.
So, in the spirit of celebrating coffee, why not try some of these great vegan coffee recipes and find new ways to enjoy java? Whether you switch your morning cuppa  for a coffee smoothie, or you fancy some mocha ice cream as a sweet treat after dinner, this article is full of one thing and one thing only: COFFEE, LOTS OF COFFEE!
1.  Coffee Smoothie
Some of us simply can't kickstart our day without the coffee. Ok, maybe it's just that we don't want to. But you can still enjoy coffee as a part of a healthy, nutritious breakfast with recipes like this coffee smoothie. The liquid base is coconut water, which is great for hydration first thing in the morning, or even post-workout if you fancy making this  after the gym.
Get the recipe here.
2.  Coffee  Chia Breakfast Pudding
I am was so thrilled to come across myriad ways to use coffee in recipes, and this chia pudding is one of the best! I love chia seeds for their hit of Omegas and weirdly delightful texture, but usually stick to a basic berries-and-almond milk recipe. So you can imagine I was pretty excited to mix some java into my chia pud!  Plus, if I make this in the morning, I kill 2 birds with 1 stone – no need to make a cuppa coffee.
Get the recipe here.
3.  Mocha Java Granola
In a hurry in the mornings? Save some time by eating your coffee! This granola recipe packs a lot of crunch and just imagine how awesome this is going to taste doused in almond milk or dolloped with heaps of vegan yogurt…
Get the recipe here.
4. Single Serving Coffee Pancakes
The fact is that most pancake recipes yield enough to serve a small army. Ok – literally, a small family. But for we single girls, that just spells out too much temptation to  EAT THEM ALL. So thank heavens for this recipe that was made for one. Of course it's got that rich coffee flavour, but the best part? Only 165 calories per serving!
Get the recipe here.
5. Coffee Frappuccino Oatmeal
Some like it hot, and frankly, that's the way coffee should be. So this frappuccino bowl is the perfect perk-me-up on a cold winter's morning. It's got the goodness of oats, but the kick of caffeine I personally crave in the morning. If you're having a hard time getting out of bed on a miserable winter's day, just knowing you can make this will motivate you to get up!
Get the recipe here.
6. Vegan Spice Latte Crepe Cake
There's nothing quite like a pumpkin spice recipe to get the mouth watering. Whilst some cakes can be pretty heavy, this one is a surprisingly new way to still have your cake and eat it. And the main ingredient? Crepes. Yes, crepes! If you've known the delight of tucking into a stack of pancakes then this is pretty similar. The filling is pumpkin spice and the cake is smothered in a coffee frosting. OMG, right?
Get the recipe here.
7. Hazelnut & Coconut Cupcakes with Rich Coffee Frosting
Who doesn't feel happy whilst devouring a delicious cupcake? Cupcakes just have that effect; maybe because most of us remember them from our childhood. This recipe starts with a moist and decadent chocolate base mixed with slithers of coconut and a little hazelnut. And that delicious mountain of frosting in top? That has a deep, delicious coffee flavour with a touch more hazelnut.
Get the recipe here.
8.  Vegan Coffee Date Cake
This is a very light cake, but one that will still satisfy the sweet tooth in all of us. And if you steer away from cakes due to their high sugar content then there's no need to worry with this recipe – there's absolutely no refined sugar in this, and the sweetness instead comes from date nectar. There'll be no post-cake crash come the afternoon, guaranteed!
Get the recipe here.
9.  Coffee  Glazed Chocolate Hazelnut Cake
I don't know what it is about coffee and nuts that seem to go together, especially when it comes to gooey, chocolate cake, but they just seem to work. And who am I to argue? I mean, just look at that icing. Isn't that a thing of beauty? And with a little coffee liqueur optional, this will be the perfect cake to make for brunch with the girls!
Get the recipe here.
10.  Coffee-Tahini Baked Donuts with White Chocolate Glaze
Iced donuts are so good. Actually, all donuts are good. But when they're  vegan friendly ones which also feature coffee, well, then they're on the top of must-bake list. Not only do these have coffee but they also have tahini, adds a nice nuttiness.  The fact that these are baked, not fried, means they're practically guilt-free, too – and way easier to make.
Get the recipe here.
11.  Raw Vegan  Espresso Brownies
Oh chocolate brownies. Light of my life, key to my soul. I think most of us enjoy a chocolate brownie, but these have a little espresso twist. The best part is their mocha-java taste, but a close second is the fact that they are raw so these can quite literally be thrown together and made in minutes.
Get the recipe here.
12. Mocha Cheesecake
This Vegan Mocha Coffee Cheesecake looks absolutely decadent, so you may be surprised to learn that it's actually pretty much a health bomb: it's raw, refined sugar-free and gluten-free.  And it looks so gorgeous, this could be the perfect cake to celebrate something like a birthday, anniversary, or you know, life.
Get the recipe here.
13. Coffee Cheesecake Balls
I don't care in which form cheesecake comes to me, I'll always eat it. Especially if it's in the form of an adorable little bite sized ball! These are super  cute and the perfect size to snack on as a go-to sweet trick. With the coffee kick inside and absolutely no refined sugar, these will surely give you a boost without the post-sugar slump later on.
Get the recipe here.
14. Vegan Paleo Coffee Pecan Pie Bars
Pecan pie is normally so sweet, recipes for it  should probably come with a gym membership. However, this recipe has turned that sinful treat into one that contains no dairy, no refined sugar or flour and is instead made from plant-based goodies. Being healthy  has never tasted more delicious!
Get the recipe here.
15.  Raw Vegan Coffee Tiramisu
Tiramisu is the perfect recipe for those that love both chocolate and coffee, but if you're vegan, you may have given up on eating it thanks to  all the dairy in it. Well, now you enjoy the flavour of tiramisu again! These raw vegan coffee tiramisu squares embody all that we love about tiramisu: they're rich, they're decadent. And there's coffee, yo.
Get the recipe here.
16.  Chocolate-Coffee Scones
When it comes to scones I can't say my horizons have been very broad. I've only ever had the traditional English teatime types with jam on top, so these chocolate coffee scones are so exciting. Of course they have coffee, so naturally I can't wait to try them, but with chunks of dark chocolate as well, how could I say no?
Get the recipe here.
17.  Double Chocolate Espresso-Almond Cookies
Chocolate and coffee  just go hand in hand. It's like they were born to be placed together. And these double chocolate and espresso almond cookies are everything the perfect cookie needs to be: super chocolatey, soft, moist and not lacking in flavour. No one wants a bland cookie now, do they?
Get the recipe here.
18. Vegan Coffee Macarons
The best thing about macarons is the flavoured inside, if you ask me. It's what separates the macaron from your basic sandwich cookie. The inner ganache should pack a serious flavour punch, and this one does – and of course, it's coffee! This recipe is vegan, but be forewarned – it's not all that healthy, as there's tons of sugar in it. But what a treat, especially with a cuppa Joe!
Get the recipe here.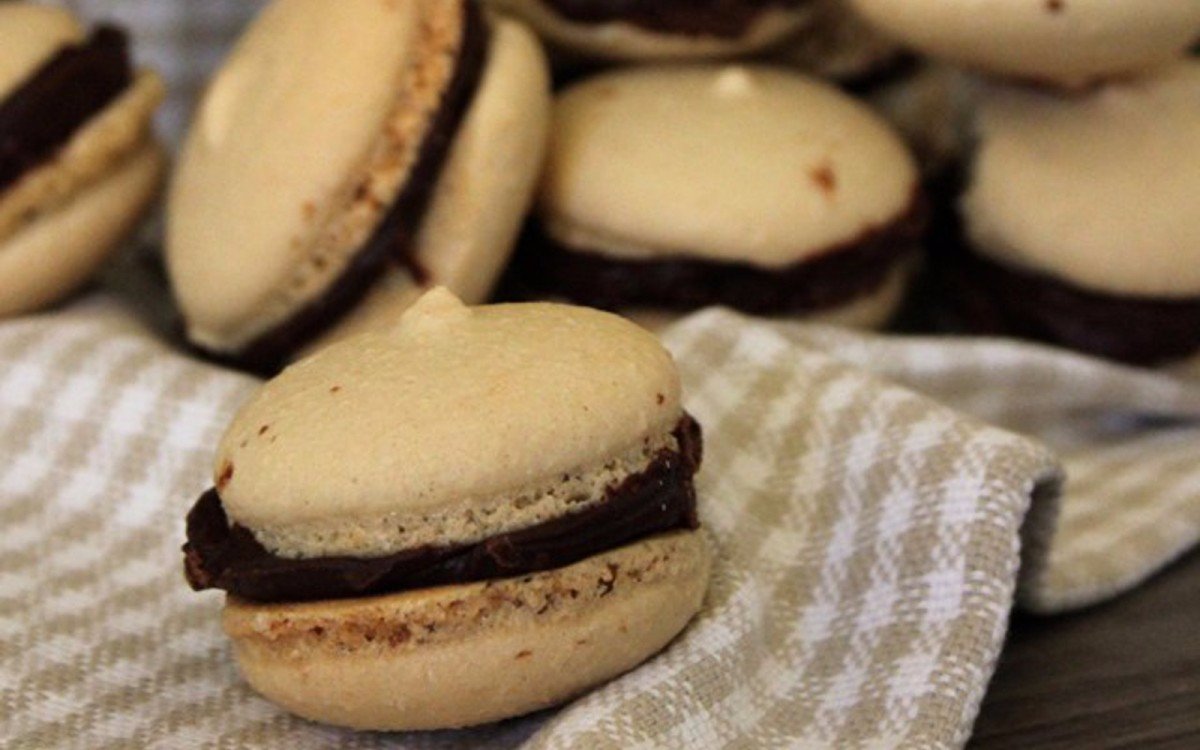 19. Hazelnut-Coffee Chocolate Chip Cookies
I don't know a soul who doesn't  love a chocolate chip cookie – more so when it's dunked into a piping hot mug of coffee. Hazelnuts here add  a wonderful flavour and a little more crunch, and these will smell so heavenly when they're fresh out of the oven. The hardest part will be not scoffing them all before they've cooled off!
Get the recipe here.
20.  Raw Espresso Pie
This raw dessert is the perfect go-to pie recipe for those coffee lovers like me. The creamy cashew filling is infused with brewed black coffee and incredibly rich espresso beans, giving it a real wakeup hit. And  all of this sits atop a crust of almonds and dates – the perfect mixture of sweetness and crunch. And did I mention there's chocolate, too?
Get the recipe here.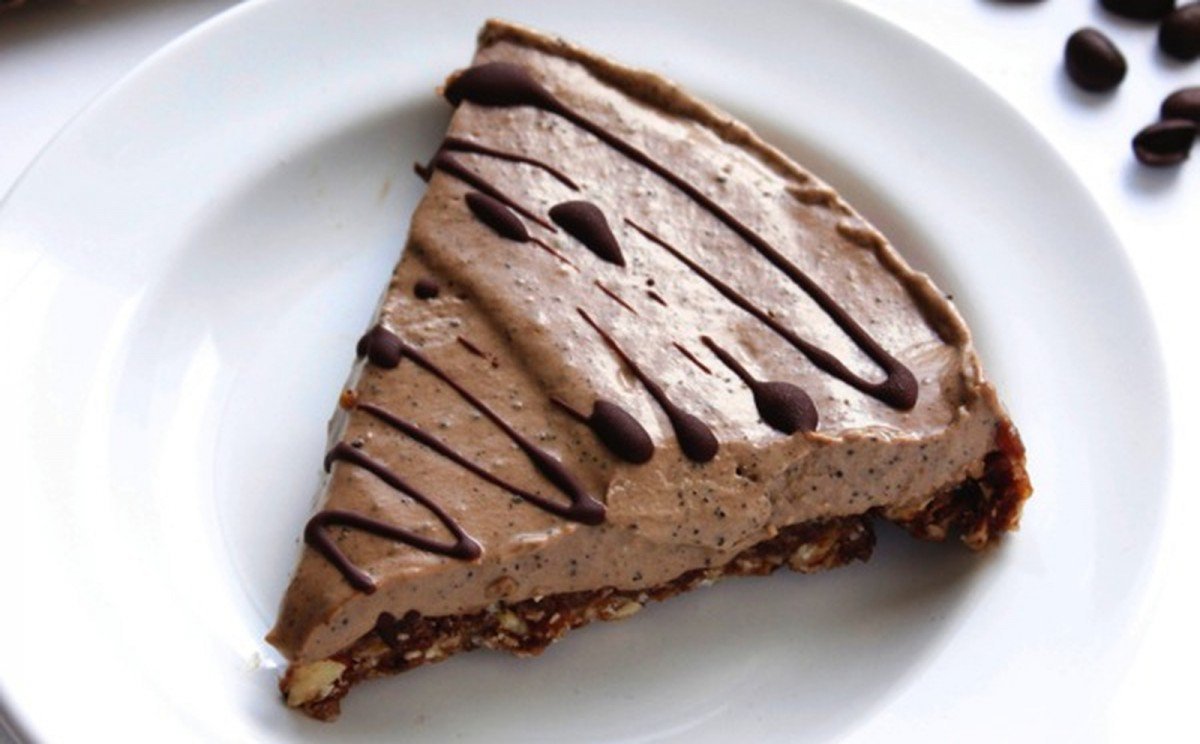 21.  Vegan Tiramisu
Oh my, who doesn't love a good old tiramisu dessert? It's rich and decadent and of course you know 'tirame su' means 'lift me up' in Italian – and that's just what this does! This one's started off by making a vanilla cake, soaking it in coffee syrup and adding a vegan vanilla 'mascarpone cheese'.
Get the recipe here.
22.  Coffee Cream Squares
In short these are little bites made from a raw nut, date and  coffee  crust wedged with  with coffee cream and topped with melted dark chocolate. So you know they're going to taste like little mouthfuls of perfection. Alongside coffee there's coconut cream, vanilla essence and maple syrup  – personally, I add a bit of sea salt because it just feels right.
Get the recipe here.
23.  Vegan Hazelnut Coffee  Fudge
Who doesn't love a delicious chunk of fudge? This vegan fudge is made with coffee, but if you're not too great with caffeine, this fudge has been made with a coffee substitute. Of course, if you do want a kick, you can use  either actual instant or espresso coffee. The actual fudge part is made from – wait for it – chickpeas, but if that freaks you out, chill. Chick peas just bring the creamy element to this fudge without the taste, so you won't even be able to tell.
Get the recipe here.
24.  Cappuccino Vegan Cups
We've heard of peanut butter cups, and even nutella cups – but cappuccino cups? What a time to be alive! They may be small but they pack an almighty coffee punch, so go easy on 'em.  These decadent little treats store well in the fridge or freezer as a go-to sweet treat whenever you like. They also look pretty fancy, right? Perfect for the upcoming Valentine's Day, just sayin'.
Get the recipe here
25. Raw Coffee Truffles
Like bliss balls, these little truffles are packed full of healthy plant based ingredients that are going to give you a pick-me-up when you really need it, whether it's before a workout or to combat an afternoon slump. The coffee will wake you up whilst the maca will energize you and give you a shot of energy, direct from nature. And with the sweet tones of vanilla and the cacao nibs, these will have a great crunch.
Get the recipe here.
26. Coffee Cheesecake Mousse
Coffee cravings are full-on satisfied with this tasty dessert. It's  not only incredibly creamy, but contains just five ingredients and two steps to make it. But the best part?  You'd never imagine just how good for you this pretty little dessert is!
Get the recipe here.
27.  Hazelnut-Coffee Mousse & Banana Crunch Parfaits
Following on from the previous mousse, this one uses mousse in a different way – in  a parfait! And with the coffee and banana, you could even enjoy this for breakfast in the morning. Nuts are a great healthy fat  to kick start the day, whereas the bananas not only add a creamy texture but are super filling if you're looking for a quick and easy breakfast.
Get the recipe here.
28.  Coffee Banana Soft Serve
Remember that delicious soft-serve ice cream you'd get as a child? It melted in the mouth and was so cool and refreshing. Now, if you've not yet made nana-ice cream (it's literally just  blended bananas!) then you're in for a real treat because it's just like that soft serve from our childhood, but of course this one has a little added coffee flavour.
Get the recipe here.
29.  Coffee Coconut Ice Cream Bites
Sometimes, you just want a quick and easy treat. And nothing is easier than these coffee and coconut ice cream bites. In fact, you can make them and store them in a ice cube tray and pop them out whenever you fancy. They're rich, creamy and they'll melt in your mouth – don't expect these to stick around long!
Get the recipe here.
30.  Mocha Chip Banana Ice Cream
The weather never seems to dictate when I fancy ice cream. I've been known to dig  into a tub when you could literally put it on the windowsill and it wouldn't melt.  So I'm always on the lookout for new and fancy recipes to satisfy my creamy cravings, like this one – a little bit of crunch gives it the edge!
Get the recipe here.
31. Vietnamese Coffee Popsicles
It doesn't get much easier than this – coffee, vegan condensed milk and boiling water. The combo of sweet condensed milk and strong coffee is to die for. The great thing about these is that if you don't have popsicle molds on hand you can simply use a disposable plastic cup. It's basically a latte on a stick!
Get the recipe here.
32.  Coconut Cream Coffee Popsicles
These are like having your iced coffee in a popsicle form. I don't know about you guys, but I drink coffee all year round, whatever the season, but I am partial to an iced coffee when it's particularly warm out. And with the addition of vanilla, coconut milk and maple syrup, these popsicles are just the right amount of sweet and silky smooth with the delicious coffee tones.
Get the recipe here.
33.  Skinny Vegan Coffee Milkshake
We've all experienced those sluggish mornings when the walk from our beds to our coffee fix seems like the journey to Middle Earth. And I especially find during the summer this feeling is intensified by the humidity (thanks, London!) On days like that, this coffee milkshake is a refreshing way to start your day. And the hit of espresso will have you charged and raring to go in no time with the sweetness of coconut.
Get the recipe here.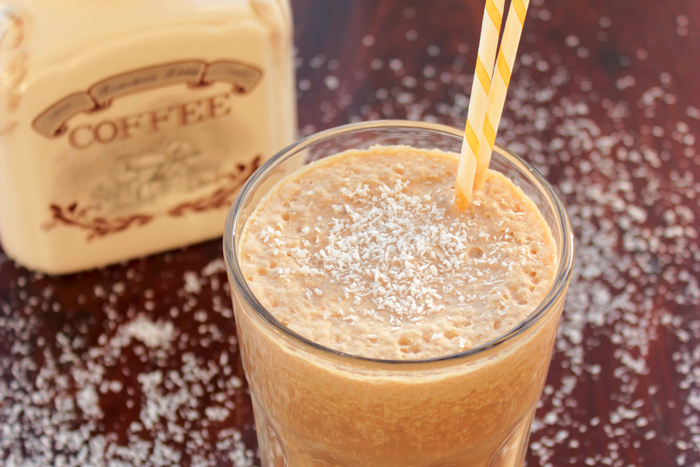 34. Creamy Coconut Rum Iced  Coffee
Ok, I'm British. And have Irish blood. So for me, a bit of rum in my coffee is practically a tradition. If you're having guests over, why not make one of these as a nightcap instead of a standard hot coffee? It's pretty much the perfect cocktail.
Get the recipe here.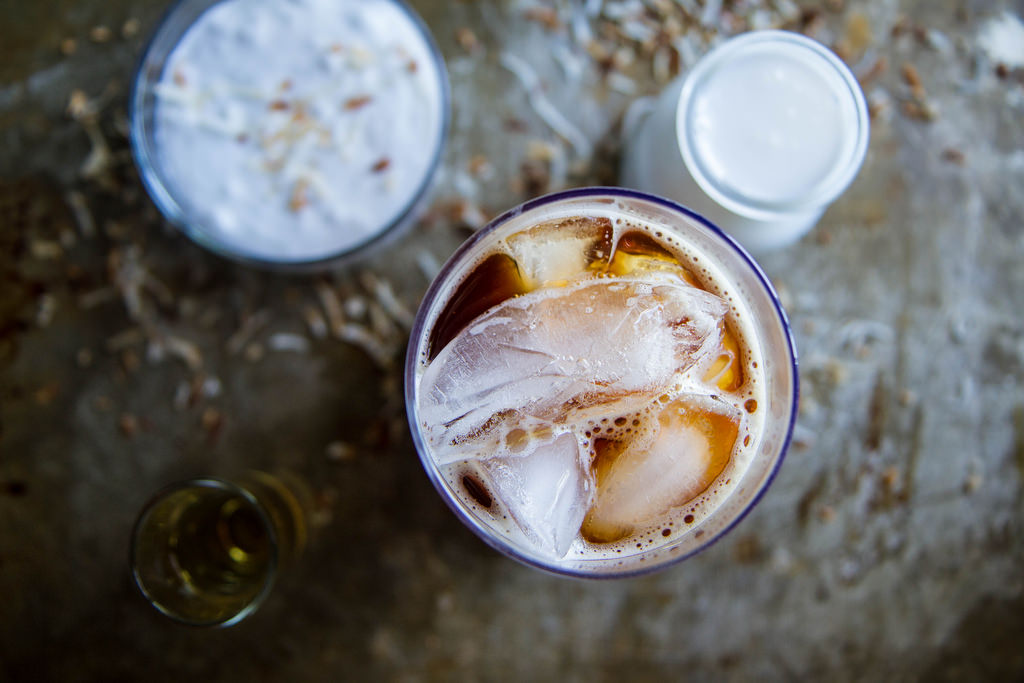 35. Espresso Martini
Ok, maybe I lied up there in number 35. An espresso martini is possibly 'the' perfect cocktail! When you want the buzz of vodka but also want to stay alert, this is the perfect drink to have when you're in party mode. And it's a heck of a lot classier than a Red Bull and vodka! Just saying.
Get the recipe here.
This site uses affiliate links with brands we trust, and if you make a purchase using a link, we may receive a commission.
Did you enjoy this post? Want to show your gratitude? Please support us on Patreon!