By Lora O'Brien
Some of my fondest memories of  summer are of    family and friends coming together for a good old fashioned garden barbie. There's something about good food, warm evenings and great company that just seems to be the pinnacle of a perfect summer's night.
But  if you're vegan or have recently ditched the meat, you're probably not too keen on the summer BBQ scene – if the smell of searing flesh doesn't put you off, nasty, pre-packaged, chemical ridden 'vegan burgers' slapped on the grill will.
Well, don't sweat it, because BBQ's don't have to center around meaty dishes, real or fake. There's lots of ways to enjoy a delicious summer BBQ – from savoury salads to scrummy desserts and vegan burgers to smoky, grilled veggies, there are so many delish alternatives, even the most devoted carnivore will be happy to indulge in the vegan barbeque. Or shall we say, VBQ? Here, we have 25 great vegan barbecue ideas that will make outdoor eating fun and healthy.
1.  Asian Style Coleslaw
For me a BBQ isn't a real shindig until I see a bowl of coleslaw. But unlike the creamy store-bought containers we usually opt for, pack full of calorific mayonnaise and god only knows what else, why not add a little something special  to your coleslaw this summer? It's packed full of crunchy cabbage and then seasoned with a  light yet zesty dressing, so it's not too heavy for your guests.
Get the recipe here.
2.  Herbed Red Potato Salad
The same goes for potato salad as coleslaw – what kind of BBQ is it without either or the two? (or both!) There's just something ridiculously good about eating potatoes that are covered in some kind of  dressing. Like coleslaw, the dressing usually consists of mayonnaise, but we really don't want to be eating that. Dijon mustard is the secret ingredient in this recipe, and trust me when I tell you it works SO well with potatoes.
Get the recipe here.
3. Balsamic Caramelized Onion Hummus
Who doesn't love a dip at a BBQ? Something magical happens when you take a bread stick or a nacho and dip it into some kind of dip.  So don't be boring and serve bland hummus – mix it up and excite your guests with this balsamic and caramelized onion hummus. It's INSANELY good! But don't just take my word for it, re-create it and wow your guests!
4.  Beetroot & Tahini Dip
First and foremost, how beautiful is the colour of this dip? The colours of unprocessed, whole foods are absolutely gorgeous. Secondly, who wouldn't want to dig into this dip at any BBQ? It's a mixture of beetroot, tahini and garlic and then is topped with lemon, a little olive oil and crunchy pine nuts. You could even oven roast some wholemeal pitta to make some cheap and convenient dippers if you're unsure what else to serve.
5.  Grilled Pineapple
BBQ isn't all about the savoury dishes. Sometimes, you just want a little something sweet as well, and pineapple is the perfect accompaniment. I absolutely love grilled pineapple. Actually, I just love pineapple. Whether it's in a fruit salad, or with sweet and sour rice, it's just heavenly. So why not grill up some on skewers and make little pine-kababs? Kids will go wild for these, too. And if you haven't tried pineapple grilled at this point in your life, scold yourself and go make these, like right now! (Thank me later!)
6.  Grilled Artichokes
Artichokes are one of those foods that I look at in a supermarket and then put back, simply because I have no clue what to do with it. So this recipe answered all of my artichoke prayers because you can grill them, who knew? And they also look pretty nice on a plate if I do say so.
7.  Harissa & Mint Grilled Corn
Corn on the cob may not sound like such a special dish, but there's so many ways to dress it up. For so long, I've been condemned to eating bland corn on the cob, and it's okay – I like corn. But then I discovered garlic grilled corn and it  rocked my world. And this harissa and mint concoction is just taking my tastebuds to another dimension…
8.  Chana Masala Stuffed Sweet Potatoes
Sweet potatoes are the bomb.com. And I love finding new ways to make them even better. And who doesn't love a jacket potato? The best part of a jacket potato is that they taste great either hot or cold fillings. Bake some and leave them in a warm oven wrapped in tin foil to keep them on hand if someone wants one, and make some delicious fillings to go inside, like this chana masala. It's traditionally a dish served with rice or naan bread, but this spicy chickpea is just as enjoyable on a baked sweet potato. There's just something about the sweetness of the potato and the spiciness of the chana masala that just works!
9. Chipotle Lime Fries
Just when I thought fries couldn't get any better, I find this recipe! Seriously, who wouldn't devour a plate of these chipotle and lime fries? Make a large batch and serve them to your guests and  I guarantee they'll be gone in minutes (The fries. Not the guests.)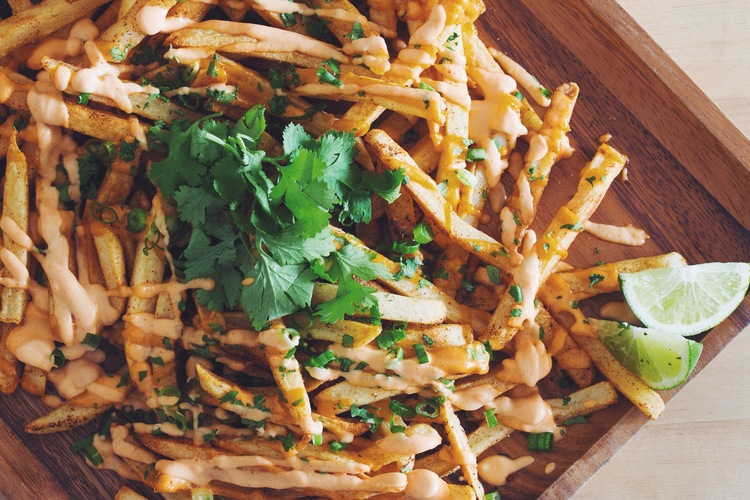 10. Cauliflower Buffalo Wings
Here's a dish that even chicken lovers will love, mostly because y'know, they're meant to replace chicken wings. But mostly because they taste insanely good! For a while now, cauliflower wings have been circulating the social media realm of life, and it's actually genius! And if you really coat them well before baking them, they have a delicious 'skin' and when you bite into them, the texture of the cauliflower is very similar to a chicken wing.
11. Smoky  Grilled Sweet Potato Sliders with Cilantro & Lime
A successful BBQ is all about the side dishes, and when it's a vegan BBQ, it's best to have lots of tasty and filling dishes for your guests to try. And this one is both tasty and filling, and oh so easy to make! And who knew you could even grill sweet potatoes?!
12.  The Big Taco Salad
There's always a bowl of salad at a BBQ, but let's face it, it's usually pretty dull. So why not make a salad people will actually enjoy eating, like this taco salad? It's a little bit like a deconstructed taco  and has a cilantro cream dressing over the top. Serve it up with corn tortilla chips so people can chip and dip this salad.
13. Sriracha Tofu Kebabs
Whilst it's easy to make a kebab out of veggies, sometimes you just want something a little more filling! And tofu is great for making kebabs, because the tofu can be flavoured easily and sriracha is such a strong, spicy taste that it's perfect for giving tofu a new lease of life this summer. You could serve these up with a salad, or even a spicy rice dish.
14.  The Vegan Gutbuster Sausage
Sausages are always a winner at a BBQ. Whether you dunk it in some ketchup or throw it in a bun, everyone always asks for a sausage. So don't disappoint this summer and make your own vegan gutbusting sausages! The base of these bad boys are cannelloni beans but they're bursting with other flavours such as garlic, sweet paprika, oregano, pepper flakes and parsley. Come on, who wouldn't want to try one of these? They look so good!
15.  Vegan Chorizo Sausages
I never knew it was even possible to make vegan chorizo, so I HAD to include this recipe! For those of you that have never tasted chorizo, it's a spicy Spanish pork sausage, which is no good if you're vegan, of course – until now. You can make your own 'chorizo' and serve it up to your friends and family and really wow them with just how easily accessible it is to re-create just about every single meat dish in a tasty fashion.
16. Grilled Breaded Tofu Steaks
Hands up if you thought I'd snuck a chicken recipe in here after seeing this? Okay, well I was so convinced this was chicken and not tofu I checked the recipe not once, but three times to be sure. I love it when tofu surprises you, and this just goes to show how easy it is to make vegan foods into meat alternatives. Serve these tofu steaks up on a bed of spinach, and you'll have your guests convinced they're about to dive right into some chicken!
17. Roasted Carrot Hot Dogs
We all know that pretty much all meat can be subbed for a vegan friendly substitute. But sometimes, it's not entirely the same to re-create meat, and it's much more fun to find new ways to eat old favourites. Like the hot dog! One of my favourite comfort foods is a vegan hot dog loaded with onions and ketchup with a little yellow mustard. It just tastes so damn good. But most vegan 'dogs are filled with crap – artificial ingredients, processed soya, etc.  So I was thrilled to find that you can make hot dogs from one of your five-a-days . . . carrots!! Serve these up on a plate and let your guests get creative with their toppings!
Get the recipe here.
18.  Teriyaki Burger with Wasabi Mayo
Portobello mushrooms are often used in replacement of meat because of their texture. When cooked, they go to an almost streak-like texture, making them the perfect ingredient for a meat dish. And why not make these mushroom burgers for your BBQ this summer? Did I mention the wasabi mayo?
19.  Jackfruit Pulled Pork Burger
If you don't happen to live in a tropical location such as Hawaii where Jackfruit is readily available, then don't worry. This recipe calls for tinned jackfruit in brine, which can just as easily be sourced online, and is perfect for this recipe. Imagine the look on your guests face when you unveil this pulled pork burger. Seriously, it looks JUST LIKE pulled pork, but is obviously way more ethical and animal friendly.
Get the recipe here.
20.  Grilled Portobello Mushroom Steaks
I was one of those weird people that always doused their steak in vinegar when I was a meat eater, so I was thrilled to see someone re-creating that dish in a vegan friendly way. Portobello mushrooms are the perfect option for re-creating a steak texture. Once grilled they go a little tough like steak does, and you can season them perfectly to make them taste great. These will convert even those mushroom haters out there. The balsamic based dressing will add a really great bite to this dish. Trust me. You could serve  these on their own with salad, or throw them into a bun and make a burger.
21. Classic Tofu Burgers
Tofu has a bad rep for being bland. And it is. Until you dress it up like a hamburger, and then it's a charismatic vegan barbecue superstar! Easy to make, too.
Get the recipe here.
22. Grilled Corn with Lime & Chili
Yep, it's another grilled corn recipe, just in case you or your guests like it a bit hot. Actually, you can pile the chili on hard, or drizzle these with mainly lime and just a wee touch of chili. Think of it as a bit of Mexico in your back yard.
Get the recipe here.
23. Grain Free Mixed Berry Crumble
Barbeques are all about sharing. Slapping food on the grill that's for everyone to dig into. They're kinda democratic that way. So it's nice to have a dessert you can also whip up and put on the grill in the pan, as it is, then plunk down in the centre of the picnic table for everyone to help themselves to. This one is deceptively healthy – gluten free and full of summer berries. Yum!
Get the recipe here.
24. Coconut Milk Fudgsicles
Because in the summer, some don't like it hot, we included a cold dessert here, too. They may look like the classic ice-cream truck favourite, but these ones are 100% vegan friendly, using coconut milk as the base.
Get the recipe here.
25. White Strawberry & Lemon Sangria
And because all good BBQ stories start and end with alcohol, why not make these super cute mason jar drinks for guests? You don't even have to put  them in fancy jars, just recycle old glass jars from the kitchen. I'm forever washing out glass jars and using them to store things in, so they're perfect for times like this. Make the sangria, put them in the glass jars and pop them into a bucket of ice so that guests can help themselves to a little summer beverage. And if you don't drink alcohol, or would prefer not to serve it this summer, why not make a non-alcoholic sangria? Just leave out the white wine and voila!
If you're making your barbie vegan, why stop there with the sustainability? There's plenty you can do to make your garden fete greener. For example, when it comes to plates and cutlery for your guests, using your everyday crockery and cutlery is a good idea – but many fear broken plates and glasses, and if you're heading to the park for a picnic, taking half your kitchen with you isn't a good idea. But neither are throw-away  paper plates and plastic cutlery. Stuck for ideas? Use a  biodegradable option. Available from specialist catering equipment stores like Inn Supplies, biodegradable plates, bowls and cutlery are created from bagasse — a waste product created through the crushing of sugarcane or sorghum stalks. They're the ideal choice for eco-friendly, outdoor dining.
Related articles across the web
This site uses affiliate links with brands we trust, and if you make a purchase using a link, we may receive a commission.
Did you enjoy this post? Want to show your gratitude? Please support us on Patreon!