By Lora O'Brien
Cheesecake is a beautiful thing. It can be simple and plain, or you can add a nice compote on top for some extra sweetness. It's also got a variety of gorgeous textures, from the crunchy base to the creamy topping to the sticky sauces you can put on it. And the flavouring possibilities are endless. Normally play it safe with vanilla? Then why not try adding some kiwi and ginger for a zestier flavour? If you have a fondness for chocolate cheesecake, why not change it a little and opt for a salted caramel topping?
Of course, at Eluxe we would only be talking about vegan cheesecake. The beauty of these recipes is not only that they're all dairy free and high in nutrients like protein and healthy fats, but they're also easy to make: in fact, some don't even require baking! But just remember: though these vegan cheesecake recipes are free of fatty dairy products, they're still mega-calorific, thanks to the coconut oil, nuts and sugar, so ensure this is strictly a treat, not a daily dessert.
1. Raw Kiwifruit & Ginger Cheesecake
This almost raw recipe is perfect if you're looking for a quick fix to satisfy your sweet tooth. It's not fully raw due to the maple syrup, so if you're on a seriously raw lifestyle you can easily sub this for a sweetener of your choice, and be conscious only to melt the coconut oil and not to heat it up. Kiwi is such a wonderfully refreshing flavour, this recipe is going to go down a real treat this summer.
Get the recipe here.
2. Carrot Cake Cheesecake
A perfect carrot cake is spicy-sweet with a velvety smooth topping. And this version has everything you'd love about a well made carrot cake- but in cheesecake form. There's subtle spice mingled with natural, sweet flavours and a crunchy crust. Cashews give this cheesecake that creamy factor that you'd usually get from cream cheese. I highly recommend enjoying this over a pot of coffee (or tea if you're true to your British roots) with good friends.
Get the recipe here.
3. The Best Vegan Cheesecake
The best vegan cheesecake – that's a lot to live up to right with a name like that? But I'm more than confident this lives up to its namesake. I mean, just look at that photo. Are you not drooling? And anything that comes garnished with passion fruit is a winning recipe in my opinion. The sharp, tangy taste of the passion fruit will compliment the nutty base and creamy cheesecake filling splendidly!
Get the recipe here.
4. Beetroot & Walnut and Fig Crust
First the foremost – wow, that colour. Of course this vibrant pink comes from the beetroot in this, and it has everything you'd love about beets; rich, earthy and wholesome flavours mingled with a layer of walnuts, dried figs and rich cacao. If you're wondering whether this will taste straight up like chomping down on a beetroot – not quite. The beetroot is mixed with coconut butter, making it a little sweeter and cake-like. A great dessert for those who don't like it too sweet.
Get the recipe here.
5. Roasted Almond & Salted Caramel Cheesecake
These look so professional, it's hard to believe you can make them yourself. They look like something fancy you'd be served at a swanky patisserie. The warmth of the cinnamon really shines through and is complimented by the sweet caramel and the moreish roasted almonds. And this can all be achieved by natural and healthy ingredients. The almond cinnamon cashew cream will taste like warm, freshly baked cookies and the salted medjool date caramel is exactly like salted caramel sauce. Slivered almonds are thrown in between layers for a little added crunch, because why not?
Get the recipe here.
6. Oil-Free Strawberry Cheesecake
The key factors in a perfect cheesecake I hear you ask? Well, a perfect recipe will leave you with a smooth, creamy and fragrant dessert bursting in flavour. And this recipe is packed full of strawberry goodness! You may see the ingredient aquafaba and be thinking what the heck? But it's something you'll probably be seeing a lot of lately – it's becoming more commonly used in vegan cooking. So what is it? The water of cooked chickpeas. It's a great way to replicated egg whites, who knew?
Get the recipe here.
7. Lime & Vanilla Cheesecake
Sometimes the simplest of recipes are something the best. My favourite cheesecake is a plain old vanilla cheesecake, so I was stoked to kind this vegan friendly version with a little zesty twist! Whilst a lot of vegan cheesecakes are super healthy, a lot are made up with nuts, making their fat content pretty high. I'd like to recommend eating in moderation but this is cheesecake, c'mon. Who stops at one slice of cheesecake? But the wonderful news is that this recipe is slightly lighter on the nut front with the crust being made from a mixture of dates, almonds, pumpkin seeds and sunflower seeds bound together with a little coconut oil.
Get the recipe here.
8. Raw Coconut, Macadamia & Mango Cheesecake
This cheesecake looks like everything you'd want in a summer dessert. Coconut and mango are two flavours that combine together so well, and give a real tropical vibe. And if you love coconut, this is oozing with the stuff. There's coconut at the center of this and if that's not enough, there's also shredded coconut dusting the top as well as crushed macadamia giving it a little bit of texture and crunch. Want to try something a little different? If you're not fussed over whether or not you eat raw, you could always toast some coconut flakes on top.
Get the recipe here.
9. No-Bake Mini Key Lime Pie Cheesecakes
As much as I love a giant cheesecake in front of me, these bite sized versions are pretty adorable. Key lime pie is a popular dessert and I can see why. It's so refreshing on the palette, so I love the fact these have been adapted from that. coconut cream and avocado are blended together to make the filling, giving these little cheesecake pies a light almost melting texture. These are topped with a scoop of vegan ice cream which is just the right amount of sweetness on top of this tart dessert.
Get the recipe here.
10. Raw Blueberry & Raspberry Cheesecakes
This is another stunning looking cheesecake. The blueberries and raspberries make this brilliant pink, and once mixed with the cashews it becomes almost purple. And this is bursting not only with colour, but with healthy ingredients like nuts, oats, berries and absolutely no refined sugar. I'd still recommend eating in moderation. Oh heck, who am I kidding? Who can eat in moderation when it comes to cheesecake?
Get the recipe here.
11. Raw Pistachio, Coconut & Lime Cheesecakes
When the sun is out, sometimes we all crave something refreshing like these slices. Plus, you get a great dose of vitamin C from the limes which also have a detoxifying effect, woo! But this isn't just tart, you'll find a little salty edge on this cheesecake from the addition of the pistachio nuts. This is a perfect cheesecake for those who aren't overly keen on sweet cheesecakes bursting with berries.
Get the recipe here.
12. Mango & Papaya Cheesecake
This cheesecake is definitely for those of you that love fruit; even more so, tropical fruit. There's mango and papaya with a little lemon juice. Then you've got the richness of the coconut and the crunchiness of the almonds or pecans, whichever you prefer.
Get the recipe here.
13. Raw Cranberry Cheesecake
This cranberry based cheesecake is the right amount of sweetness and tart without either being overbearing. It's a little like an ice cream cheesecake and is best enjoyed frozen. Unlike conventional cheesecakes you'd buy ready made which are made with eggs (eww), cream cheese and lots of artificial sugar, this version is packed with fiber, protein and vitamins.
Get the recipe here.
14. Orange Goji Berry Cheesecake
Sometimes the simplest of recipes are something the best. This one could be described as 'sweet and sour' because the goji provides that sticky sweetness, while the orange gives the recipe a nice tang. The pink and orange combo also looks gorgeous, and the goji berries make a lovely, easy garnish.
Get the recipe here.
15. Raw Blueberry & Cashew Coconut Cheesecake Bars
Sometimes the simplest of recipes are something the best. Whether it's a bar or a slice, guests will love this beautifully hued summer treat! Personally, I would add a bit of hot blueberry sauce, but those who eat raw can skip that and use some crushed blueberries or tiny edible violet flowers as a garnish.
Get the recipe here.
16. Mini Pumpkin Cheesecakes
If, like me, you have portion control issues, these cheesecakes are the perfect size. Perfect for Hallowe'en or Thanksgiving when pumpkin is in season, but you can still make these with tinned pumpkin any time of the year.
Get the recipe here.
17. Caramel Apple Cheesecake
This caramel apple cheesecake it a little like warm apple crumble. It may seem a little heavy for summer, but sometimes we all fancy a really rich dessert – whatever the weather. From the graham cracker crust layered with delicious date caramel, roasted peanuts and topped with chunks of cinnamon-simmered apples and oh so rich peanut butter drizzle . . . this is going to be one helluva cheesecake! And if you don't fancy making it this summer, you could always add it to your repertoire for later on in the year.
Get the recipe here.
18. Pineapple & Ginger Cheesecake
I think this cheesecake could really steal the show this summer. Whether you're having a BBQ or going to a friends house, why not make this up and set it on the table and lavish the oooo's and aaaah's as people take in its beauty. And if you're a fan of ginger, this is a cheesecake for you. From the crumbly, sweet base to the bright yellow filling and handmade cacao truffles, this is full of fresh flavours and a little ginger spice . . .
Get the recipe here.
19. Raw Raspberry Cheesecake Bars
Another wow. They say we eat twice – first with our eyes, and then with our mouths and I definitely stand by that. I couldn't stop looking at these when I first found this recipe. I can't confirm nor deny whether I'd eat every single last one if the tray was in front of me, but when these raspberry cheesecakes and full of goodness, why wouldn't I?
Get the recipe here.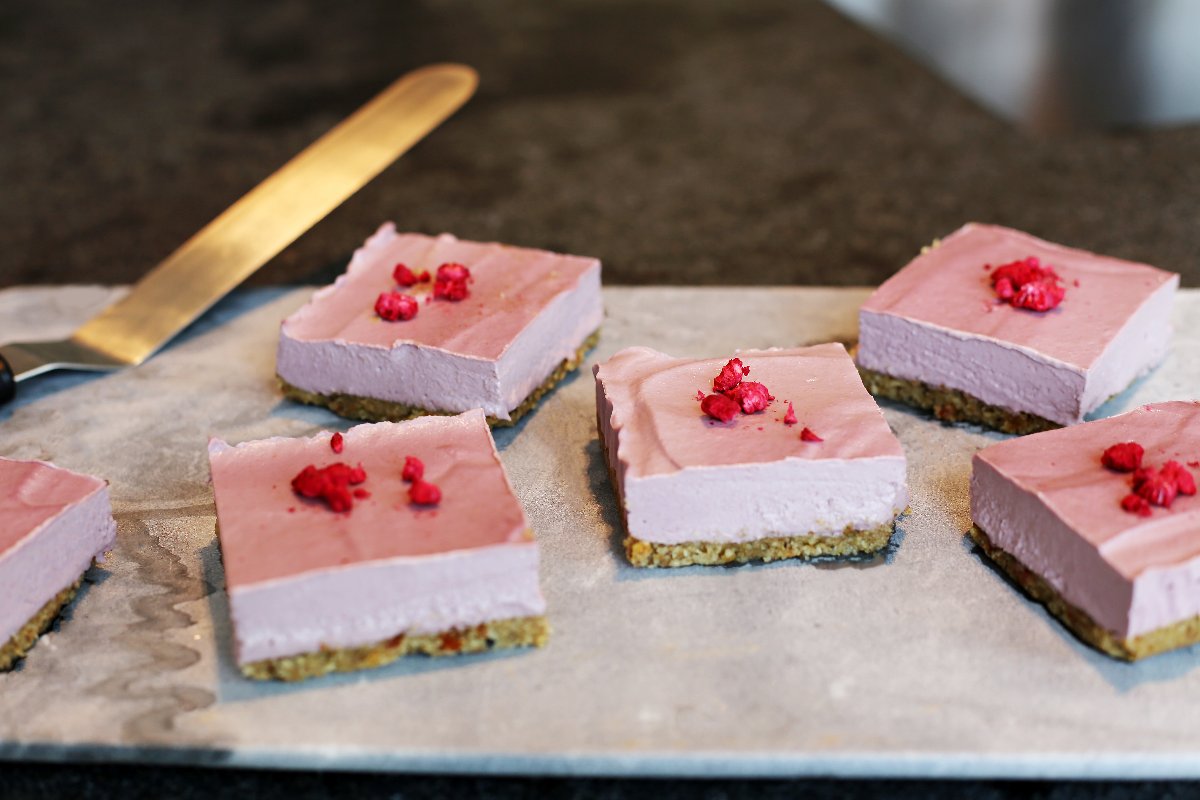 20. Caramel Blondie Brownie Cheesecake
I used to be obsessed with those millionaire shortbread biscuits. They're insanely UNhealthy, but do damn good. And this recipe kind of reminds me of that. So when it comes to a guiltless cheesecake based on one of my favourite past-treats, who am I to say no? And instead of bad fats and unnatural sugar, this is packed with ingredients that will give us all a boost of healthy fats which are actually beneficial to our health.
Get the recipe here.
21. Raw Triple Berry Cheesecake
Okay, firstly – wow. The colours here are like they've captured the bright, vibrant essence of summer into a cheesecake. We can now quite literally have a slice of summer. And what's better than a burst of sweet berries? My mouth is watering just from looking at this. And with a chocolate macadamia nut crust, and a gooey chocolate topping, it really seals the deal.
Get the recipe here.
22. Raw Cheesecake with Cashew Cream
Another fab recipe that proves just how wonderful cashews are to the vegan pantry. Whether you're vegan or not, you really need to try making cashew cream – it's going to blow your mind. It's so incredibly creamy which is why it works so well in cheesecake as a substitute for cream cheese. The perfect cheesecake will have a center that almost melts into your mouth, and this recipe doesn't disappoint.
Get the recipe here.
23. Orange & Mango Mini Cheesecakes
These cheesecake bites are like little bite sized pieces of sunshine perfection. Probably because the colour of these are all bright like perfect sunshine, but also because there's something about mangoes that remind me of summer. They're ripe and juicy, and so refreshing and hydrating against the humidity. So, mixed with orange these fruity cheesecakes are both rich and refreshing, perfect.
Get the recipe here.
24. Raw Orange & Blueberry Cheesecake
Firstly, the colours of this cheesecake are so warm and inviting. Secondly, the flavour combination of this cheesecake are seriously good. Orange is always good in any form of dessert if you ask me – I find it refreshing and palette-cleansing. This has a nut crust, followed by both a blueberry and an orange layer making this absolutely bursting to bits with fresh, fruity flavours.
Get the recipe here.
25. Raw Ginger & Tumeric Cheesecakes
I feel like turmeric doesn't always get praised enough for its wondrous benefits. Firstly, it's a potent anti-inflammatory which really helps to nourish our body from the inside out. It's great for alleviating muscle soreness, it's even great for sore gums (not a side effect of too much cheesecake, I promise), it's great. Alongside fresh ginger, turmeric will also help to soothe the tummy so this cheesecake is really kind of magic. Monthly cramps, girls? It seems this cheesecake may be a solution!
Get the recipe here.
26. Raw Matcha Green Tea & Mint Cheesecake
When you have an abundance of matcha green tea like me, sometimes you wonder how you can use it except in tea or in a latte. So I'm always happy to find recipes that incorporate matcha. I was converted to matcha whilst in Hong Kong when it seemed to be everywhere; in cakes, sweets . . . you name it. This cheesecake has a real green tea vibe with mint and chocolate. So if green tea if your bag, this is going to be ideal for you. Even if you're not, maybe try this and you might just be converted.
Get the recipe here.
27. Peanut Butter Cup Cheesecake
A cheesecake based on peanut butter cups? Hell to the YE-AH! Something about peanut butter and chocolate just seem to go so hand in hand, it's like they were made to go together. This is everything you need in a really indulgent cheesecake. It's rich, decadently chocolatey, it's packed with peanut butter so it's sweet and creamy . . . and yeah, you caught my drift. Basically this is food porn at its finest.
Get the recipe here.
28. Raw Butterscotch Caramel Cheesecakes with Chocolate Drizzle
These look so artistic don't they? This is a great recipe for those who aren't huge fans of nuts, or are catering for anyone with an allergy. Most cheesecakes used crushed digestives as a base, but vegan versions tend to use nuts as they're great for texture and crunch. But this recipe trades nuts for oats and raisins, and with a lot of vegan versions also using cashews to make the 'cheese' filling, it's nice to find a little balance. And I'm loving the cute rose petals that decorate these cheesecakes, but please remember; these are edible rose petals, they've not been dug up from the garden to make sure to buy edible versions before raiding the rose bush.
Get the recipe here.
29. Raw Lemon & Caramel Cheesecake with Buckini Base
Can we take a moment to appreciate just how great this cheesecake looks? I secretly despise those who serve me a cheesecake and I find they've scrimped on the cheesecake filling. I was to feel my fork digging for miles in cheesecake goodness, y'know? This recipe is light with caramel and vanilla tones and a little lemon for freshness.
Get the recipe here.
30. Raw White Peach Cheesecake
You'll really struggle to tell that this is a vegan cheesecake. And the proof is in the pudding, so to speak. When the creator of this recipe served this up to guests, people weren't even able to tell the difference. And that's all thanks to the nutricious, quality ingredients. Like the silky smooth coconut cashew cream forms a filling that is just as rich and decadent as any cheesecake with a cream cheese filling, and the crust is crisp, and salty sweet. Add in the fruit and vegan chocolate of your choice, this cheesecake will simply melt in your mouth.
Get the recipe here.
31. Strawberry, Rhubarb &  Ginger Cheesecake
Looking for both a sweet and yet tangy cheesecake recipe? This is definitely the cheesecake for you. Ripe, juice strawberries mixed with tart rhubard and spicy ginger makes this cheesecake a variety of flavours. This cheesecake starts off with a regular strawberry cheesecake which is lightly sweetened, light and very creamy. It's then topped with the tangy rhubarb and a ginger chia seed jam.
Get the recipe here.