By Lora O'Brien
Pizza. Macaroni and cheese. Mashed potatoes. Creamy pasta.
All of these dishes have a few things in common: one, they're comfort foods for most. Two, just about anyone would eat them, even the pickiest 5 year olds. But also: they're high in carbs, calories and gluten.
Thanks to celebs like Jennifer Aniston making a big deal about how they lost weight on low carb diets, carbs are the new fat – the food that people go out of their way to avoid in the name of staying thin. There's a lot of misinformation out there about carbs though – let's not forget that these are essential for all kinds of B vitamins and minerals, not to mention fibre. But this is only true when the carbs (i.e. grains and cereals) are whole wheat, brown, and unprocessed. Certainly in our sandwich and pasta fuelled culture, there's certainly room for cutting down on the so-called 'bad' carbs, which are also the most common: white bread, pasta and rice.
This is especially true when we consider that most carbs contain gluten, which many of us have grown intolerant to. Many researchers believe that  because  wheat is often sprayed with toxic glyphosate as a pesticide and to separate it from the chaff, this toxin is killing not only insects that eat wheat, but the 'good' bacteria in our guts, thus leading to an epidemic of celiac disease and gluten intolerance.
So what's a health-conscious gourmand to do? We'd say: eat organic whenever possible, and experiment with a few carb-free pasta and rice recipe ideas to see just how easy it is to replace them with tasty, healthy and low-cal substitutes.
1.  Squash Pizza
Have you ever seen a pizza look so bright, inviting and  . . . healthy?! We didn't think so. As soon as we found this recipe we knew it had to be included. It's  base is butternut squash alongside  chickpea and almond flour. The vibrant green  sauce has cashews and basil and lots of other gorgeous flavours. The only change we'd make is to add lots of delicious fried onion on  the top of this. Divine!
Get the recipe here.
2.  Seared Pepino Melon & Glass Noodle Salad
This is a refreshingly light dish to be enjoyed all year round. If you've never heard of pepino (or have no way of sourcing one) then you can substitute it for pineapple, something we're only too happy to do. Seriously, why does grilled pineapple taste so damn good? This thai dish is a brilliant introduction to cooking with glass noodles if you haven't done so up until now.
Get the recipe here.
3.  Mushroom, Sage & Cauliflower 'Risotto'
We know a few people may be surprised to see cauliflower in this recipe. After all, for years now the cauliflower has been kind of ignored. Well, it's finally coming into its own. Cauliflower is so versatile, you can use it as a rice substitute and in this recipe, for risotto! With the creamy mushroom flavours and the addition of sage this is a real winter warmer. It doesn't take long to make, and is one of those easy dinners you can throw together at a moment's notice.
Get the recipe here.
4. Raw Vegan Zucchini Pasta with Pesto
Zoodles are fantastic if you're looking to either eliminate carbs from your diet, or you're gluten intolerant. They're made from zucchini (courgettes to some) and made into their splendid pasta like shape from using a spiralizing machine. The best part? These zoodles are raw, so you can quite literally cook them in a nano-second. Perfect for on the go lifestyles, or busy mums looking to make something quick yet healthy for their little darlings when busy.
Get the recipe here.
5.  Eggplant Lasagne
The fabulous thing about this lasagne recipe is that it's pretty much ALL made out of vegetables, making it easy to cater for those with dietary requirements such as needing to cut out gluten. Eggplant replaces the use of pasta sheets, and if you're cooking for those who aren't too sure about eggplant, then be rest assured; it barely holds much flavour: it's all about the texture which isn't too dissimilar to actual cooked noodles. This is one of those warm and hearty meals you can enjoy with family or friends over a bottle of wine. Perfect for those colder months.
Get the recipe here.
6.  Raw Mango Avocado Noodles
If you're not familiar with Kristina of FullyRaw then allow us to introduce you. Kristina lives a fully raw lifestyle, meaning she only eats fruit and vegetables all day every day, all year round. So we just knew we'd be able to find a carb-free, GF friendly recipe, and she didn't disappoint. This is so simple to make. It's base is zucchini noodles and it's covered in this incredible dressing of mangoes, avocado and green onions.
Get the recipe here.
7. Cauliflower Tabbouleh
Tabbouleh is  basically a traditional Middle Eastern salad served often on the side. It's made up with refreshing flavours such as lemon and cucumber, and is seasoned with parsley. Rather than using the traditional bulgur or wheat couscous, this recipe has been re-created using cauliflower. Once pulsed down, cauliflower takes on the appearance of rice, making it the perfect accessory for this dish. Once you have the basics for this dish together you can play around with flavours, adding whichever suit you. We personally like lots of fresh tomatoes, peppers and some red onion.
Get the recipe here.
8.  Pho Noodles with a Spicy Lemongrass Broth
Another recipe to prove that sometimes, the quickest and most simple recipes are sometimes the tastiest. This big bowl of pho noodles is a great way to make lots of nutritional greens into your diet whilst adding some stunning flavours. There's chill, ginger, garlic and some lemongrass in this recipe. The flavours all combine with the water to create a broth. Throw in your veggies and the flavours are going to really pop. This recipe has used rice noodles, but to make this gluten free you can use glass noodles.
Get the recipe here.
9.  Vegan Alfredo  Zucchini Noodles
You'll find that when searching for recipes to use in replacement of carbs like pasta, a lot of them will use  zucchini. Zucchini, also known as corgettes, are easy to spiralize into noodles  making them the perfect replacement, but also because when cooked they hold their texture and hold a pasta-like firmness. This recipe has used ribbon zucchini and the creamy dressing again comes from cashew nuts.
Get the recipe here.
10.  No Rice Sushi
The Japanese probably hate us for modifying this traditional fish and rice dish to include everything from mayo to sweetcorn, but it's hard to resist packing little strips of nori with what tickles your fancy most. This recipe is as far from trad sushi as you can get: not only is there no fish, but  avocado has taken the place of rice, giving the sushi a creamy texture. Add in carrots, peppers, onion and lots of sprouts and you've mastered the perfect way of enjoying sushi without rice.
Get the recipe here.
11. 'Udon Noodles' With Edamame Pesto
We love a big, hot bowl of thick, filling udon noodles on a cold winter's day. Especially when combined with healthy green veggies and a tangy pesto sauce. But normally those wheaty noodles are shockingly high in calories and low in nutrients…unless they're made from veggies, like these, below.
Get the recipe here.
12.  Grilled Radicchio & Bok Choy Noodles
This is one of those recipes where you see the names and think, what? But it's really simple, healthy, and of course, tasty. Radicchio is just a red chicory leafy vegetable, and bok choy is a Chinese cabbage that you can swap for pak choy if that's easier to source for you. The glass noodles in this recipe really bulk it out and fill you up but the addition of green lentils give it a nice big nutritional boost.
Get the recipe here.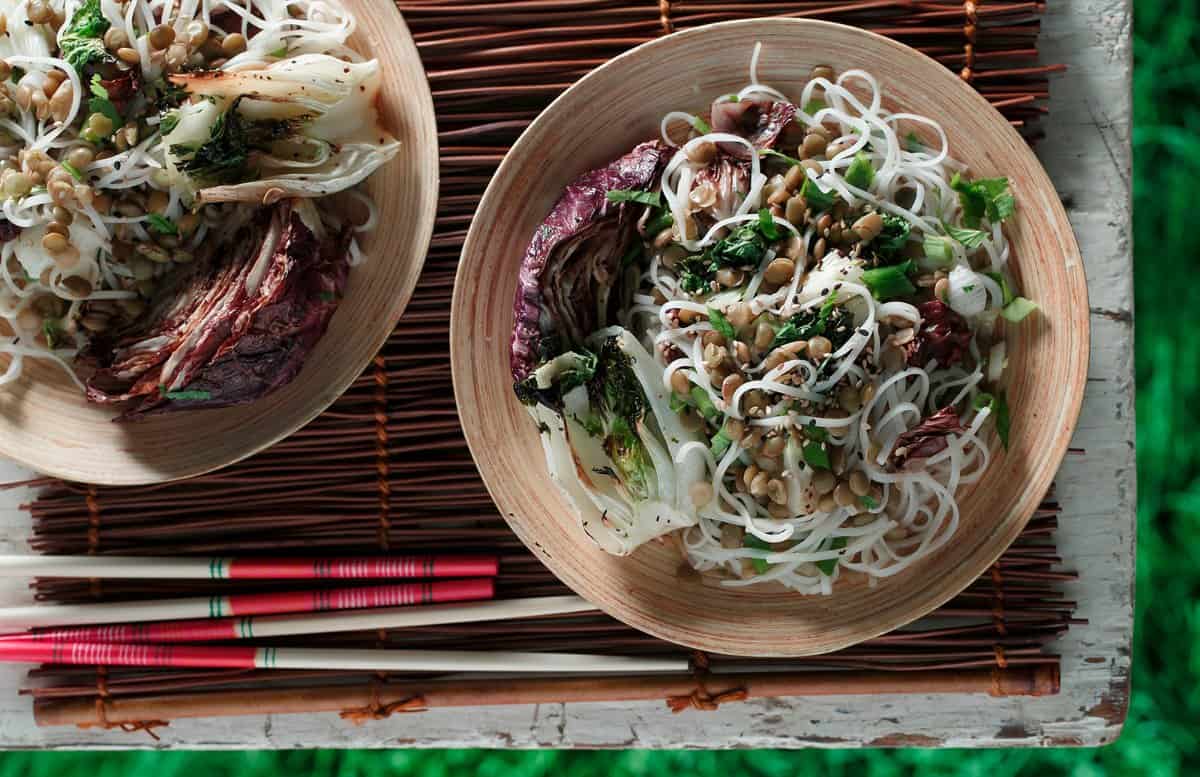 13. Vegan 'Lasagna' Roll Ups
Regular lasagne is a recipe that we can't help but connect to provoking  a mild heart attack when we think about what's normally in it:  meat, olive oil, sheets of pasta and lashings of thick, creamy and HIGHLY calorific sauce. Luckily,  this recipe is re-invent lasagnes as a healthy meal. Instead of your standard lump of pasta, this recipe is comprised of tiny, individual roll ups, making this perfect for a dinner party. The 'pasta' is actually eggplant and the 'meat' is tofu! And if it couldn't possibly get better, this recipe even has vegan parmesan cheese, too.
Get the recipe here.
14.  Vegetable Spaghetti Bolognese
Bolognese is a student staple. It's hearty, and usually served with lashings of sauce, mince and pasta. But if you're gluten intolerant, vegan or simply eating for health, Spag Bol just isn't an option. Unless you use 'zoodles' (a.k.a. zucchini) as the base for the 'Spag' and veggies as the 'Bol'.
Get the recipe here.
15.  Zucchini Pasta with Creamy Cashew Sauce
Another spaghetti replacement recipe because seriously, who doesn't enjoy thick, creamy pasta? This is a healthier  way of enjoying your usual pasta dish with the replacement of pasta for  zucchini and with cashew nuts making up the bulk of the sauce. Adding cashews to a meal won't only give you a dose of healthy fats and protein, they're going to satisfy your hunger  big time.
Get the recipe here.
16. Grilled  Eggplant Cannelloni
This recipe is what we can only call genius. We LOVE it!  Everything about this recipe is plant based  and healthy. The eggplant acts as the pasta in this cannelloni dish, and the stuffing is this delicious feta-spinach filling. We know you're probably thinking how is feta vegan? But it's not real cheese, don't worry. It's made from the combination of three nuts; almonds, cashew and macadamias. And that bright, colourful sauce on the top is  a tomato based sauce with added garlic.
Get the recipe here.
17. Cauliflower Rice
This is pretty much a staple in any fashionista's kitchen these days, mainly because it gives a carby, ricy texture whilst being virtually calorie free. This 'rice' can be the basis of just about any sauce.
Get the recipe here.
18. Riceless Sushi Part 2
Unlike the avocado recipe posted above, this one is much more similar in taste and texture to brown rice sushi thanks to the cereals used in its base. A spicy satay sauce makes these little roll ups even tastier.
Get the recipe here.
19. Cauliflower Cous Cous
Moroccan dishes get a carb free makeover again thanks to the power of cauliflower, which seem to be the newest starch substitute. Add chick peas  instead of white beans and some harissa sauce for some added authenticity.
Get the recipe here.
20. Fake Mashed Potatoes
Cutting calories gets easier when you realise that you can sub cauliflower for potatoes. This recipe calls for garlic and butter, but if you want to go vegan, we found that adding soya yogurt and olive oil in place of butter adds a nice touch.
Get the recipe here.
21. Cauliflower Based Pizza
This veggie-based pizza is perfect for anyone trying to cut carbs or with a gluten intolerance. Freshly grated cauliflower serves as the base for the creative and delicious crust that you can even fold up just like traditional pizza! At less than 300 calories for half the pie, this is a pizza recipe you can enjoy sans guilt.
Get the recipe here.
This site uses affiliate links with brands we trust, and if you make a purchase using a link, we may receive a commission.
Did you enjoy this post? Want to show your gratitude? Please support us on Patreon!