By Diane Small
While many people spend money on heating their pools so they can swim beyond the hottest summer months, it's a complete waste of money and energy when the sun will do that for free.
Whilst not crafted from eco-friendly materials, solar heating rings for private pools don't just save energy–they also mean less water and cleaning chemicals evaporate from the pool, so they save those resources too.  
Made from two sheets of heavyweight U.V. resistant vinyl, the upper clear layer holds insulating air and focuses sunlight onto the lower layer, which then  absorbs about 50% of the sunlight and converts it to heat. These solar heating rings can generate up to 21,000 BTUs per day, and even when the sun isn't shining, the air they contain acts as insulation to retain heat gained during sunnier hours.
Solar rings are also fitted with magnets, which naturally improve the clarity and decrease the hardness of water, and keep the rings from blowing out of the pool should there be a gust of wind.
They may look like monster jellyfish, but we think given the energy, water and chemical savings they can provide, solar heating rings are a good investment for any pool owner. Now if only they could be made from recycled vinyl, they'd be as perfect as a cold lemonade on a hot day.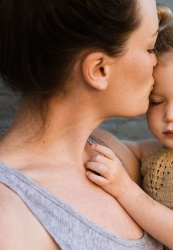 Latest posts by Diane Small
(see all)
This site uses affiliate links with brands we trust, and if you make a purchase using a link, we may receive a commission.
Did you enjoy this post? Want to show your gratitude? Please support us on Patreon!