By Diane Small
When artist Beverly Doolittle and her husband Jay decided they wanted to build an eco-friendly home on their 10 acres of raw land in Joshua Tree, USA, they called the architect who they knew to be renowned for his organic approach to construction: Kendrick Bangs Kellogg.
They were not disappointed. Kellogg immediately fell in love with the site, and as Doolittle told  the  Desert Sun  "He was jumping all over the rocks like a mountain goat. He had been looking for rocks to build on."
The architect planned for a house made of concrete, steel, glass and copper, all built to perfectly blend in with its natural, rocky surroundings. The result is the 'bony' structure of Calatrava blended with the rounded, organic forms of Hadid.
Completed in 1993, it was then fitted with interior designs by John Vugrin, including custom made, curved wood furnishings, futuristic ceramic lighting and naturally tanned and dyed leather soft furnishings, in shades that reflect the surroundings of the house.
The three bedroom, 3.5 bathroom house sourced the vast majority of its components from local materials. Although windowless, light enters easily through the continuous openings that separate the protective concrete panels that make up the 'shell' of the house.
Now for sale, the listing calls this house "the most important architectural house you may have never seen," but we'd like to add to that: "one of the best examples of eco-friendly architecture you've ever seen". To snap up this future classic, you'll need around $3m–well worth the price considering not only will you get to live in this Bond Villain house with a heart, but you'll breathe some of the cleanest air in the world, hear nothing but the crickets and the wind, and sleep under a thick blanket of stars every night.
For more information, please click here.
Images:    Lance Gerber / Nuvue Interactive
Related articles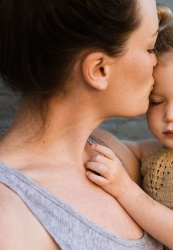 Latest posts by Diane Small
(see all)