By Diane Small
Eco-architecture is not yet the norm. In fact, most architecture requires tonnes of concrete, steel, and glass, then sucks up energy, water and gas from national grids.
But a handful of emerging design companies, including French-based Fritsch Durisotti, are about to change the way we think about housing.
Their eco-habitats are made mainly from sustainable wood sources, and manufacturing is carried out to minimise ecological impacts–and costs. Their Chrysalis Home even rests on four blocks, so as not to harm the earth on which it is situated.
The Chrysalis Eco Habitat is thus rather mobile, and best of all–it's off the grid. Completely autonomous in its energy use thanks to photo voltaic sensors and a vertical axis wind turbine, and the house doesn't even need to be connected to a complex system of pipes, as rain water is collected and filtered on the roof, whilst thermal sensors provide heat for the building when needed.
An ingenious Canadian system of wells associated with a double flow ventilation further helps to  regulate indoor temperatures and freshens the air without a loss of heat, meaning the house feels comfortable and fresh at all times.  Sliding glass panels allow for flexible door positioning, allowing a breeze to cool the house, no matter which way the wind blows.
Additions such as a deck or roof terrace could be easily added to suit each owner's taste, and the one-bedroom homes come complete with large windows to let in lots of sunlight–and wood blinds to keep it out–as needed.
Proudly displayed at 1.168 Sustainable Luxury  in Paris last spring, Fritsch Durisotti's design of the Chrysalis Eco Habitat shows us that though it may be in its cocoon stage, ecological housing is ready to emerge, making the world a more beautiful place.
For more information, please click here.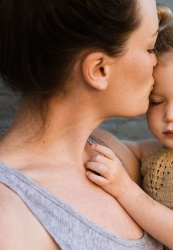 Latest posts by Diane Small
(see all)
This site uses affiliate links with brands we trust, and if you make a purchase using a link, we may receive a commission.
Did you enjoy this post? Want to show your gratitude? Please support us on Patreon!