By Diane Small
Calling all interior design trend fiends: The House & Garden Festival is returning to Olympia London from Wednesday 19th until Sunday 23rd June where dozens of the nation's top specialists will be on hand to talk to visitors about hot sustainable interior trends for this year, and much more.
As with fashion, sustainability in interior design is becoming more important now than ever. As Mia Karlsson-Matthews, Mia Karlsson Interior Design BIID Expert says: "The idea of sustainability, less is more, and the introduction of organic materials used in designs is proving hugely popular – (it involves) spending a bit more, but means getting a piece of furniture that has been produced with love and to last."
If you can't make it to the London festival, never fear: we've asked those same experts that will be at the show for their take on what we can expect to see in consciously cool houses from this year on. Here's what we learned.
7 Red Hot Sustainable Interior Trends For This Year
1. Sustainable Interior Trends Come In Various Forms
Whether you choose to decorate with antiques, recycled furniture, or items made of natural materials like cork, wool, raffia (such as the table pictured below), jute or linens, there are many ways to make your interior design more eco-friendly, and interior designers are aware of this fact.
Marie-Noëlle Swiderski, one of the BIID's experts at The House & Garden Festival and founder of GALUCHAT says: "On the furniture and accessories front, a definite movement towards recycling, upcycling, rejuvenating and adapting, fills me with joy and hope. We see the resurgence of past styles given a new lease of life."
Anna Whitehead from the KLC School of Design says: "Until recently, there was a case for saying you had to pick a side: either to have a sustainable or a stylish interior. We've come a long way however, and some of the most creative and innovative products are now sustainable and ethically sourced," she says.
Whitehead continues: "A good example of this is companies using biomimicry principles, where nature is used as mentor to develop products such as textiles with colour but without using solvents. Another would be the reusing waste materials such as orange peel waste from juice bars to make kitchen countertop or mushroom mycelium, naturally fire retardant and grown in the workshop, to make insulation and products such as lamps."
Yet another way you can see sustainability in decor trends is in flooring. Rather than carpeting, nude wood floors are chic – and they're more sustainable than ever. "You can use reclaimed wood or sustainably sourced wood in place of less ethical options, like wild-cut hardwood," says Yarl Christie of flooring experts Lifestyle Flooring UK.
2. It's Vital To Get The Light Right
Mary Claire Boyd, Fair Director at The Art & Antiques Fair Olympia, says it's essential to be bold with light. You shouldn't be afraid to experiment with lighting – it can change the entire ambiance of a room. She recommends using  Art Deco style lamp shades or chandeliers from any era to lend glamour to a room. The addition of antique mirrors will also maximise light and add instant character to a room.
Art Deco style table lamp credit here.
3. The Hottest Shades Are Softer Now
Coral is calling, according to BIID past President, Susie Rumbold from Tessuto Interiors She claims it's replacing pink as the hottest accent colour.
Not into that hue? Don't worry; there are loads of other options, as Marie-Noëlle Swiderski explains. She sees grey and gold as being two staples that are here to stay for some time, whereas Michelle Bungay from Effortless Trading champions powdery rose as a colour for the home: "Whilst dark interiors are still king, there's a steady growing trend towards muted rose," she says.
Image credit below here.
4. Vibrant Velvets 
Interior Designer Rachel Winham is feeling soft textures this year: "If there is a texture that will add elegance and warmth to a room it would be velvet. We use velvet for most projects from cushions to furniture and it's for sure an ongoing trend. The great thing about velvet is you can add pops of colour and be bold with any design yet keep a simple and sophisticated look." We recommend going for natural velvets in brushed cotton (like those pictured below) or silk, or better yet, using vintage fabrics to get the look.
5. Prints and Patterns Are Back
Scandi minimalism has had its moment, but now, Mia Karlsson-Matthews says that if you want your home to look modern, it's time to mix things up. Blend a variety of textures, patterns and prints in everything from tiles and wallpaper to textiles and ceramics will update your home immediately.
To make the trend ethical, why not add artworks and prints from indigenous communities to your interior design? Be on the lookout for geometric and asymmetrical patterns such as chevrons in tiles, inlays and timber veneers, in particular.
Image credit here.
6. Go Back to Black Outside 
It may seem odd, but Garden Designer, Andrew Duff from Inchbald Design, predicts that black will be a huge trend in outdoor decor. From benches and outdoor furniture to fences, "if it can be painted, it should be painted black," he states. "The depth this colour gives is magical for garden designers; paint a fence black and it disappears, a shed becomes less of an eyesore and that old bench suddenly becomes a chic focal point."
However, the right kind of black is important – try and avoid wood stains, these will show too much of the wood colour, and they can also be highly toxic. Instead, go for a dark matt coating, r"ather like that used in the Parisian gardens of the 18th century. The brilliant thing about this underused shade is that it proves a brilliant backdrop to a verdant garden of lush foliage and jewel coloured flowers," he says. And while you're at it, why not add some black foliage, like black dahlias, roses or tulips?
Image credit: vanengelen.com
7. Consider Vintage 40s or 70s
The 70's were a hugely influential decade for interior design, and many features that characterised this decade are still super chic. Think: cork, hessian and corduroy — they all fit comfortably with our sense of responsibility towards nature.
For those who like something a bit softer or more feminine, the simplicity of the British 1940's has also been coming through, via floral patterns in sage, dusty pinks and pale yellows — village hall teacup colours that work on wallpaper, textiles and other accents.
40's style rattan mirror credit here.
5 Ways To Get The Look
You don't need to go crazy with a colour trend to modernise your home; a few small accessories will do, like these dusty pink ceramics, below.
Trend: Dusty pink, natural materials (ceramic) Cost: From $8
This item checks quite a few sustainable interior design trend boxes: 40's vintage, cotton velvet and coral pink, to name a few.
Trend: Loads! See above. Cost: $698
Love the vintage 40's look, but can't seem to find any antique shops in your area? This brass lamp has a seriously Art Deco vibe – and it gives off a gentle light, perfect for romantic evenings.
Trend: Art Deco, 1940s Cost: $498
Jute is a super sustainable, naturally growing grass that makes for fabulous rugs, as this sample below attests. The neutral shade goes with any interior design, and we love how this 70's mobile and dusty pink sofa complete the look of this bang-on-trend living room.
Trend: Sustainable materials for interiors Cost: From $88

In the 1940's ruched fabrics had a moment, in pillows, hats and skirts, and now they're making a comeback. This organic cotton rosette quilt is a great example of the latest sustainable interior trends for the bedroom.
Trend: Natural (organic cotton), 1940's, Grey hues (but it also comes in coral)  Cost: From $66
For more information visit www.houseandgardenfestival.com.
Main image credit here.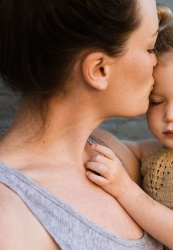 Latest posts by Diane Small
(see all)
This site uses affiliate links with brands we trust, and if you make a purchase using a link, we may receive a commission.
Did you enjoy this post? Want to show your gratitude? Please support us on Patreon!